Chat with Timothy Bradley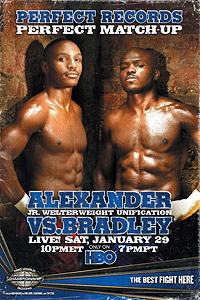 Welcome to SportsNation! On Wednesday, we will go inside the ring when light welterweight belt holder Timothy Bradley stops by to chat about his fight on Saturday.
Bradley (26-0, 11 KO) takes on Devon Alexander (21-0, 13 KO) for the junior welterweight unification title LIVE from the Silverdome in Pontiac, Mich., Saturday at 10 p.m. ET/7 p.m. PT on HBO.
Bradley first won the WBO light welterweight title on May 10, 2008 by spilt decision against Junior Witter and continued to hold onto the title by beating Edner Curry, Kendall Holt, Nate Campbell and Lamont Peterson. In April 2009, he unified both the WBO and WBC light welterweight titles in a 12-round decision over Holt, though the WBC later took his belt because he did not face the WBC's next challenger.
Send your questions now and join Bradley Wednesday at 11:30 a.m. ET!
More Special Guests: Previous chats | SportsNation
Buzzmaster
(11:30 AM)
Timothy is running about 5 minutes late everybody.
Buzzmaster
(11:32 AM)
He's here!
Rob (Halifax, Canada)
How do you feel about the fight being held at the Silverdome? Obviously a business decision right?
Timothy Bradley
(11:33 AM)
I got to meet Tommy Hearns yesterday. He's a bad dude, man! He's from the Motor City. This is a fighting city. I went to the gym and you see how those boys get down over there. They have a show. They fight and spar with everything they have. This area is a blue collar area and hard working folks. That's what you'll see in the fight. I'm very happy to fight here.
@TheBoxingEmpire (Twitter)
Which of your assets - speed, power, veteranship - do you believe will be most important in powering you to a win?
Timothy Bradley
(11:34 AM)
I think it will be my speed. Absolutely. I don't think he's ever faced anybody as fast as I have. I've faced guys as quick as he is. I think he'll be surprised at how fast I really am.
Jeff (Boston, Ma)
I know you are a vegan when you train, but do you ever think you will be a vegan when you are not in training as well?
Timothy Bradley
(11:35 AM)
Yes. Absolutely. I will adopt that life style sooner or later. I feel so great. I feel unbelievable. I feel like I have a well being. I feel I'm connected to the world and the people. It's so weird. I feel so clean. So, yes.
Tim (Pittsburgh,PA)
Tim, do you feel that this is the toughest fight of your career?
Timothy Bradley
(11:36 AM)
Absolutely. I think this will be my toughest fight. He's another world champion. I've already faced a couple of tough guys, but this guy is undefeated and he knows how to move.
Manny (Riverside,CA)
good luck on Saturday Champ, how did the flu affect your trainning and what are your thoughts on Alexander saying the fight is going to be easy?
Timothy Bradley
(11:37 AM)
The flu didn't really effect my training too much. I was pretty much ready to go. I just had to rest more. I think the flu probably actually helped me, because I got more rest. As for Alexander, that doesn't really effect me at all. He'll see once he gets in the ring with me that videos and being in the ring are two different things.
Timothy Bradley
(11:37 AM)
He just has to psych himself up because he knows what's coming.
AW (PHX)
How do you mentally prepare for a fight like this and how do remain focused with so much hype and build up of this fight?
Timothy Bradley
(11:38 AM)
Basically, I just do everything I've been doing in training. Everything I've been working on. That's how I stay focused. Don't give into the hype. Do everything I've trained to do. That's what training is for.
Timothy Bradley
(11:38 AM)
And lots of prayer.
grooveknocker (louisville, ky)
What fighter of old would you have liked to have faced in their prime?
Timothy Bradley
(11:39 AM)
Hagler. The toughest dude on the planet at one time. Hagler.
Dan (Chicago)
What are the chances you bump up to welterweight in the next few years? What is the highest you can go?
Timothy Bradley
(11:39 AM)
I could fight guys at any size. I think I could go up to 154. I could fight against those monsters.
grooveknocker (louisville, ky)
What's nexy if you get past Devon?
Timothy Bradley
(11:40 AM)
Hopefully Amir Khan or Pacquiao or Mayweather.
Randy (Pittbsurgh)
What aspects of your game do you look to improve upon in this fight? Is there a particular area that you have been working on in training?
Timothy Bradley
(11:40 AM)
I want to improve my straight punches. Not keeping my shots straight and wide.
los (dallas, tx)
Hey timmy you been my favorite up and comer for a while now. are you at all intimidated by alexanders size and the fact that hes a southpaw?
Timothy Bradley
(11:41 AM)
No. Not intimidated at all. Devon's a great southpaw, but all of that will be isolated in the way I attack and being able to isolate those moves that he does.
victor (north jersey)
what do you think will be the toughest challenge that alexander poses for you on saturday?
Timothy Bradley
(11:42 AM)
His jab.
Dan (Chicago)
Thanks for taking on anyone and cleaning out 140. Is there anyone you won't fight?
Timothy Bradley
(11:42 AM)
No. I will fight Klitschko too, if you want. I'll fight anybody. Make the right deal and I'll do it. Anybody. Give me Klitschko.
Brendan (Cherry Hill,NJ)
Hey Timothy big fan here and im pulling for you here! Do you feel that Alexander will be the strongest puncher your about to face? Stronger than Kendall Holt?
Timothy Bradley
(11:43 AM)
Hmmmmm, no. I don't think so. I don't really know how hard the kid punches. I'll know after the first round if I'll have to be cautious or not, but I don't think so.
brad jones (sheffield england)
Who's your favorite fighter to model yourself after?
Timothy Bradley
(11:44 AM)
An Aaron Pryer. I really love Hagler. He could slug it out and box. That's what I like about him. Same with Pryer. Armstrong had some of the best defense as well. Those three right there are probably my favorite fighters.
James . (San Francisco)
are you serious about fighting Klitschko?
Timothy Bradley
(11:45 AM)
Yeah, absolutely. I'll fight anybody! Bring him on. It's not like I've never been in the ring with a heavyweight before. But he has to catch me to knock me out. That'll be hard to do.
gregory quattlebaum (maryland)
Tim zab Judah is back in the picture are you and your team overlooking that you may have to face him in the near future?
Timothy Bradley
(11:45 AM)
If he wins IBF, we'll face him.
Fern (Los ANgeles)
What's up Champ. Has anyone ever mentioned that your fighting style and spirit reminds them of "The Hawk," Aaron Pryor? Good luck on your Mega-fight!!!
Timothy Bradley
(11:46 AM)
Not really, no one has ever told me that. I've seen him fight and I thought he was aggressive and that he can box, but no one's ever told me that.
Boxing fan (U.S.)
How do you expect he will try to fight? Will he stick and move/box? How do you plan on cutting off the ring?
Timothy Bradley
(11:47 AM)
I think he's going to try and stick to me. I have a feeling he's going to fight me. I don't think he's going to move around. I think he trained to stay with me.
Timothy Bradley
(11:47 AM)
The fight will come down to a battle of nutrition and condition.
Timothy Bradley
(11:48 AM)
I'm prepared, I'm ready. I'm ready to destroy. Thanks for the love and support. I'm ready for Saturday night.