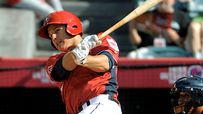 Trout was drafted 25th overall in 2009.
Welcome to SportsNation! On Thursday, Los Angeles Angels' prospect Mike Trout will stop by to chat about the 2011 baseball season, as well as his spot atop Keith Law's Top 100 MLB Prospects list.
Trout, 19, progressed to high Class A in 2010, hitting .343 in his two minor league stops. He stole 56 bases, with a .428 OBP. He jumped from 49 in Law's rankings last season to the top spot this year. Law says, "Trout should see the majors within the next two years, and has the potential to become one of the best players in the game by his mid-20s."
Send your questions now and join Trout Thursday at 4 p.m. ET!
More Special Guests: Previous chats | SportsNation
Buzzmaster
(3:59 PM)
Mike Trout, ESPN.com's No. 1 MLB prospect, will be here in a couple of minutes to take your questions!
Charlene (Richter-Mead)
What aspect of your game do you take the most pride in?
Mike Trout
(4:01 PM)
Probably my speed. I try to use it on the bases a lot. And use it in the outfield.
Peter (RI)
How often do you actually get to go home?
Mike Trout
(4:02 PM)
During the year, I went home for the all-star break for a day. I'm mostly away out on the west coast.
Tim (LA)
Being named the No. 1 prospect just confirms what every Angels fan has known these last couple of years - that you're a good baseball player. But how do you think you'll deal with this new recognition?
Mike Trout
(4:03 PM)
I'm not one of those guys that reads up on all of that stuff. I just like to go out and have fun. In high school, I read some of it, but now, I just go out and play. Though, it is a great honor.
Donovan (Detroit)
Would you say you drastically improved after high school? You were a top prospect but not the number one. Or have you always been this complete of a player but didn't get the recognition?
Mike Trout
(4:03 PM)
There's always stuff you can improve on. I've had a big jump since high school. That was a couple of years ago. I plan on keeping on improving.
Kevin (CT)
how much down time do you give yourself when a season ends until you start getting ready for the next one?
Mike Trout
(4:04 PM)
This offseason, it was a month, month and a half and then I started working out again. It's a long year. You need time to give your body a rest. It's a grind. It's tough for your body. You need to recouperate.
Kurt (DC)
When you do have some free time, do you like to grill? Do you use charcoal or gas?
Mike Trout
(4:05 PM)
I grill. Mostly all of the hotels I was in and the host families I had, they were gas grills.
Jessica (Milville, NJ)
Hi Mike!Congrats on being the #1 Prospect! Your hometown is loving it! What is the one area in your game that you feel you need to work on in order to take the next step in your career?
Mike Trout
(4:05 PM)
You can always improve on your swing and around the plate. But probably my arm strength. I'd like to get a little stronger arm.
Connor (New York)
How do you find a host family?
Mike Trout
(4:06 PM)
During the year, I think it would be strange, but once I got used to it, it was great. They were there for me. They cooked for me. I had a roommate. It was great. This year, if I'm in Double A, I probably won't have a host family, I'll probably have an apartment, but it was great. I had a great time.
Paul (Bozeman, MT)
How hard is it to stay mechanically sound throughout the year?
Mike Trout
(4:07 PM)
You're always going to go through some slumps. The good ones will go through it. You have to stay positive. Once you go negative, it all goes bad.
Brian (NY, NY)
When are you coming back to the East coast to play for the Yankees? We should have an opening in center in a year or two.
Mike Trout
(4:07 PM)
I'm in a good organization right now. I'm pretty happy with the Angels.
Dan (Atlantic City)
What Cape-Atlantic League team did you look forward to playing the most back in high school?
Mike Trout
(4:08 PM)
It's got to by my rival Vineland. I know you want me to say Atlantic City, but it's Vineland.
JAYPERS (IL)
Great season, Mike. How excited were you to play in the Futures game?
Mike Trout
(4:08 PM)
That was probably the highlight of my year. It was a great honor to play in my home stadium and a bunch of great athletes. Most of those guys will be in the big leagues this year. A great honor.
Patrick (Long Beach)
What is with the Angels and signing great players with fishy (Salmon) last names? Is there anything to that?
Mike Trout
(4:09 PM)
I have been hearing that stuff, but I just go out there and play and have fun. I'm not into that, but maybe there is something to it.
Sven (Ungs)
5 years from now, do you see yourself as a middle-of-the-order run producer or a lead-off hitter?
Mike Trout
(4:10 PM)
Probably definitely lead off. I try to score a lot of runs in the year. Get on base and steal some bases.
Doug (CT)
You haven't shown extraordinary power in your time in the minors, do you think it's coming or is your game just going to be speed and contact?
Mike Trout
(4:11 PM)
A lot of people are asking about that. But I'm a basehit guy. I'm not focused on the power. Maybe later in my career it will come.
Connor (New York)
How do you feel being ranked my MLB.com above EXTREMELY hyped Bryce Harper and Aroldis Chapman?
Mike Trout
(4:11 PM)
It's an honor. It's amazing. I had a pretty good year. I was thinking about all of that stuff. These guys will all be in the big leagues. It's a real honor.
Matt (Billings, MT)
What are your goals for this upcoming year? Could your season be a success if you weren't called up until September?
Mike Trout
(4:12 PM)
I'm just going to try and put up some great numbers. I have high goals for myself and hopefully I'll achieve then.
John (New Brunswick, NJ)
What's the hardest part of adjusting to the pro game? The speed?
Mike Trout
(4:13 PM)
Definitely. Once I got my first full year under my belt everything was slowing down. But when I first got there, everything was so fast.
Nugs (Williams)
How do you prepare for the season?
Mike Trout
(4:13 PM)
Stay in shape. Working out. I want to go in at a good weight. You don't want to go in too small, because by the end of the year, you'll be real skinny.
Ralph (Millville, NJ)
Mike, I am from your hometown and know your dad from the high school. I know he was a ball player too. How much do you credit him with your progression as a player and has he helped to ground you and keep you humble?
Mike Trout
(4:14 PM)
Definitely. He's always on me about that stuff, staying humble and not getting a big head. Go out there and play. I learned a lot from him.
Jeff (NJ)
What do you miss about NJ during the season?
Mike Trout
(4:15 PM)
New Jersey, I love living there. They have all of the seasons. I'm an East Coast kid and I love the snow. Out west, it's 70 degrees every day. You can't complain about that.
Doug (CT)
Around when do you expect to be in the majors?
Mike Trout
(4:16 PM)
A lot of people have been talking about it. I'm just going into the year and have a good spring training, put up some numbers and make the Angels decide.
Alex (San Diego)
A lot of people say that players don't see "real" offspeed pitches until they hit AAA. How much of a jump in talent do you think there is between low A, high A, double A?
Mike Trout
(4:17 PM)
There's a big change that I've seen from low A to high A. I haven't been to AA or AAA yet, but a lot of people say it's harder and I believe what they say.
Danny (CA)
Is there a player in the game today that you try to model your game after?
Mike Trout
(4:17 PM)
Growing up I played SS and my favorite player was Derek Jeter. Now, I don't really have a favorite player now. I like the way Jeter plays. He plays hard and tries to win every day.
Angel (LA, CA)
Mike, I've seen you play. Very impressive. How does it feel not only to be named the number 1 prospect, but also be part of a great organization as the Angels?
Mike Trout
(4:18 PM)
I was talking about that with my dad the other day. Anything you need, they'll get for you and help you in any way you want. It's a great honor to be playing for the Angels.
Connor (NY)
Do you enjoy the fans a Minor League games or do they sometimes get annoying?
Mike Trout
(4:19 PM)
It just makes you play better. At home, they're definitely on your side. People will always be on you, telling you you can't play and you're no good. I just take that and it makes me play better.
Leslie S. (Burleson)
What are your thoughts on the rally monkey?
Mike Trout
(4:20 PM)
If you're trying to get a rally going, you might as well have a rally monkey. It gets the fans pumped up. It's great.
Mike Trout
(4:20 PM)
Thanks for the support. Thanks for chatting.