Chat with Larry the Cable Guy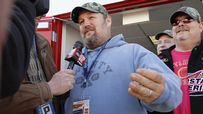 Welcome to SportsNation! On Thursday, long time stand up comedian Larry the Cable Guy stops by to talk Super Bowl, tell some jokes and chat about his new TV show "Only in America with Larry the Cable Guy."
In Larry's new show (which premieres Feb. 8, 9 p.m. ET on History Channel), he's out to prove that the ol' USA is the greatest country on earth. He crosses the nation trying to find the people, places and things that define this nation's unique history. He'll investigate things from how moonshine-making during Prohibition gave rise to NASCAR racing to the history of etiquette from Emily Post's heirs in Vermont.
Larry, born Daniel Lawrence Whitney, developed his stage name as a radio personality in the early 90s. He has since produced eight comedy albums, appeared in some movies and co-starred on the Blue Collar Comedy Tour.
Send your questions now and join Larry Thursday at 12:30 p.m. ET!
More Special Guests: Previous chats | SportsNation
Buzzmaster
(12:17 PM)
Larry the Cable Guy will be here at 12:30 p.m. ET to take your questions!
Buzzmaster
(12:36 PM)
Larry is here!
Paul (LA)
I've always heard that doing standup, before you "make it" big time, is a really difficult road. Just how hard is it?
Larry the Cable Guy
(12:38 PM)
You know what, it was a lot easier when I started because comedy was really starting to perculate. There was a comedy club on every corner in every city. It's way more difficult now then it was then.
Larry the Cable Guy
(12:38 PM)
The hardest part of it was you don't lead a normal life, you're pretty much living in a hotel in a different city every single week. You don't live a normal life like everyone else.
Will (Miami)
You're a funny guy, but does that mean any time anyone meets you or sees you on the street that they expect you to be funny and be "on" all the time? Is that annoying or exhausting?
Larry the Cable Guy
(12:39 PM)
It's neither. I like people. I'm very accessible. I think it's cool that they want to come up and be goofy with me. Life is too short. I do not take myself too seriously. If they come up and are funny and want me to be funny, I'll be funny.
Sam (Chicago)
You're from a snowy part of the country....how are you handling this country wide snow storm we've been having?
Larry the Cable Guy
(12:40 PM)
It doesn't bother me at all, because every January and February since the beginning of time in the USA, it's cold and snowy. This is not unusual. If this was happening in June, then I would think we're screwed and I'd be a little more worried about it.
Billy (New Orleans)
How did you get involved in this new History Channel show?
Larry the Cable Guy
(12:40 PM)
I need money like nobody's business. My wife has a heroin habit and I have to get things paid.
Larry the Cable Guy
(12:41 PM)
Just kidding.
Larry the Cable Guy
(12:41 PM)
It's my girlfriend.
Larry the Cable Guy
(12:41 PM)
No, in all honesty, I thought it was a really cool project, because it talks about certain parts of American history. I love our culture and I think we live in the greatest country in the world.
Jeffrey (KS)
Just how funny is Jeff Foxworthy?
Larry the Cable Guy
(12:42 PM)
Jeff is way funnier off stage than he is on stage and on stage he's hilarious. He doesn't get as much credit as he deserves. He's definitely one of the all-time, in my opinion, top 10 stand ups all time. Since the beginning of time.
Brodie (Iowa)
Holy crap.. you are still finding work? Good for you! :)
Larry the Cable Guy
(12:43 PM)
Yeah Brodie, ain't that crazy. I'm still working. I have a hot wife, a crap load of money and you're sitting at home on the computer. Have a good one.
Steve (Michigan)
Did you think you could ever become as big as you have with a simple name of "Larry the Cable Guy"?
Larry the Cable Guy
(12:44 PM)
Never in a million years. I'm just glad that other people find it funny. If it wasn't for people that found it funny, I wouldn't have a career at all. I owe my success to other people that like what I do. I wouldn't have imagined in a million years that I'd do this well.
Steve (SF)
Seriously...we're this far in the chat an no one has done it yet? Fine...I'll take one for the team. Git R Done!!On a serious note are you sick and tired of everyone saying that to you?
Larry the Cable Guy
(12:45 PM)
Actually, no. It's a good ice breaker if someone wants to come up and say hi to me. I'll turn and look if they say it and go talk to them. It's when people stop saying it, that's when I will get concerned. I love it when they say it. It's better than any other catch phrase out there.
Shane (Swissterland)
Not a fan of either super bowl team but isn't cheese the deciding factor on who to root for??
Larry the Cable Guy
(12:46 PM)
No doubt. Definitely. Anything that keeps you regular, vote for it. I'm rooting for the Packers because my wife is from Wisconsin and back in 2003 Brett Favre wore a Larry the Cable Guy Git R Done T-shirt.
Eric (Rome,GA)
How do you see your Nebraska team faring in the Big Ten Conference this year?
Larry the Cable Guy
(12:47 PM)
If we don't play in the Big Ten championship game next year, then I'll start rooting for Georgia.
Larry the Cable Guy
(12:47 PM)
I think we'll do fine. We play a whole different style of football. I think it will make the Big Ten even better.
Chuck (NY)
Do you ever have have nightmares that you might end up like Dice Clay? Or do you just look at your bank statement and not really worry about it.
Larry the Cable Guy
(12:48 PM)
I look at my bank statement and I don't worry about it.
Stan (FL)
How awesome is your catch phrase "Git r done"? You can use it for everything, in any situation
Larry the Cable Guy
(12:49 PM)
Yeah, that's the great thing about the phrase. You can use it for happiness, sorrow, shock, sexiness. It works for everything.
Larry the Cable Guy
(12:49 PM)
You can yell it for anything.
Peter (RI)
What's been the coolest thing about your career?
Larry the Cable Guy
(12:50 PM)
The coolest thing is just meeting all of the cool celebrities that you never thoght you'd meet in a million years and hanging out with them. THat's probably the coolest thing. Doing things that you normally wouldn't do, like landing planes on the U.S.S. Nimitz; I got to do the space shuttle simulator. People that I get to meet and things I get to do.
Kevin (CT)
What's been the best place to do standup?
Larry the Cable Guy
(12:51 PM)
Anywhere my fans are is a good place to do standup. I've been to all 50 states and they're all awesome. I get good crowds everywhere, so I can't pick a best place. I would say the best time for me to tour is in the winter, because everyone wants to do stuff inside. I like touring in the fall, generally in the south, because the weather's awesome and I like to golf.
Larry the Cable Guy
(12:51 PM)
Believe the golf part or not.
Steve (Indy)
So are you really a "redneck"? For some reason I see you sitting at home sipping wine and offering your guests grey poupon.
Larry the Cable Guy
(12:52 PM)
Sorry to break your heart on the wine and poupon. I grew up in a town of 1,200 in Nebraska and I raised pigs until I was 15. Then I moved to Florida.
Larry the Cable Guy
(12:52 PM)
That's where I hung out with Floridians and perfected my southern accent. Rest assured, I'll eat what I shoot.
Dougie Fresh (DC)
You are hilarious brother. Give us a quick and dirty about the new show and why we should watch. Peace and monkey grease.
Larry the Cable Guy
(12:55 PM)
It's a funny, unique look at history. I interact and interview just regular Americans. I do a lot of crazy activities that I normally wouldn't do, like take an ediquette class in Vermont. So all of the situations that I get myself into makes for some good comedy. And you'll learn something along the way. The show isn't about me, it's about America and what makes it great. But since I'm an American icon and the voice of a new generation, this show will be loaded with laughs and learning.
Chris Fiegler (Latham,NY)
What Comedian that Makes you Laugh a lot?
Larry the Cable Guy
(12:56 PM)
I'm a fan of old time comics. Charlie Callas, who just passed away and was one of my favorites. Modern day, a guy that really makes me laugh, would be a guy named Nick Dipaolo. He was in my Comedy Central roast.
Larry the Cable Guy
(12:57 PM)
It was nice talking to everybody. Thanks for being fans. Make sure you check out my new show. I think you'll really like it. It's a project unlike anything I've done before. You'll see me in comedy situations, but also other parts of life as well. I hope you learn something and if you don't, I hope you at least laughed.