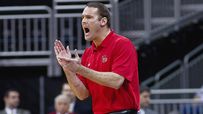 Knight played at Indiana under his father from 1991-95.
Welcome to SportsNation! On Monday, Texas Tech men's basketball coach Pat Knight stops by to chat about the hoops season.
Knight is in his third full season leading the Red Raiders, after taking over for his father, legendary coach Bob Knight, part of the way through the 2007-08 season. Last season, Texas Tech went to the quarterfinals of the NIT, finishing the season 19-16.
While there are still many games to be played in the 2010-11 basketball season, Texas Tech has accepted an invite to play in the 2011 Old Spice Classic over Thanksgiving weekend in Orlando, Fla.
Send your questions now and join Knight Monday at 4 p.m. ET!
More Special Guests: Previous chats | SportsNation
Buzzmaster
(4:01 PM)
We're getting Coach Knight!
Buzzmaster
(4:06 PM)
Coach is here!
Jimmy K (Toronto)
Pat, nice effort the 2nd half against Texas. As a former Horn living in Toronto, I've been completely impressed by Joseph and Thompson. What are your thoughts on these two Canadians?
Pat Knight
(4:07 PM)
I've seen them play a lot, because we tried to get one of their teammates in high school. I knew they were going to be good from the get go. I told Rick that they were going to be good from the start. Joseph is a guard that can get the ball to people. Now you have two good guards on the team. They're very good. As good as they are this year, their best basketball is ahead of them.
Liam (Texas)
I know it's still a ways away, but what do you think about the 2011 Old Spice Classic?
Pat Knight
(4:09 PM)
We've been waiting for it. We were excited a couple of years ago when we decided to play in it. The exposure you get from it is great. We're really looking forward to going to it. With ESPN putting it on, you know it's going to be a first rate tournament.
Matthew (Columbia, NJ)
Hey Pat, I idolize your father, he was a great coach and i really respect what he has done. What was it like playing for your dad at Indiana?
Pat Knight
(4:10 PM)
It was a great experience. I took a chance, because I really wasn't good enough to play at a place like Indiana, but how can you pass up 1) for your father and 2) one of the greatest coaches ever? I thought it would benefit me later in life to go play for him, knowing I wasn't going to have an NBA career.
Steve (Dallas)
What will the keys to Saturday's game be?
Pat Knight
(4:11 PM)
Well, my seniors have to show up. We have said that all season long. We had that winning streak when they did. The last two games, we only had a couple of them show up. The seniors have got to show up. If they show up at both ends, we'll have a shot.
Devin (TX)
Any team in the 2011 classic you want to play?
Pat Knight
(4:12 PM)
No. There is not a certain team you want to play or don't want to play. It's a quality field. We're just looking forward to being a part of it. You don't know how well everyone is going to play. I'm just happy it's a quality field with all of the big names in it and everyone will get exposure.
Bryan (CA)
Coach anything this season that surprised you?
Pat Knight
(4:13 PM)
I really thought we'd have a better record. I've been disappointed with our play at times. Some of our main guys have gone through slumps. Some bad play that we didn't think would happen. It's just a part of life. We still have 7 games to go and hope we'll have a good finish.
Dave (NJ)
Coach, are you telling the guys clean slate fore the next 7 games?
Pat Knight
(4:15 PM)
Yeah, that's pretty good for a fan to ask that! I'm impressed. The good thing is that this is our bye week. We have a whole week of practice. We took yesterday off. We'll break things down. It fits in perfect to say that we have a clean slate. It works out well for us to coach and teach and break things down in the next 7 games.
Henry (NYC)
Having some ups and downs, how impressive is it see teams like Duke having success every year?
Pat Knight
(4:16 PM)
I don't really follow teams like that, because they have so much better talent than everyone else. I look at teams more like us. There are about 5 teams out there that can get anyone they want. You have to take some guys that aren't All-Americans. We don't have one and done guys. I look at guys that are in the same situation as us.
Nathan (Missouri)
Hey Coach, what is it like playing against all of these big-time Big 12 teams? Does your mindset change when you go into a place like Kansas opposed to somewhere like Iowa State?
Pat Knight
(4:18 PM)
No, because all of these arenas are had to play in. Every road game is tough. You go with the same mindset. With Kansas, if there is a place that you want to say is impossible to win at, that's it. I couldn't win there as a player, assistant coach and as a head coach. If you have a mindset that if we couldn't go there, it would be good, that's the place.
greg (IN)
Favorite place to play in the Big Ten?
Pat Knight
(4:18 PM)
Purdue. The rivalry was unbelievable. And then at OSU. We had a really good rivalry with them. Those were my two favorite places.
paul (RI)
How did Texas accept you being a Big Ten guy?
Pat Knight
(4:19 PM)
It's fine. It hasn't changed the perception of football, though. I think some people thought that when my dad came down it would change the perception of the state. But I enjoy the Texas schools. The teams are first class. Coming from a basketball state to a football state is a big change.
Pat Knight
(4:21 PM)
I appreciate the fans asking questions today. I'm really impressed that for fans, you had really excellent questions. I enjoy doing things that give me a chance to talk with the fans. I tried to be as honest as I could and not just give the coach speak that coaches some times give.