Chat with Alistair Overeem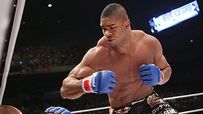 Overeem was born in England, but now fights out of the Netherlands.
Welcome to SportsNation! On Thursday, we'll go inside the octagon when Strikeforce's MMA heavyweight champion Alistair Overeem drops by to talk about the upcoming Heavyweight Grand Prix tournament.
Overeem (34-11) will fight in a Grand Prix quarterfinal bout in April, against Fabricio Werdum, which will be seen on Showtime. The network will also broadcast the Fedor Emelianenko-Antonio Silva Grand Prix quarterfinal bout on Saturday at 10 p.m. ET/PT. The winners of the two matches meet in the semifinal round of the tournament.
The 6-5, 265-pound Overeem won the Strikeforce heavyweight belt in 2007 and sucessfully defended the title with a TKO of Brett Rogers in 2010. He hasn't lost since winning the title, with nine straight victories and one no contest. Fans can check him out on Twitter: @alistairovereem.
Send your questions now and join Overeem Thursday at 3:15 p.m. ET!
More Special Guests: Previous chats | SportsNation
Buzzmaster
(3:03 PM)
Alistair will be here at 3:15 p.m. ET to take your questions!
Buzzmaster
(3:13 PM)
I just got word that Overeem is running about five minutes late everyone. He'll be here around 3:20 p.m. ET or so.
Buzzmaster
(3:25 PM)
Alistair is here!
Nate (Fla)
You are MASSIVE! What is your diet like?
Alistair Overeem
(3:29 PM)
I eat a lot of times during the day. Basically, the secret of getting big and getting strong is eating a lot and weight lifting. Eat a lot of proteins. Don't eat pizza, ice cream. Eat as little processed food and a lot of proteins. Eggs, protein shakes.
Greg (DC)
I'm curious to know what it feels like to walk around a city and basically be the biggest baddest dude everywhere you go?
Alistair Overeem
(3:29 PM)
That's very funny question. I'm not really occupied by that. I'm either doing something or like right now, I was walking around New York. I'm walking with my friends and having a good time.
Jeff (Clearwater)
In this training camp, which part of your game has improved the most?
Alistair Overeem
(3:30 PM)
The stand up and striking. Definitely.
Steve Rattlesnake (Philippines)
Would you keep the fight standing against Werdum or probably play with his guard and will try to finish him with your lethal GNP?
Alistair Overeem
(3:30 PM)
I'm not sure yet. I'm a striker and he's a graper. Logically, I'm going to try and fight him standing up.
Jeffrey Sanders (Tennessee)
How do you feel about people diminishing your accomplishments that you've made in both K-1 and Strikeforce just because you haven't competed in the UFC ?
Alistair Overeem
(3:31 PM)
I don't really pay attention to them. I am far to busy to be occupied by negative people. If they want to be negative, it's up to them.
Kiz (Atlanta)
Alistair, in 2011 are you focusing exclusively on MMA or will you be performing K-1 super Fights as well?
Alistair Overeem
(3:32 PM)
2011 will be soley focused on the MMA and Strikeforce in the United States.
Drew (Florida)
How are you preparing for your upcoming fight with Fabricio Werdum? And how do you see the fight going down?
Alistair Overeem
(3:32 PM)
I always go for a knockout, so that won't be different. Preparation is on schedule. I'm feeling good. I'm very excited to fight Werdum in the first round. I have a score to settle with him. I can't wait to get into the cage.
Jeffrey Sanders (Tennessee)
How do you feel about competing in the upcoming Strikeforce heavyweight tournament especially with the potential upcoming huge second round fight between yourself and Fedor Emelianenko ?
Alistair Overeem
(3:33 PM)
I'm very excited about the tournament. I'm very excited that the eight top heavyweights in the world are in it. This tournament will decide the No. 1 fighter in MMA.
Matt (Chicago)
How do you see the Fedor/Silva fight going?
Alistair Overeem
(3:34 PM)
I'm not sure. I think Silva has prepared himself good, so he'll be in shape. Fedor will want to make things right after his last loss. I give it 60-40 to Fedor.
Yeej (Texas)
You have recently shown MMA fans and you opponents how devastating your strikes are, but you also have a great arsenal of submissions. Do you have a favorite?
Alistair Overeem
(3:34 PM)
I prefer a good knockout over a good submission.
Scott (Northglenn, CO)
What did you think of Anderson Silva's kick last weekend?
Alistair Overeem
(3:35 PM)
I think it was really cool. This again proves that Anderson always has a new thing and a new trick up his sleeve.
Brett (Philadelphia)
Strikeforce has improved greatly since you won the title in 2007, what are your thoughts about the progress they have made
Alistair Overeem
(3:36 PM)
I'm very satisfied. This heavyweight grand prix proves that. This tournament will generate a lot of publicity worldwide. I'm happy with Strikeforce, they're doing a great job.
Chris (Houston)
I am a big fan of your online documentary. Are you going to do another one this year?
Alistair Overeem
(3:36 PM)
I definitely am. Actually, we just kicked off filming on part two. It will be about Strikeforce-GP. As I'm typing, someone is filming for the pilot of Season 2.
Dustin Q (Nebraska)
You're one of the top 3 Heavyweights in my opinion, do you think you will ever fight with UFC?
Alistair Overeem
(3:37 PM)
Right now, I'm very satisfied with Strikeforce. Loyalty is important. I'm not thinking about UFC right now. The tournament is my priority.
Keith (Toms River, NJ)
There have been insinuations of drug use against you ... especially from the M1 Global crowd. My guess is that you are insulted. Do you hold any of this against Fedor or simply M1 Global as a whole?
Alistair Overeem
(3:38 PM)
I do definitely hold it against M1- Global. The things that they are saying are not good and are disrespectful. I've always fought in the States and been tested and have been clean. I don't know if Fedor is involved. If he's the mastermind or ignorant. But I do sure hold him accountable to the people that he surrounds himself with, the people at M1. That's his choice.
benjamin (boise, id)
If there were a super heavyweight division in strikeforce, would you move up, or stay put?
Alistair Overeem
(3:39 PM)
No, I would want to stay put. This weight works well for me. To have to become bigger, I have no interest in that at all.
Ryan (Minneapolis)
What inspired you to become a fighter?
Alistair Overeem
(3:40 PM)
Looking back now, I've always been a fighter. I love to compete. I'm very competitive by nature. I wanted to join the Army, but I had bad eyesight. I decided to continue training, make some money, have Lasik and go into the Army. But I was fighting by then and making good money and didn't want to go into the Army anymore.
Dan (Pullman, WA)
Compare fighting in Japan and the United States. Describe both atmospheres. Who has been your toughest opponent to date?
Alistair Overeem
(3:41 PM)
Japan, it was a culture shock, it was very different than Europe. The States is the same. The American fans, I have more interaction with because it's the same culture and same language. I had great experiences in Japan, but I'm sure I will have great experiences in the States as well.
Tony (New Jersey)
Considering you are in your physical prime, are you trying to fight as much as possible?
Alistair Overeem
(3:42 PM)
Yes. I've already been doing that. I fought 7 times in 2010, 7 times in 2009, 6 times in 2008. I like that. I like to be active.
Rich (Pittsburgh)
What do you differently in your training the last few days leading to a fight?
Alistair Overeem
(3:42 PM)
I don't train. I relax. I get ready for the fight.
Matt (NJ)
For someone like myself who has not seen a lot of your overseas fights, how would you describe your fight style and what should I expect from you in the tournament?
Alistair Overeem
(3:43 PM)
You can expect from me to be an aggressive fighter. I prefer stand up fighting to submissions. You can see more about me on my website AlistairOvereem.com.
James (Virginia)
Since you went to the superbowl last week, what did you think of it and what position would you play if you played american football?
Alistair Overeem
(3:44 PM)
I did go there. It was a great experience. I have never seen an atmosphere like it. I liked the halftime appearances of Black Eyed Peas and Usher. For someone that didn't know the rules or the game, I loved it. I'm a fan. I would probably be a defensive guy, because of my size. But scoring touchdowns is nice too. I would prefer to run, but I would probably play defense.
Evan (SLC)
What did you learn from your early loses?
Alistair Overeem
(3:45 PM)
Everything that I am today. I learned to peak better. Just the whole thing has improved as a fighter, wins and losses. Losses are just a wakeup call.
Matt (Vancouver)
You've fought a lot, do you still get nervous before fighting?
Alistair Overeem
(3:45 PM)
No, not really. A little bit of tension, but nothing special. Not like in the beginning. I don't really get nervous.
Jimmy (Phoenix)
Would you like to see Strikeforce try to hold an event outside of the United States? Maybe even in Holland?
Alistair Overeem
(3:46 PM)
I definitely would. It would be great to see them become an international organization. I think it will happen in the future. They're talking about an event in Japan.
Alistair Overeem
(3:47 PM)
I love your support. American fans are great. Keep it up. Visit my website for the online documentary. We just started taping Season 2. It will be more awesome than the first. New T-shirts are on the website too.