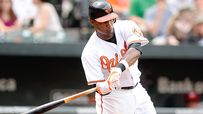 Welcome to SportsNation! On Monday, Baltimore Orioles center fielder Adam Jones stops by to chat about the upcoming 2011 MLB season.
Entering his fourth full season with the Orioles, Jones has increased his batting average every year with Baltimore, concluding with a career-high .284 in 2010. The Orioles acquired Jones in the 2008 trade that sent Erik Bedard from Baltimore to the Seattle Mariners.
In addition to his career high batting averaged last year, Jones also tied his career best with 19 home runs and set a new best with 165 hits and 25 doubles.
Send your questions now and join Jones Monday at 1 p.m. ET!
More Special Guests: Previous chats | SportsNation
Buzzmaster
(12:54 PM)
Baltimore center fielder Adam Jones will be here at the top of the hour to take your questions!
Buzzmaster
(1:00 PM)
Adam is here!
Lobes (Tucson, AZ)
Adam, what kind of work have you been doing this offseason that is different from your past offseasons? Have you focused on any particular area of your game?
Adam Jones
(1:02 PM)
I did a lot more preventative stuff. I dedicated a lot more time to my lower half than my upper half. I'm trying to improve my strength through my legs. It's a long season.
Avon (West Side of Baltimore)
I've seen you at some Terps games and was wondering if you can show Bowie, Tucker, and Mosely how to shoot the 3's.
Adam Jones
(1:03 PM)
They're doing a lot better job at that than me. I like going to those games. Those guys are D-1 athletes, who am I to tell them what to do? I've always liked going to the Terps games. Fun atmosphere.
Hook (Brandywine, Md)
What was it about Buck that got the team to play so well?
Adam Jones
(1:04 PM)
Everybody held themselves accountable for how they played. We played as a team, finally.
Jake (LA)
So everyone in baseball either lost 10-15 lbs or added 10-15 lbs in muscle heading into ST, which is it for you?
Adam Jones
(1:04 PM)
None. Maintained. Stayed the same. How about you?
Megan E. (Montana)
You said your a big NBA fan, what team do you pull for?
Adam Jones
(1:05 PM)
I go for the Lakers. Growing up, watching them, I was able to watch them a lot. I root for them to beat everybody.
Ryan (Rochester, NY)
You were bounced all around the lineup last season, where do you see yourself batting in the lineup this season?
Adam Jones
(1:05 PM)
I personally don't care. As long as my name is in the lineup.
Paul (Farmville, Va)
What is your approach at the plate?
Adam Jones
(1:06 PM)
It's all about situations we're in. That's the first thought. Then, try and succeed at the obstacle that's in front of me.
Mark (PI)
Adam, do you play any video games in your spare time?
Adam Jones
(1:06 PM)
I don't play video games once the season starts. I don't know why, it's weird. But in the offseason, I do. Find me out there.
Paul (Farmville, Va)
Afternoon Adam, does it feel any different now in Baltimore with all that protection in the lineup?
Adam Jones
(1:07 PM)
I wouldn't know. We haven't played any games yet. We're all going to learn each other and hopefully feed off of each other.
Scott (Indy)
I'm ashamed to say I've added 15 pounds. A little doughy.I'm counting on the heat of the summer to help me lose it. Do you cook out? Charcoal or gas grill?
Adam Jones
(1:09 PM)
I love grilled chicken. Steaks on the grill. The atmosphere of being outside cooking on the grill, it gets no better. I think of a lot men would rather grill than cook on the stove.
Andrew (Baltimore)
As a Baltimorean, I'm always curious to know: Where's your favorite place to go out in Baltimore?
Adam Jones
(1:10 PM)
My favorite spot there is Abbey Bistro. I usually hit up there a couple of times a week after games.
Justin (Baltimore)
Adam,This is the most excited Orioles fans have been for a season to start since 2004. We are hopeful of not just a winning record, but of competing for the playoffs. Has Buck hammered it home that making the playoffs is the goal, not just finishing above .500?
Adam Jones
(1:11 PM)
I think the first goal is to climb out of the cellar and get through the season healthy. Go out and play the season and let everything else play out itself.
Jay (St. Louis)
How do you think the Albert Pujols situation will play out?
Adam Jones
(1:12 PM)
It will get handled. He's St. Louis. If they want him, they'll pay him. That's how it works.
Garrett (Richmond, VA)
Just how good is Matt Wieters?
Adam Jones
(1:14 PM)
Matt is as good as he wants to be. He's 6-5, 230. He has an unbelievable arm. It's not about talent at the major league level. It's about desire and want. Also, with that, this will be the first time in his and my careers that you've added winners around you, rather than just regular baseball players. There are proven winners around.
John (Fairfield,CT)
Adam, do you sense a new excitement throughout the Orioles organization with the new acquisitions? I mean with this lineup, the team should not be scared of anyone in the AL.
Adam Jones
(1:15 PM)
Yeah. Everybody is very optimistic about what's going on. I just want to get down there and get with my team.
Greg (2110 Eutaw Street)
Adam, what's with the twitter name change? And will you tweet from CF this year?
Adam Jones
(1:15 PM)
Probably will tweet from CF...I just felt like changing my name. I just did it.
Chris (Washington DC)
Defensively, what's the trickiest thing about playing CF @ the Yards?
Adam Jones
(1:16 PM)
Camden is actually one of the truer ballparks. The thing about CF, you never know how good you hit the ball. Your depth perception has to be pretty darn good.
Adam Jones
(1:16 PM)
I hate those low liners.
RV (New York)
Would you rather rob a homerun or hit one? and who would you most like to rob a homerun from (it can be anybody, not just ball players)?
Adam Jones
(1:19 PM)
You can't go wrong either way. You help your team either way. Hitting a home run, you get to jog. Robbing a home run, you're usually slamming into a wall. It depends on the day.
Jay (NJ)
Adam, What do you do to relax in Baltimore on an off-day?
Adam Jones
(1:20 PM)
In Baltimore? I go to the inner city baseball games and just watch some of the younger dudes. See how I was in high school.
BJ (Bel Air, MD)
How excited is the team in regards to the new spring training location?
Adam Jones
(1:20 PM)
The location is cool. I think people would like to stay in Ft. Lauderdale, but the chance to play in Sarasota against our rivals is a good chance.
Matt (Washington, DC)
On average, how many pieces of gum to you go through in one game? Love the highlights of a great play while you are blowing a bubble!
Adam Jones
(1:21 PM)
4. No average.
Paul (Farmville, VA)
Adam, what's the hardest transition into the big leagues?
Adam Jones
(1:22 PM)
There's no hard transition. You're living the life you want. It's not carefree, but you have things at your disposal. At the same time, it puts things in perspective in terms of the role that you have to take on as an MLB player.
Chris (Baltimore)
Stop by Sabatino's in Little Italy if you want some good Italian food. I'll let my grandfather know you're coming in.
Adam Jones
(1:24 PM)
Tell him I'm a regular at that place. I was there two weeks ago for Fan Fest.
Mike (Chicago)
Which teammate has the weirdest pre-game superstition?
Adam Jones
(1:25 PM)
I don't know really. There is not really weird superstitions that I see. Luke kisses his bat. I don't know really. Not too many. Everyone has their own routine. I haven't seen anything crazy.
Adam Jones
(1:25 PM)
I appreciate the support of all of the fans, good and bad. It just means that you care. Looking forward to a strong, healthy season. Hit me on Twitter.