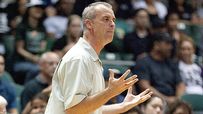 Arnold graduated from the Punahou School in Hawaii, the same school attended by President Barack Obama.
Welcome to SportsNation! On Tuesday, we'll be talking some college basketball when Hawaii coach Gib Arnold drops in to chat about the season.
Arnold is in his first season with Hawaii, after taking over the program following the end of the 2009-10 campaign. He came to Hawaii after five years as an assistant coach at USC, where he helped the Trojans reach a school record three straight NCAA Tournaments. Arnold spent part of his life in Hawaii, when his dad coached at Hawaii in the 80s.
While there are still many games to be played in the 2010-11 basketball season, Hawaii has accepted an invite to play in the 2011 Hawaiian Airlines Diamond Head Classic around Christmas in Honolulu, Hawaii.
Send your questions now and join Arnold Tuesday at 3:30 p.m. ET!
More Special Guests: Previous chats | SportsNation
Buzzmaster
(3:30 PM)
Coach is here!
John (Charlotte, NC)
So you attended the same school (the Punahou School in Hawaii) as President Obama. Does that distinction have its advantages? :)
Gib Arnold
(3:31 PM)
I used to be the most famous basketball player out of Punahou until he came along. If we are recruiting anyone with strong Democratic ties, we would definitely use that card.
Keanu (Honolulu)
Congrats on the exciting win last night. Love the effort by the guys, what do you think they still need to improve on the most?
Gib Arnold
(3:32 PM)
Turnovers still are an issue, though I think last night we did a good job with that, we had our season low, I believe. I believe that we're a very unselfish team, but at times that we need to be more aggressive. I like our team defensively.
Matt (Reynolds)
Hello Coach:With Hawaii's Asia/Pacific proximity will you expand your recruitment boundaries toward players from Australia, NZ, China, etc?
Gib Arnold
(3:34 PM)
Most definitely. I've already been to Australia a couple of times with that in mind. This summer we are planning a tour to China. Part of that will be to building some good will. I do think for the future of this program, we do need to look to the Pacific Rim. Asia will be a huge area for us, once it opens the doors to student-athletes coming here.
Jeff P (Hawaii)
Coach, what has been your biggest challenge since becoming Hawaii's head coach?
Gib Arnold
(3:35 PM)
Nothing that we haven't been able to overcome. Probably the biggest would be the ability to get out and actively recruit during the season. In L.A. there were probably 100 D-I players within an hour of campus. You really need to plan out how you recruit. As a coach, I like to be out there actively recruiting. With our road trips, we plan, and I go a day early, stay a day late and see some games.
Tim Cooper (Silver Spring, Maryland)
So much can change from the beginning of a season til the end. What do you look for from your team when you play in the Diamond Head Classic in December?
Gib Arnold
(3:36 PM)
I'm excited for that tournament. I think the Diamond Head Classic is becoming one of the premier early season events. USC won it two years ago. The national exposure is great. Xavier, Texas A-M, UTEP are all coming in. I want our team to play well and get in a position to win it. We won two games this year. I think that's the end goal, to one day lift that trophy above our heads.
YpoWarrior (Waipio, HI)
Coach Gib, how has it been recruiting mainland HS kids to Hawaii as compared to recruiting for the mainland colleges (USC, etc.)? Do you think you can get some big-time talent to the islands?
Gib Arnold
(3:38 PM)
I'm very pleased with the recruiting efforts. I do believe that we can get talent here. I think we can get high school kids as well as junior college kids. Foreign kids will be a big market for us. I've been pleased with the amount of parents and players that feel like this would be a great opportunity. The world is our recruiting base. We don't have a true recruiting base. We've had a lot of success in L.A. We're recruiting kids from all across the country and all over the world. It's a great place to live and a great place to play.
D.B. (Omaha)
Hey Gib! How do you feel about Hawaii's pending move to the Big West? The Geography seems a bit better, but the conference doesn't appear to be as strong as the WAC. Do you think it will help or hurt the program?
Gib Arnold
(3:40 PM)
Good question. Travel wise, I think it's great. You fly into LAX and from there, we can bus to almost every game. We can stay in the same hotel for the games. For our LA based recruits, the parents can see their kids play two games every other week. Maybe the reputation of Big West basketball isn't the same as the WAC, but when UNLV was winning national championships, I believe they were in the Big West at the time. I think we can have a competitive conference.
AB (Charlotte, NC)
How much of an advantage is it for you and your team to be the host team during the Diamond Head Classic?
Gib Arnold
(3:41 PM)
It's definitely an advantage, because we're able to play in front of our home fans. We had 8,000 against FSU this last year. Obviously, we don't have to get on that flight, so we're not as tired as some of those guys. As you can tell, we don't do the seedings, we wouldn't have picked FSU in the first game. I'm hoping for a better seed this next time.
Phoenix (Lanai City)
Hi Gib, what is the best thing about coaching in Hawaii?
Gib Arnold
(3:42 PM)
Well, I wake up every morning and I'm in Hawaii. So, there's that. Yesterday I got up early and I live 500 steps from the beach and the surf was hitting, so I went out and surfed before going to work. Took my mind off the stress of work. I don't know of many people that can say that. I love this place. It's a great place to call home.
warriorforlife (Honolulu)
Coach, your staff looks pretty diverse. How did you come to establish your staff and what was your criteria?
Gib Arnold
(3:44 PM)
The two main things that I wanted from my staff was No. 1, passion for the game of basketball and for the state of Hawaii and No. 2, having a relentless work ethic. Once I met a group of guys that filled those two. We live in the most diverse areas of the country. We wanted to have a group of guys that think globally and I think we do. I have a phenomenal staff.
YpoWarrior (Waipio, HI)
What's your outlook for next couple of years? Do you see UH making it to the Big Dance with the talent you have currently & the recruits signed for next year?
Gib Arnold
(3:46 PM)
When I got this job, coach Howland at UCLA gave me some very good advice. He said set your goals and your recruiting up for Year 3, which is hard for me, because I want everything now, now, now, today. When building a program, you definitely need to build toward the future. Rather than the first class going all juco kids, we brought in some freshmen. I'm trying to build this as a program, not just make a good team. I think our best basketball is still ahead of us here. Once we get two or three classes in, you can judge us better to where we're going as a program.
Gib Arnold
(3:46 PM)
Our goal is definitely to get to the big dance. We'd love to represent Hawaii.
Gib Arnold
(3:47 PM)
I appreciate all of the support. We've been getting great crowds here in Hawaii. It's a lot of fun. We look forward to building the program. The Diamond Head Classic is a great event. We get some good exposure from it. We hope to continue with what we've been doing.