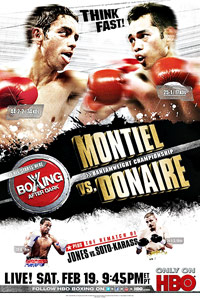 Welcome to SportsNation! On Tuesday, we're going inside the boxing ring when Nonito Donaire stops by to chat about his WBC/WBO bantamweight title fight this weekend.
Donaire (25-1, 17 KO) takes on Fernando Montiel (44-2-2, 34 KO) for Montiel's bantamweight belts. The fight will be live from the Mandalay Bay Resort & Casino in Las Vegas Saturday at 9:45 p.m. ET/PT on HBO's Boxing After Dark.
Donaire has won 24 straight fights, since losing the second bout of his professional career in 2001. "The Filipino Flash" has won eight out of his last nine via knockout, including his last in December, which was stopped in fourth round. Saturday will be Donaire's fifth time entering the ring in Las Vegas.
Send your questions now and join Donaire Tuesday at 3 p.m. ET!
More Special Guests: Previous chats | SportsNation
Buzzmaster
(3:01 PM)
Nonito should be here shortly!
Nonito Donaire
(3:04 PM)
Hey guys, how are you all doing? Looking forward to this fight -- it's very exciting!
Brendan (Cherry Hill,NJ)
Hey Nonito, i am pulling for you here to win this. How do you feel now that your moving up in weight recently and has training been any different now?
Nonito Donaire
(3:04 PM)
I feel great. The weight has been a weight off my shoulders. It's not easy to make the weight, but I feel great in this division. And thank you for supporting me.
AW (PHX)
Has training for Montiel been any different than other camps, if so how?
Nonito Donaire
(3:05 PM)
Not really. We try to get ourselves in really good shape. I've done the same thing with my strength trainer, track coach, and nutritionist. I'm just focusing in getting in the best possible shape for Montiel.
TheBoxingEmpire
Who has been your toughest match to date?
Nonito Donaire
(3:06 PM)
I can't really say. When I consider tough, I would feel that I would lose the fight or my life would be in danger in the ring, but I haven't felt that yet.
Dennis (Little Ferry, NJ)
I believe I read it somewhere that your goal is to be the undisputed champ. After a likely win against Montiel, who would you rather face first, the Mares-Agbeko winner or Moreno?
Nonito Donaire
(3:06 PM)
I think the Mares-Agbeko winner would be better. They have the names and are the best fighters to fight.
Albert (San Francisco)
Hey Nonito, I think you are a great fighter, but I also think Montiel is great. It seems to that he has fought the better opponents of lately, do you think that gives him an edge?
Nonito Donaire
(3:07 PM)
In terms of experience, he does have that advantage over me. But I think the natural skills and ability will really come out. I've gone twelve rounds in fights before and know how to hold my ground.
Alex (Utah)
Greetings Nonito, how do you think the fight will go and how you will win it?
Nonito Donaire
(3:08 PM)
Montiel is a tough and strong fighter who knows what to do. I want to see if I can end it as early as I can, and if not, I'm willing to go the full twelve rounds. I plan to end it early, and my height and speed are key in this fight.
Matt (Pittsburgh)
How does it feel do be headlining a major fight card on HBO?
Nonito Donaire
(3:09 PM)
It's an incredible feeling. I never thought it would be possible even a few years ago. It's such a blessing, and I just have to go with it.
Dan (St. Louis)
Can't wait for Saturday night!!! Good luck champ! How many times do you plan on fighting this year?
Nonito Donaire
(3:09 PM)
Thank you. I'm going to try to get in as much as three this year. As long as I keep winning and doing my best, I think that's a possibility.
Tony (Las Vegas)
Montiel looks like he's kind of vulnerable to getting tagged by really speedy fighters, but seems like he's able to change the fight if he connects good. With your speed, power, and skill do you think that you will be able to dictate the fight? Or do you expect a kind of back and forth bout?
Nonito Donaire
(3:10 PM)
That's the key to this fight -- to dictate it. Once he gets confident, he's a very dangerous opponent.
Alec (Nashville)
Nonito, big fan...I know you are focused on your upcoming match, but how high in weight do you think you can go in your career?
Nonito Donaire
(3:11 PM)
I could probably go to 130 in a few years. I walk around at 140 if I'm not training. That's in the future, though.
@TheBoxingEmpire (Twitter)
We love following you on Twitter @filipinoflash Q: What will your greatest strength be?
Nonito Donaire
(3:12 PM)
Thanks! Number one is speed. The second is my height. I know I'm smarter than Montiel in terms of putting game plans together and spotting my opponent's flaws.
John Topete (Hayward CA)
Nonito! whats up man it John from the Hayward gym. First off, congrats on all your success and you are doing some big things. I enjoy watching your fights and I will be tuned in this Saturday. Question: As you have elevated your career, have you found yourself moving away from you less conventional flashy style? What would you say are the major adjustments (if any) you have made from the younger Nonito years? Take care man and God bless!
Nonito Donaire
(3:13 PM)
I think having the right people behind me and appreciating every moment has been a big thing -- my victory is not just for me, it's for everyone supporting me and watching my fights. I'm honored and blessed there.
Noel (Chicago Il)
Nonito, how would a win Saturday night vs Montiel compare with the K.O. of the year victory you had over Vic Darchinyan a few years ago? Thanks for knocking that guy out by the way!
Nonito Donaire
(3:14 PM)
No problem, I'll do it again. I think it's a bigger fight. It's being watched nationwide on HBO, and a lot of media are covering it. I think it just opens up a better future for me.
dylan (austin)
Ring Magazine has you ranked #5 pound for pound. Do you think you should be ranked higher? Goo dluck Saturday nite!
Nonito Donaire
(3:15 PM)
I'm blessed just to be in that top 10. Maybe after this fight, I'll feel like I truly belong at that rank. Thank you!
Nonito Donaire
(3:16 PM)
Thanks to everyone. This will be an incredible fight -- power angainst power, speed against speed, intelligence against intelligence. For all the boxing fans, we want to make this an exciting match. Thanks for all the support!