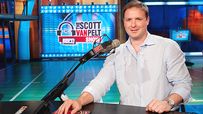 Welcome to SportsNation! On Wednesday, ESPN Radio's Ryen Russillo will be stopping by to chat.
Russillo is co-host of The Scott Van Pelt Show on ESPN Radio, which runs 1-4 p.m. ET. Listen live

He also hosts the NBA Today podcast on ESPN.com. He has covered the NBA draft since 2003 and prior to joining ESPN, he was a TV studio analyst for Boston Celtics games.
Send your questions now and join Russillo on Wednesday at 4:15 p.m. ET!
More Ryen Russillo: ESPNRadio.com | Chats | Search | SportsNation index
ESPNRadio.com
(4:20 PM)
Ryen is running a few minutes late, but it's not his fault. Keep the questions coming.
ESPNRadio.com
(4:21 PM)
Ryen is here. Fire away.
Josh (TX)
I love the show, BUT - I don't see how you and SVP can rip on athletes who are controlling their own destiny to achieve their goal of championships; yet, you guys chose to work with the best in the business at ESPN. If you were as loyal as you say these guys should be, you'd still be at your first gig with minor league baseball, right? In "the one big thing" you said, "this isn't how sports should be.." What, a business? I guess it's all about the fans until its your paycheck then it's all about how much you can earn.
Ryen Russillo
(4:22 PM)
Terrible comparison. Done.
Gabe (Jersey)
Ryen, Any chance Rip Hamilton gets bought out and winds up on the Bulls? I think he would be a perfect compliment to Rose since he doesn't need to control the ball.
Ryen Russillo
(4:22 PM)
The Rip situation would have to be even worse than we realize for them to eat $24 million over the next two years.
Blue (Honolulu)
The Nyets gave up less for D-Will then then would have for Melo. Clearly, they're the big winners so far, right? Are you impressed with the Russian mutant Mark Cuban yet?
Ryen Russillo
(4:23 PM)
Great move by the Nets. I'd rather start my team with D-Will than Melo. Very impressed they pulled this off. Not many in basketball saw this coming.
Bob (Chicago)
Why are NY fans so dumb? How do they think their team can actually win a championship this year let alone get out of the first round?
Ryen Russillo
(4:23 PM)
I think this has been a vocal minority of Knicks fans that actually think they can make it to the Finals.
Brandon (chester virginia)
I heard your radio show my question to you is what if a player get drafted by a bad organization free agency will help a player escape this situation. And go to a good organization especially if they honored their contract I do not see why people are upset.
Ryen Russillo
(4:24 PM)
Guys, I'm not against free agency. I'm just afraid of where this current trend could end up going.
James (Boston)
Any chance the Celtics are shopping Glen Davis to try and find a back up for Pierce?
Ryen Russillo
(4:24 PM)
Davis is way too important to trade for a backup to Pierce.
mike (charlotte)
What are you hearing about the bobcats?
Ryen Russillo
(4:25 PM)
Everybody knows they want to move Wallace or Jackson. Jackson would get you nothing. Wallace is still owed a decent amount of money, so you're probably not getting equal talent back. If you want to move him for a pick for the 10s or back, is it really worth it?
Cory (Brooklyn)
What do you know about DWill almost going to the Kings? What was the deal? Why did it fall through?
Ryen Russillo
(4:26 PM)
Heard after the trade Utah was really upset with Deron Williams. Don't know if it's spin or the truth. Feeling was Utah was happy sending him to a bad franchise like New Jersey. Houston was offering their normal collection of garbage, and Sacramento had a chance with a certain package. But ultimately, Utah wanted to put him in the Eastern Conference.
Sujei (PR)
Do you see Brook Lopez exploding now with Deron as his pg? thanks Ryan
Sujei (PR)
Do you see Brook Lopez exploding now with Deron as his pg? thanks Ryan
Ryen Russillo
(4:27 PM)
Only if he yells at him to rebound more.
Sunil (NYC)
Im part of the original Ryen Rusillo Podcast Host Fanclub.Won't the Nets feel silly if Deron doesnt extend his contract with that mediocre team?
Ryen Russillo
(4:28 PM)
12 months ago, I used to say he'll re-sign, it's the way the system is setup. The new system will favor the current team even more, but I don't know what to predict anymore when it comes to stars/top-10 players. He also has a player option for '12-'13 that's at about $18 million a year. That could be a good thing for the Nets.
Alex (Utah)
D-Will is gone. Utah doesn't have any star power any more to lure big names. What do the next 3 years have in store?
Ryen Russillo
(4:29 PM)
Hope that Derrick Favors becomes more like Dwight Howard than Chris Wilcox.
Mike (Los Angeles)
Do you see the Lakers using the trade exception they have via the Sasha Vujacic trade? Maybe for someone like S. Jax?
Ryen Russillo
(4:29 PM)
No.
JasonD (TN)
Ryen, what kind of stats do you see Anthony Randolph putting up now in Minnesota?
Ryen Russillo
(4:30 PM)
Nothing this year, unless it's garbage time at the end of the season when teams are trying to lose. He's a weird player. Worth the risk, but he's got to show a little more dedication.
Rich (L.A)
There have been rumors that Orlando is looking at Zach Randolph. Any truth to that?
Ryen Russillo
(4:31 PM)
Looking and being able to get him are two different things. Basically, for every rumor, there's a true version of it. Are teams calling Denver for Gallinari? Yes. Does Denver want to trade him for a pick in this year's draft outside of the top 10? No. I think Memphis will try to keep things together hoping to make the playoffs. Memphis is one of those teams where just making the playoffs will feel like a big accomplishment for that franchise.
John (Boston)
I'm toggling to Lebrun's chat to get my trade deadline hockey fix. We're still good, right?
Ryen Russillo
(4:31 PM)
Let me know if Joe Peplinski moves.
Zach (Greenville, NC)
Worse: My friend getting beat at chugging beer with a girl, or Cleveland Cavs?
Ryen Russillo
(4:32 PM)
Cavs.
Not an NBA Question (Natick, MA)
Where have you been over the last few weeks? Every Wednesday a little piece of me dies when there's no RR chat.
Ryen Russillo
(4:32 PM)
These have been real excuses as opposed to the times when I just don't feel like talking to you.
Adam (Chicago)
You talk about how the current free agency trend is frightening, however, NBA ratings are up 30% this year. You still have relevant small market franchises like San Antonio and OKC, but it is good for the NBA when LA, Chicago, NY, Dallas, Miami, Boston, etc have elite teams.
Ryen Russillo
(4:33 PM)
What you're doing is you're looking at a current rating while ignoring a developing trend. If you owned a team, would you like this system? If you say yes, then we're never going to agree.
Sean (Michigan)
Why wasn't there this much uproar when Boston put their "Big 3" together.
Ryen Russillo
(4:34 PM)
Because Ray Allen was coming off ankle surgery and he was traded for, and Seattle wanted to move him. Pierce was already there. KG didn't make it public like Melo did for three and a half months. And despite what people say, McHale messed that deal up by not trading KG earlier.
Henry (New Zealand)
Did the Jazz do any damage by Deron finding out about the trade on Sportcenter while he was in the Jazz gym?
Ryen Russillo
(4:35 PM)
You would hope things get handled a little bit better, but sometimes you can't prevent sources leaking information and I think it speaks to something I keep hearing, that the Jazz were pretty unhappy with Deron and maybe didn't care about his feelings anymore.
Tim (Baltimore)
Was the Devin Harris for Dre Miller/Caron-Butler-Expiring-Contract talk just a smokescreen for this deal all along?
Ryen Russillo
(4:36 PM)
People that know better than me say Dallas actually turned down that deal. I don't believe Portland was ever offered Harris straight up for Miller. Guys, you've got to remember Favors was the key to this deal. Dallas didn't have a Favors.
Phil (New Jersey)
Don't you think a t-mac to bulls makes a lot more sense than Mayo to bulls? Mayo sucks, knows only how to shoot, but t-mac can relieve some pressure off of D-Rose with his great passing ability, spacing the floor, and very good nights in terms of scoring. what are they getting in return with Mayo?
Ryen Russillo
(4:38 PM)
I like Mayo more than other people do. He'd be a perfect fit for Chicago because he can defend like crazy. But with Gay out for a month, I don't know how aggressive Memphis will be. They have to get back someone who can play. T-Mac has been nice. It wouldn't be a terrible idea. Pay attention to possibly Courtney Lee.
Matt (State College)
Will the Hawks do something proactive? For once?
Ryen Russillo
(4:39 PM)
They really want Heinrich. The price is too high. They'd like Sessions perhaps, but Atlanta is one of those teams that doesn't have enough assets (players/contracts) to make a move. They'd have to package Teague with someone else or a third team.
Ozzie (Rialto, CA)
Ryen, Its amazing... It seems that the west has lot the west has lost a lot now with dwill in NJ now. I still think the west is trong what say you.
Ryen Russillo
(4:40 PM)
I know. Amare, Melo, D-Will and Korver.
Dan (Seattle)
Whats with nobody being able to type a coherent thought on here? Greg Oden - on the move?
Ryen Russillo
(4:41 PM)
They haven't gotten a lot of calls on him. I'd expect someone would try to steal him. They aren't going to give him away. I believe they will give him the qualifying offer, meaning other teams can offer him a contract but Portland will have the right to match.
GARRET (Jacksonville)
Will the Milwaukee Bucks make any trdaes
Ryen Russillo
(4:42 PM)
I doubt anything big, so I don't really know what they'd be doing. A lot of people look at Michael Redd's contract and want to move it, but it's massive (like $18 million), so what are you going to take back? This has just been a lost year with injuries, but hopefully they can turn around. Like Skiles and Hammond a lot.
Adnan (Chicago)
Howard and James danced in their all star game introductions. Rose just stood in his spot and acknowledged the crowd. THATS AN MVP!!
Ryen Russillo
(4:42 PM)
Had the exact same conversation with a scout last night.
Joshy (NY)
Bought a Deron T-shirt last week on NBA store. Will or should they give me my money back or at least change it for another shirt of the same price?
Ryen Russillo
(4:43 PM)
I think you embrace the fact you bought it a week before he got traded. I had a roommate in college who had like six jerseys and every guy either got traded or had a career-ending injury in like a two-year span. I'm surprised no one died.
Sean (London UK)
Thoughts on Buzz Bissinger's unsubstantiated claims that attendance is down, white fans are flocking from the NBA, and the game on the court has evolved to its most selfish form yet?
Ryen Russillo
(4:44 PM)
Other than I would disagree with all three, sounds good.
Dakota (London)
Any chance the knicks try and pull off a deal for a center? maybe Thabeet?
Ryen Russillo
(4:45 PM)
People keep acting like Memphis is just going to give him away (this happens a lot). Memphis took him #2. Mistake? Yes. But to give him to a team two years after you took him
Kyle (ATL)
Al Horford, Marvin Williams and Jeff Teague for Chris Paul.... Who says no?
Ryen Russillo
(4:46 PM)
Both teams? Meaning New Orleans has Horford and Okafor under contract and just traded for Landry, and traded a box office top 10 guy for an underrated center who probably should be a PF. But Atlanta loves Horford, they'd love to move Williams (won't be able to). It's not a bad trade, but it doesn't really solve basketball problems.
Rich (Richmond)
Ryen, why did the Knicks take Balkman in the Melo trade? His contract runs through 2012-13 and takes away $1.675 mm that they could offer to Paul or Williams. Think they can unload Balkman's contract?
Ryen Russillo
(4:48 PM)
People need to chill on the 'Chris Paul is going to be a Knick.' If they're that close to getting Paul and need to move $1.75 million, they can beg another team to eat his contract.
Jason Sleik-Gay (Stevens Point, WI)
Will there be anymore trades that are big or just small time trades?
Ryen Russillo
(4:48 PM)
I'd expect one more that's interesting, but I had no idea when I went to bed that Deron Williams would be traded, so who knows?
ryan (LA)
TY Lawson showed last night why he's the Future PG!
Ryen Russillo
(4:48 PM)
Or every scout in the NBA will tell you there's no way he's your starter on a good team.
Colin (Chicago)
I agree with you Ryen about Mayo on the Bulls. With Thibs, Rose, and Noah there, I think you'd see a completely rejuvenated O.J. What can the Bulls give to get him?
Ryen Russillo
(4:49 PM)
I don't mind guys that fight. I don't mind guys that test positive. I mind if a guy doesn't want to play defense, and O.J. plays defense. I think he'd be great on the Bulls, but they have a great locker room, Noah and Rose are tight, these guys really like each other. Would Mayo be cool or is he a bad guy? Maybe I just don't think he's as bad of a guy as other people do.
Michael (Chicago)
Will D-Will get along with Avery Johnson?
Ryen Russillo
(4:50 PM)
There will be some difficult times. Avery is a tough coach to play for, but he's still a good coach.
Ryen Russillo
(4:50 PM)
Doc Rivers is brutal on his PGs, but it's worked with Rondo and those are two stubborn guys. And Doc's a great coach.
Eric (Orlando)
Do you get tired of people asking about absolutely ridiculous trades that have no chance of happening? And do you think the magic could get CP3 for Duhon, Malik Allen and two 2nd rounders?
Ryen Russillo
(4:51 PM)
Is this Otis Smith again?
Carla (España)
Worst owner in the league after Sterling? I say Sarver from Phoenix. What a A$$
Ryen Russillo
(4:52 PM)
I think Sarver's the worst. It's a shame what Phoenix has become and what they could have been.
Ryan (Portland)
Do you see the Knicks turning around and trading Melo to the Blazers for Roy and Oden?
Ryen Russillo
(4:52 PM)
On the video game?
Dule (Santa Barbara )
How hard will it be for the Nets to sign D-Will to an extension?
Ryen Russillo
(4:53 PM)
Well, if they could get it done today they would, but they have to wait until July 9.
Josh (Columbus)
How many more offseasons can the Lakers front office grimace at Ron Artest's contract before they pay a ball boy to take a bat to Artest's knee, Tonya Harding style?
Ryen Russillo
(4:53 PM)
I doubt he's on the team next year.
Greg (Nevada)
Which would you prefer, being liked by professional athletes or the fans that listen to your show?
Ryen Russillo
(4:55 PM)
This is such a great question. I've really never cared if either have ever liked me. I've actually hoped that if somebody who worked in a front office was listening to me, they wouldn't be like, "Oh, here's another idiot who has no clue what's going on." Problem is no matter how much I watch, study, talk to people, there's so much we don't know about what goes into these decisions and why players work out and some don't. It's actually kind of frustrating if I spend more time thinking about it. But I also used to work construction and that sucked.
Ryan (Det)
.hi
Damir (Hilo, HI)
Do the Mavs make a move? I heard maybe Butler and Barea for Gerald Wallace, I think that's a good trade.
Ryen Russillo
(4:56 PM)
That's the kind of move I could see Dallas making. Get down to it toward the end, let's just add another piece and make a run at this thing. That's the Cuban factor and this is what a lot of people in the league are talking about. Detroit would love to send Rip there.
dr_john (Oregon)
Warriors have a new owner. Any chance they can get rid of Ellis and Biedrins?
Ryen Russillo
(4:56 PM)
Not sure what they're going to do, but probably time to get rid of the D-Leaguers. We will have their GM on the podcast next week.
ryan (LA)
Really every good team? Ty Lawson is one of the most underrated pgs in the game. just watch the Boston game... you will see.
Ryen Russillo
(4:56 PM)
Where is Ty Lawson as far as rank at PG in the NBA? We will revisit this next week.
Greg (Nevada)
To follow up on that, do you know guys in your profession that will say anything to be liked by athletes?
Ryen Russillo
(4:58 PM)
There are plenty of guys that just want to be buddies with athletes. Guess what: we don't really hang out with them too much. I'm friends with a few guys and it's great, but other than having cool phone numbers in your cell phone, how many guys have you become really good friends with at 35 or 40 years old?
Ryen Russillo
(4:58 PM)
I'm out. Follow me on Twitter @ryenarussillo. Do some trade stuff tonight. Thanks for hanging out in the chat today. NBA Today podcast trade recap on Friday.