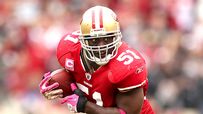 Spikes was second on the 49ers in tackles during the 2010 season.
Welcome to SportsNation! On Wednesday, San Francisco 49ers LB Takeo Spikes stops by to chat as part of ESPN.com's tribute to Black History Month.
Spikes spent the first five years of his career with the Cincinnati Bengals before moving on to the Buffalo Bills, Philadelphia Eagles and then the San Francisco 49ers prior to the 2008 season. As a member of the Bills, he was a two-time Pro Bowl selection.
Fans can follow him on his website TakeoSpikes51.com or on Twitter: @TakeoSpikes51.
Send your questions now and Spikes Wednesday at 2 p.m. ET!
More Special Guests: Previous chats | SportsNation
Buzzmaster
(2:00 PM)
We have Takeo!
Takeo Spikes
(2:01 PM)
Bring your questions, be ready!
Nathan (Missouri)
Takeo, what has been your favorite stadium to play in?
Takeo Spikes
(2:01 PM)
My favorite home stadium is Ralph Wilson Stadium in Buffalo stadium and my favorite away M
Joe (Missouri)
Takeo, what is your favorite moment in your career?
Takeo Spikes
(2:03 PM)
My favorite moment was when I stepped on the field for the first time in New England after being tearing my achilles the previous year.
Nick (Oklahoma)
What are your first impressions of coach Harbaugh?
Takeo Spikes
(2:04 PM)
He was very enthusiastic, determined, confident and willing to do whatever it takes to bring the Lombardi Trophy back to San Fran.
John Martins (Rhode Island)
Outstanding 2010 season with the niners...is it your desire to re-sign with them or to test free agency?
Takeo Spikes
(2:04 PM)
My desire is to finish what I started and that's to finish my career as a 49er. But that's not my call.
Oakley A. (Largo,FL)
Why number 51?
Takeo Spikes
(2:05 PM)
In college I wore 55 but when I went to Cincinnati that number was taken and the next best number was 51.
Brad (Gadsden,Alabama)
Takeo, Do you have any pre-game rituals?
Takeo Spikes
(2:06 PM)
Not really. I just look over the final defensive calls 10 minutes before the game and imagine when they can be called.
Peter (Kentucky)
Hey Takeo, what is your take on the labor dispute and do you think a deal will get done?
Takeo Spikes
(2:07 PM)
As a player I'm hoping a deal will get done before the March 3 deadline. But as of a week ago, it seems like that deadline is coming faster than ever.
Otto (CA)
Can you give an honest opinion on Taylor Mays? Will he be able to cover NFL receivers or not? Thanks.
Takeo Spikes
(2:08 PM)
As a saftey he's not really required to man up on receivers but he does have all the intangibles that a safety needs to become an All-Pro.
Chris (Fresno)
I hope you come back next year to the niners! You seem to be a great role model for Patrick Willis. Watching you guys is a lot of fun on Sundays!
Takeo Spikes
(2:09 PM)
Patrick is just as good for me as I am for him. I look forward to the opportunity to play with him each and every day.
Tyler (ATL)
What were you thinking when yall were in Atlanta and Nate Clements was running a game ending score back when Roddy White knocked the ball out of his hands and recovered?
Takeo Spikes
(2:10 PM)
(Laughing) I was hoping one of our players got the ball.
Otto (CA)
Is it true that the Bengals don't have an indoor practice facility? What do the players think about that in the winter?
Takeo Spikes
(2:11 PM)
Yes it's true and payers hate practicing out there in the winter time. Because they don't have one, it's hard to work and get your timing down and timing is important in order for the offense to be efficient.
Dan (Washington DC)
This isnt really a question, more of a comment. I just wanted to say that I think your a great player and a big part of helping Pat get to where he is now. I appreciate your every down hustle and your leadership. I hope your playing for the 49ers in 2011.
Takeo Spikes
(2:12 PM)
Thank you, you have a good eye.
Jerrell (San Jose)
Takeo, thanks for all the work you've put in for the 49ers. Us fans really do appreciate it. The Bay supports you and the niners. Since youve been in the Bay Area have you gotten into E-40, Too $hort or any other artists from the Area? Good luck next season.
Takeo Spikes
(2:13 PM)
I had the chance to get to know Too Short but I haven't met E-40. Though I would love to one day.
Craig G. (Fairfield, California)
Takeo, we love you in the Frisco City! How many more years would you like to play in the NFL? Thank you.
Takeo Spikes
(2:14 PM)
That's a tricky one right there. As long as I know I can still contribute to the game I will be on the field.
Mike (San Francisco)
Hey Takeo, Im a huge Niner fan and i love the fact that your still with us, but my question is about Pat. Where do you see him in 10 years, and whats he like on the feild?
Takeo Spikes
(2:16 PM)
In 10 years, I see Pat maybe hanging up his cleats and being some type of entrepreneur. He's a busy body on the field. Always thinking of what will come next.
Jacob (Bay Area)
TKO, who is the toughest running back to bring down in the NFL?
Takeo Spikes
(2:16 PM)
Barry Sanders.
Takeo Spikes
(2:18 PM)
For all the questions that I couldn't get to, follow me @TakeoSpikes51 on Twitter and I'll answer as many as I can. Thanks for the questions!