Chat: 'Fab Five' producer Jalen Rose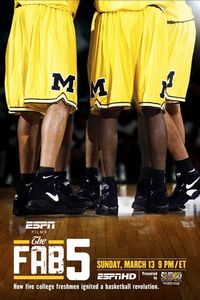 Welcome to SportsNation! Former Michigan and NBA star Jalen Rose stopped by Friday, Feb. 25 to chat about the new ESPN Films documentary "The Fab Five."
The two-hour film that airs March 13 at 9 p.m. ET on ESPN depicts the story of Rose and his other Fab Five teammates, Chris Webber, Juwan Howard, Jimmy King and Ray Jackson. Called by some "the greatest class ever recruited," the five freshmen not only electrified the game, but also brought new style with their baggy shorts, black socks and brash talk.
"The Fab Five" relives the recruitment process that got all five of them to Ann Arbor, the cultural impact they made, the two runs to NCAA title game, the Webber "timeout" in the 1993 championship and the scandal that eventually tarnished their accomplishments.
More Jalen Rose: www.jalenrose.com | @JalenRose
Special Guests: Previous chats | SportsNation
Buzzmaster
(12:25 PM)
Jalen will be here in a little bit to answer your questions on "The Fab Five," an ESPN Films documentary that Jalen helped produce!
Buzzmaster
(12:34 PM)
Jalen is here!
Charlie (Texas)
Jalen, how did you get involved in producing this film?
Jalen Rose
(12:36 PM)
I have a production company that I've been involved with executive producing a couple of pieces when this opportunity was introduced. I wanted to give the fans a direct voice from what happened during the Fab Five era.
jon tomasso (omaha, nebraska)
what was your best memory about being part of the Fab Five?
Jalen Rose
(12:37 PM)
The best memory, I think, was how it was so much bigger than the score of the game. It was a family, a brotherhood, a soap opera. Good days and bad days. To be a part of a game changing, revolutionary act like the Fab Five is something that will never be duplicated.
Nate Detroit (Los Angeles via Detroit)
the long term impact of your style of play and style on the court can still be seen in the game today... is that any sort of consolation for not winning a title?
Jalen Rose
(12:37 PM)
Not at all. There were a lot of teams that won titles that you don't know who they are. That's just a part of it. Everyone wants to be a champion. The game of life is the real score.
Trops (Meechigan)
Jalen who's idea was it for the baggy shorts?
Jalen Rose
(12:38 PM)
It was a team effort. We were all for one, one for all.
Josh (Michigan)
Jalen, How close are you and the rest of the Fab Five to Steve Fisher?
Jalen Rose
(12:38 PM)
Extremely close. Extremely proud of the job he's doing at San Diego State. I plan to go to a game of his next Saturday.
Darrell (Dallas)
As much as I hate to admit it as a Buckeyes fan. You guy were like rock stars. I remember skipping school to watch your tourney games. Do you guy still stay in touch?
Jalen Rose
(12:39 PM)
Yes indeed. The brotherhood is still there. Schedules pull you in different directions at this point in life. We all know the sacrifice and impact we made with each other and that will never die.
Scott (Chicago)
Did you ever think that you guys wouldn't win a national championship while you were there? And is it a good thing that you didn't in retrospect after they took away all your guys accomplishments due to the violations? It would be weird to have UNC named the National Champs 15 years later.
Jalen Rose
(12:42 PM)
I have no regrets to how it happened. Our goal was to win a national championship. We came up short.
Forrest (Indianapolis)
You probably get asked this all the time, so I apologize if the question annoys you - What was the locker room atmosphere like after C-Webb called the infamous time out? Were you guys all very supportive of him, or were there some teammates (I don't expect you to name names) that were really upset with him? And do you think it affected Webber's career in the NBA in any way?
Jalen Rose
(12:43 PM)
It was supportive, definitely. But it was like a funeral also. We knew we were a better team than Carolina and that was a game we should have won.
James (INDY)
How did basicly a bunch of teenagers cope with the media attention on things as trivial as the fact that you wore black socks?Most college students have pressure to some degree but you guys were way up on the scale.
Jalen Rose
(12:44 PM)
We handled it the best we could. A lot of time we didn't handle it very well. It was going fast and furious. It was before Google and social media. A lot of it was put back on who was the writer, editor and who had the voice. IT wasn't necessarily our voice that got out to the masses. It was tough.
RW (Michigan)
Jalen,What do you think the Fab Five's Legacy is for U of M, and college Basketball itself?
Jalen Rose
(12:45 PM)
One of the greatest situations to happen for college basketball. Period.
Matt (Nashville)
Was Jimmy King one of the better dunk artists you've played with? The guy could fly.
Jalen Rose
(12:45 PM)
Jim Jam! Yes indeed.
Oakley A. (Largo,FL)
What does the future hold for Michigan basketball?
Jalen Rose
(12:46 PM)
Hopefully, success. It's disappointing that we're not one of the top teams in the country and haven't been for a long time.
Big Mike Smites (Adrian Michigan)
Jalen do you think your banners should be put back up in Crisler Arena?
Jalen Rose
(12:46 PM)
Absolutely. Hopefully that will happen soon.
Schmeggs (Dallas)
If you had a chance to Coach Michigan in the future, would you consider it?
Jalen Rose
(12:46 PM)
Absolutely!
Maliyah (Detroit)
Props on all of your charity work... I heard you are opening a charter school in Detroit... is it a high school? when will it open?
Jalen Rose
(12:47 PM)
Jalen Rose Leadership Academy. Public charter school in September.
Brian F (San Diego)
Jalen, what other colleges were you intrigued with before deciding to attend Michigan? Thanks
Jalen Rose
(12:47 PM)
I took four visits, Syracuse, UNLV, Michigan State. But all along I always felt Michigan would be the choice.
Brian F (San Diego)
What is your best memory from college?
Jalen Rose
(12:48 PM)
The bond and brotherhood that I had with the other four gentlemen in the Fab Five. Second to none.
Kyle (VA)
How hard was it to produce the film?:
Jalen Rose
(12:49 PM)
It was difficult because it could have been five separate documentaries. Each guy had his own story. Each had his own way of doing things. Had success and failures. But I think we did a great job of capturing of what the Fab Five meant to the public. I think people will be excited when they see it.
Trops (Meechigan)
Who was "the man" on campus during your BB days?
Jalen Rose
(12:50 PM)
It depends on what day it was and who you ask!
Scott (Northglenn, CO)
How do you feel about Melo leaving to New York? Did you like living in Denver?
Jalen Rose
(12:51 PM)
I always appreciated the Nuggets because they drafted me. I think the 'Melo move to New York was good for both teams.
Dugan Fife (3 pt line)
Thank you for causing the double team and kicking it out to me all those games. Buckets!
Jalen Rose
(12:52 PM)
Dugan, you're my boy!
Nemo (Dallas via Detroit)
Do you think with the production of this film it will help attract future top prospects to come re-store Michigan as a top basketball program?
Jalen Rose
(12:52 PM)
I think so. That's one of the main reasons that I think this documentary is important, because we're not considered one of the top teams in the country and that's where we want to be.
Charles (San Jose)
Have you ever expressed anger to Chris Webber for taking that money and tainting your accomplishments?
Jalen Rose
(12:53 PM)
Actually, no. Because I thought the school should have handled it different. It wasn't up to him to handle it different. If they had something that they were upset about, they should have done something different.
James (Saginaw)
I asked Greg Anthony who was better. His UNLV team or the Fab Five. He responded "we won a championship, period." Your rebuttal sir? I would love to see you and Augmon square up and Webber & Larry Johnson together.
Jalen Rose
(12:54 PM)
I have a lot of respect for that team. I looked up to that team. Anderson Hunt from that team went to my high school. That team came to one of my games when I was in high school. That's a tough question to answer. I wish we could have played and settled it on the floor.
Josh (MI)
How was the b-ball rivalry with Ohio State?
Jalen Rose
(12:55 PM)
Oh, it was intense, because we were both top ranked teams as rivals. So, each game meant so much to each team.
James (INDY)
At what point did you guys realize basketball was not a game anymore even at the college level it was a huge business?
Jalen Rose
(12:56 PM)
We realized that so many people were making multimillions of dollars off of us, TV, shoe companies, socks, gear. When it became a lucrative business for everyone except us.
Bobby G (Alma, MI)
My favorite on-court memory from the Fab 5 days...you score on a runner and 1 against Kentucky in the Final Four and then pose for the crowd. Yours?
Jalen Rose
(12:57 PM)
That was a fantastic moment. Kentucky was a great team and we came in as underdogs. I wish we could have played them in the championship, because we were movtivated to play them.
ro (bklyn usa)
hi jalen - so what will surpise the true Fab Five fans when they see this film?
Jalen Rose
(12:57 PM)
Good question. The thrill of victory and the agony of defeat on and off the floor, that's never really been covered.
KG (The Motor City)
Jalen- I just want to thank you... you guys are the best!!! Me and my friends always talk about the Fab Five How close where you to getting webber to stay one more year?
Jalen Rose
(12:58 PM)
Wasn't close at all, considering he was about to become the No. 1 pick.
Josh (Ann Arbor)
Toughest opponent you faced while at Michigan?
Jalen Rose
(12:59 PM)
Duke. They arguably are one of the greatest teams in modern college basketball history.
John (MI)
Jalen, has there been anything in the works with the Michigan athletic department to get the Fab Five more involved in the future?
Jalen Rose
(12:59 PM)
We're building that bridge. I have a lot of respect for their AD and president, so I anticipate that happening in the future.
James (INDY)
Does it upset you at all that all the talk about you guys was everything but the fact that you were great young basketball players?
Jalen Rose
(1:00 PM)
The one thing about being a revolutionary is you have to take the brunt of criticism for those that follow. We didn't like it at the time, but now we appreciate for being the trail blazers for a lot of the things that you see now in basketball.
Karl (NYC)
Jalen. You guys never beat Duke. Does that still bug you ?
Jalen Rose
(1:01 PM)
Yes. I hate Duke.
Nate (Los Angeles)
You, Van Exel, Josh Smith, Ginobli---name me some of the other best left handed NBA players in the last 15 years. I get that only 10% of the population is left-handed, but it seems strange that there have been so few left-handed NBA stars, no?
Jalen Rose
(1:01 PM)
Us lefties must stick together. It's a right hand world. Only 8-9% of the NBA is left handed. There are teams without a left handed player.
Bubba Shmarks (Michigan)
Was Kentuckys class headed by John Wall in the same universe, when it comes to talent, as the Fab Five?
Jalen Rose
(1:02 PM)
When it came to talent, probably on paper. The thing that this documentary is going to show is that the Fab Five's impact is actually bigger than the score of the game.
Jalen Rose
(1:03 PM)
There are a lot of teams that have won championships or games that we don't recognize or care about.
Jeremy (Utah)
MJ wants to play at 50 and you look like you still got some game. Ever think about a comeback?
Jalen Rose
(1:03 PM)
I'm retired. Officially. I love the opportunities I have working here at ESPN. I still play for fun and the love.
John (MI)
What do you hope the audience takes away from the documentary? What is the main message about the Fab Five?
Jalen Rose
(1:04 PM)
Main message is sacrifice, team work, perseverence, dealing with adversity and being college kids.
Ryan (San Diego)
Jalen, what are your thoughts on Steve Fisher as a coach? Are you gonna be watching the big game tomorrow?
Jalen Rose
(1:05 PM)
There was a misperception that he just rolled out the balls and let us play. That was so far from the truth. I'm definitely picking San Diego State to win.
Matt (Traverse City)
You know what Ray Jackson is doing these days? The guy was an amazing defender. You talk much with him?
Jalen Rose
(1:06 PM)
Ray Jackson and Jimmy are both high school coaches. They are both doing fantastic. We hope to have those two on March 8 here at ESPN talking about the film.
Jeremy (Utah)
Jalen what do you think the Fab Five's biggest impact was on college and the pro's that has lasted?
Jalen Rose
(1:07 PM)
You're allowed to actually have a personality. Then, if you had a tattoo, if you had an ear ring, listened to rap music, talked trash, had long shorts, had a team with guys with bald heads, you were considered thugs. The problem was, we were the only ones doing it.
Mark (WESTSDIE Detroit)
Your thoughts on John Bielin and the future of the program
Jalen Rose
(1:08 PM)
Like any college coach, he's going to be judged on success and winning. Though he probably hasn't had the success that he's craving, but hopefully, they can find a way to make a run in the tournament to show some progress.
Ryan (San Diego)
I have heard Steve Fisher talk about the time he took all of you guys over to Europe and did the tourist thing with you. Do you have memories of that trip?
Jalen Rose
(1:09 PM)
Yes and when you see the documentary, you'll see how much we hated the trip.
Jeff (RI)
did you get old footage together, how hard was that?
Jalen Rose
(1:10 PM)
Lots of old footage, articles, video. Classic material.
Jalen Rose
(1:10 PM)
Never seen, never heard.
DP3P (Southgate)
Where was your guys' favorite spot to hang out at in Ann Arbor on the weekend?
Jalen Rose
(1:11 PM)
We went out all the time. We were college kids. Whoever was having a good party, good event, good situation, we were there. We supported all of the parties like all of the other college kids.
Terrence (Charlotte)
What are your thoughts about the one and done rule and the effects it has had on college basketball?
Jalen Rose
(1:12 PM)
I think after high school, players should be able to go to the pros, if they want. But if they go to college, they should have to go for two seasons.
Joe (Boston, MA)
Is college basketball less dirty, as dirty or even dirtier than when you played when it comes to schools breaking the rules?
Jalen Rose
(1:12 PM)
Exactly the same as it's always been since the beginning of time and always will be. That's why you'll see coaches being suspended. You see situations with Cam Newton, Terrelle Pryor.
Tim (FL)
Is all forgiven by you guys and the university
Jalen Rose
(1:14 PM)
I think everything can be forgiven on both sides once the banners have been reinstated. I think true closure will happen if and when the banners are reinstated.
Timo (San Diego)
Was Weber involved with the making of the movie at all? If no, why?
Jalen Rose
(1:14 PM)
He's a big part of the movie just like the other four guys. It's about the Fab Five.
Sayre Player (Michigan)
Jalen how in the world is Juwan Howard still in the NBA?
Jalen Rose
(1:15 PM)
Luck and location. He deserves it. Hopefully he gets a championship ring with the Heat.
Greg (New Boston, MI)
Jalen, you mention that you hold no ill will towards Chris Webber, and blame mostly on the school for handling the situation. If you were the AD at Michigan when this scandal hit, what do you think an appropriate punishment should have been?BTW, the Fab Five was and will always remain the greatest sports memories I have growing up. I can't thank you guys enough.
Jalen Rose
(1:18 PM)
The reality of it is, Chris left school in '93 and me and Juwan left school in '94. Jimmy and Ray left in '95. The school didn't retire our numbers at that point and we weren't embraced. Then the allegations hit and it was like a reason for them not to embrace us.
Jason Sandrin (In a Cubicle at work)
How do you feel about Chris Webber being a better dresser than you when analyzing games?
Jalen Rose
(1:18 PM)
It's all about your opinion. I have no problems with it at all.
Ryan (RI)
Jalen, do you think there ever will be another fab five in college again?
Jalen Rose
(1:19 PM)
No. Because the Fab Five was more than just five freshmen playing on a basketball team at the same time. It was bigger than the score of the game. I keep saying that, because that's what the film kept reminding. Basketball was only a part of it. It was like a soap opera.
Jeff (Oregon)
How much influence did Hip-Hop have in College and Pro Basketball before and after the 'Fab Five'?
Jalen Rose
(1:20 PM)
It had a huge influence. Before we came to school and you would go to an arena, they wouldn't be playing hip hop. It wasn't embraced. It was still deemed a fad then. It had a huge impact and influece on us.
Carl (Detroit)
How hands on wer eyou with the doc?
Jalen Rose
(1:21 PM)
Extremely. Because our voice has never been heard on the topic. There was a book written about us. It's been discussed in other forums, but never in our voice.
Jalen Rose
(1:21 PM)
BTW, follow me on Twitter: @JalenRose.
Latch (Texas)
Jalen, which would you choose if you could? Be known as a National champion or member of the Fab Five?
Jalen Rose
(1:22 PM)
A member of the Fab Five. There are a lot of national champions that are nondescript.
Samwell (Michigan)
If the Fab Five had a theme song what would it be?
Jalen Rose
(1:23 PM)
We had one.
Jalen Rose
(1:23 PM)
It was a Ghetto Boys record, but since I work for Disney, I can't use that title.
scott (sioux falls, sd)
How emotional will it be when the banners are finally hung back up and the Fab Five receives a standing ovation at center court?
Jalen Rose
(1:24 PM)
I've thought about it a lot. I've envisioned it even more. The opportunity for it to actually happen will be tremendous.
Giannetot (Philippines)
What made you decide to produce the Fab Five doc only right now?
Jalen Rose
(1:25 PM)
It's all about timing. It's around the 20-year anniversary. That's what really inspired it. We came on campus in '91 and now it's 2011.
Patrick Throckmorton (Winchester,Virginia)
Hey Jalen, Gabe Brown who was your'lls manager at michigan is a good friend of mine and he said his greatest moment was when he practiced with you'll and got a dunk in a practice
Jalen Rose
(1:26 PM)
I wouldn't say that he's lying, but I would say that I don't remember it. But he didn't say that it was on anyone, so it probably did happen. Tell Gabe I say what's up.
scott (sioux falls, sd)
What do you say to the people who are still mad at the Fab Five for the so called demise of Michigan basketball after it was put on probation?
Jalen Rose
(1:27 PM)
That's not accurate. A program's ability to sustain success has more to do with how you currently manage the program than what happened 20 years ago.
Jalen Rose
(1:27 PM)
Thanks for the love. Check out the doc March 13, 9 p.m. ET on ESPN. Follow me on Twitter: @JalenRose.