Chat with Bernard Hopkins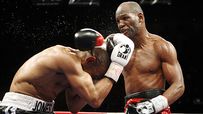 Hopkins has won 32 fights via knockout.
Welcome to SportsNation! On Friday, we're going to be inside the boxing ring when Bernard Hopkins stops by to chat. Hopkins will appear on ESPN2's Friday Night Fights at 9 p.m. ET.
Hopkins (51-5-2) spent 12 years dominating the middleweight division, not losing one fight, winning 24 in all. After capturing the IBF belt in 1995, he won 12 title defenses by the end of 2000. Over the course of his next eight fights, he unified the middleweight titles.
Since 2006, Hopkins has fought at light heavyweight, going 5-1-1. He faces Jean Pascal in a WBC light heavyweight rematch on May 21, after the pair fought to a draw in December.
Send your questions now and join Hopkins Friday at 3 p.m. ET!
More Special Guests: Previous chats | SportsNation
Buzzmaster
(2:52 PM)
Bernard will be here at the top of the hour to take your questions!
Buzzmaster
(3:00 PM)
Here's Bernard!
Calvin (Florida)
B-Hop you are one of my favorite fighters,I was curious to know what your secret is for staying fit at your age.
Bernard Hopkins
(3:01 PM)
I guess taking care of myself. Good living. A lot of rest. I take my job seriously. That's it.
Kevin (CT)
How do you stay so disciplined?
Bernard Hopkins
(3:02 PM)
Past experience in my life where I didn't stay disciplined. I didn't like that feeling and I've been disciplined ever since.
Dave (NJ)
For Bernard Are you doing anything different in preparation for the rematch with Pascal that you didn't do for the first fight?
Bernard Hopkins
(3:02 PM)
I'm getting newer sparring partners that have a little bit more size on them than what I was using. Really doing what I did, but even more of it. More pressure, more pressure, more pressure. Making him fight every second.
Dan (South Philly)
Best wishes in May, it belongs to you! After winning LHW any thoughts on Cruiserweight against someone like Steve Cunningham? Whats your thoughts on him?
Bernard Hopkins
(3:03 PM)
No. I'd rather clean out the light heavyweight division. And bring some sanity back to that historic division and leave on a good note.
Kelly (NYC)
Will you ever become a trainer?
Bernard Hopkins
(3:04 PM)
Right now, I'm busy with Golden Boy Promotions. Also, working ESPN Friday Night Fights inbetween my fights. Also, other business ventures in my personal life. So, no training fighters.
Alex (Denver)
Hey Bernard I just wanted to hear your take on Mosley vs. Pacquiao. Do u think Mosley can give us one more great fight??
Bernard Hopkins
(3:05 PM)
This will be the fight that he can give that great performance that he gave to us when he fought Margarito. But it has to be a perfect strategy and perfect fight for Shane if he's going to win. He can't make not one mistake. Not a one.
Romeo (DC)
You have had some tough decisions over the years; Calzaghe, Taylor 1 and 2, and now this most recent draw with Pascal. Which decision was the worst in your opinion?
Bernard Hopkins
(3:05 PM)
Joe Calzaghe. Then Pascal. Then Taylor.
Charlie (VT)
Why do they say Mayweather has not fought nobody? How do you get to his point nothing nobodys?
Bernard Hopkins
(3:06 PM)
No. Mayweather, to me, is one of the top two pound for pound fighters in the world. Arguably could be No. 1. But he must fight soon to be relevant in the boxing business.
kevin (manchester )
Hey bernard! great to still see you at the top of the game! I heard you were interested in possibly fighting david haye. But my question is who would you see as a winner between haye and wladamir klitcstko?
Bernard Hopkins
(3:07 PM)
I like Haye to win that fight, because I think he has the athleticism to give him the fight of his life and the punch to win that fight. I'm going to stick to my business at the light heavyweight and become one of the greatest light heavyweights.
Darin (Silver Spring, MD)
B-Hop! To silence all the critics, will you try to put away Pascal this time around instead of letting it go to the scorecards?
Bernard Hopkins
(3:08 PM)
That's my plan. To do it, I have to do it within 7 rounds, because he tires early. That's a condition that he can't fix.
Chris Fiegler (Latham,NY)
What Outdoor Stadium did you fight at?
Bernard Hopkins
(3:09 PM)
I don't like fighting in outdoor stadiums. I fought one time at the MGM under the card of Tyson and Roddick fight. I prefer to fight indoors than outside.
AW (PHX)
When cleaning out the division does that mean Cloud is on your radar as well?
Bernard Hopkins
(3:11 PM)
If Cloud is meaningful, yes. Right now, it's Pascal, Dawson and if it's Cloud, that's fine. If it's someone else moving up, then fine. If the fans think that Cloud is up there to be beaten, then he's on the Executioner's list. There's a warrant out for him too.
JD (OKC)
B-hop, what do you think is your signature win?
Bernard Hopkins
(3:12 PM)
My signature win would be May 21 on HBO when I fight Jean Pascal. I'm looking to make that fight my signature. I want to outdo what I did to Oscar, Pavlik, I want to outdo all of those fights.
Andre Ward (The Town)
Im still undefeated and pound for pound the best fighter out these days. Who can beat me?
Bernard Hopkins
(3:13 PM)
Andre Ward, to me, is the star of boxing that really really blossomed in the last 3-4 fights. He's the face of the super middleweight. I believe he will win the tournament when it's all said and done that will end this year.
Mark (San Jose)
Bernard. Thomas Hearns was my favorite fighter. Any stories to share about him?
Bernard Hopkins
(3:14 PM)
Tommy Hearns, best right hand in boxing. Deadly. Best three rounds in boxing with him and Hagler. He had the best three rounds in boxing you could ever watch. He had the jab but he could knock you cold. One of the greatest junior welterweights that boxing ever produced in that era.
JD (OKC)
Favorite eatery in Vegas is?
Bernard Hopkins
(3:14 PM)
Manorano's. Italian.
Jean (Quebec City)
How many times will I knock you down this time?
Bernard Hopkins
(3:15 PM)
I might get knocked down two more times. It's the second fight. But I will rise like I did before and I will rise and knock you out.
Rachel (Hattiesburg)
Bernard, Mayweather vs Pacquiao.. who wins and why? Do you think they will ever fight? Thanks!
Bernard Hopkins
(3:16 PM)
Mayweather. He wins that fight. He has all of the tools all of the smarts. But I like him to win the fight if he fights this year. Next year, I have to take a hard hard look if I feel the same.
AW (PHX)
Will you try and fight in Philly one last time?
Bernard Hopkins
(3:17 PM)
No. I'm done. I fought in Philly two years ago. That was the real last swang song to my career in Philly. You'll have to watch me on HBO.
Sam (Santa Monica)
Who loses more by the fight being so delayed: Mayweather or Pacquiao?
Bernard Hopkins
(3:18 PM)
The fans.
Jamar (Lewisburg, WV)
If you had to the chance to fight one fighter in history, who would it be?
Bernard Hopkins
(3:18 PM)
Marvin Hagler.
john (philly)
Do you like mma
Bernard Hopkins
(3:19 PM)
It's not a competition for boxing and MMA for the fans. MMA is the MMA. They have a spot for the fans for themselves. But it's not boxing. They both deserve their separate place for athleticism and sports. But they don't cross paths.
Bernard Hopkins
(3:20 PM)
Come May 21, HBO. History will be made that night when I become the oldest athlete in any sports history to win a major title. One of the oldest titles in boxing, the WBC. The ring belt. The IBO belt. And last but not least, the diamond belt. They're all on the line May 21 on HBO.