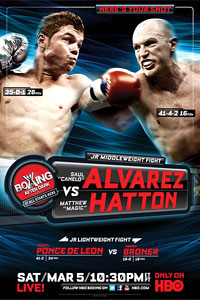 Welcome to SportsNation! On Thursday, we're going inside the boxing ring when Saul Alvarez stops by to chat about his WBC light middleweight title fight this weekend.
Saul Alvarez (35-0-1, 26 KO) takes on Matthew Hatton (41-4-2, 16 KO) for the vacant WBC belt. The fight will be live from the Honda Center in Anaheim, Calif. on Saturday at 10:30 p.m. ET on HBO's Boxing After Dark.
Alvarez, at just 20 years old, has sprung up the rankings, winning his 35 career professional fights in just 5 years. The only blemish on his record came in his fifth fight, when his four-round bout ended in a draw. Alvarez has shown his power over the last two years when he has scored a KO in 11 of his 13 fights.
Send your questions now and join Alvarez Thursday at 1 p.m. ET!
More Special Guests: Hatton chat, Wed, 2:30 ET | Previous chats