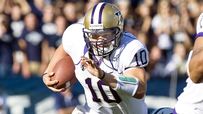 Kiper has Locker as the No. 4 QB in his positional rankings.
Welcome to SportsNation! On Thursday, NFL draft prospect, and former Washington Huskie, Jake Locker stops by to chat some football and video games.
Locker showed his versatility at Washington as a dual-threat QB. He threw for over 7,500 yards, while running for nearly 2,000 yards to go with his 32 rushing TDs. Todd McShay ranks Locker as his No. 26 overall prospect in the 2011 draft.
Locker is competing to become the cover athlete for EA Sports' NCAA Football '12 against Nick Fairley, Mark Ingram and DeMarco Murray. Fans can vote on EA Sports' Facebook page. Voting begins Thursday and runs through April 4.
Send your questions now and join Locker Thursday at 1 p.m. ET!
More Special Guests: Previous chats | SportsNation
Buzzmaster
(12:55 PM)
Jake Locker will be here at the top of the hour to take your questions!
Buzzmaster
(1:01 PM)
Jake is here!
Perkins (Edwards, MS)
Its seems you are having a lot of success in the combine. What has been the biggest challenge so far?
Jake Locker
(1:02 PM)
I thought the combine went really well. It was fun. I enjoyed it. I felt I was really prepared going in. I thought I could perform the way I wanted to.
Mark Greeny (Seattle, WA)
Jake,I'm gonna miss you at UW, you're a once in a lifetime player. What's your favorite memory during your years as a Husky?
Jake Locker
(1:02 PM)
I would have to say the Holiday Bowl win and the win over SC my junior year.
Dave (Philly)
Jake, what's your favorite video game outside NCAA Football? Also, when you played NCAA football, did you always use Washington, or did you play dynasties with other schools?
Jake Locker
(1:03 PM)
I'm always playing with Washington. I'm loyal to my team.
BP (MD)
What do you think will be the hardest transition from the college game to the pro game?
Jake Locker
(1:04 PM)
I think the hardest thing will be getting settled in early. That helps a lot. Getting comfortable being there. Then taking as much as you can learn from the veterans on the team into how you prepare and play.
Matthew (Columbia, NJ)
Jake, do you expect to play minor league baseball if there is a lockout in the NFL?
Jake Locker
(1:04 PM)
I'm focused on playing football. I will be as well prepared as I can to enter the NFL whenever that may be.
Billy Buffalo (Buffalo)
If you are looking to be a part of the Buffalo Bills you need to answer 2 questions.1.) Do you like Buffalo Wings2.) Do you like Hockey3.) Do you like Canadian Beer
Jake Locker
(1:05 PM)
Yeah, I love watching hockey. They are a lot of fun. And I love buffalo wings. They're great.
Perkins (Edwards, MS)
Did you have a favorite NFL team growing up?
Jake Locker
(1:05 PM)
I watched the Packers growing up. Brett Favre was my favorite player.
Scott (MD)
Xbox 360 or PS3??
Jake Locker
(1:06 PM)
XBox 360.
Tom Randall (Florida)
How did you do on the wonderlic test?
Jake Locker
(1:06 PM)
It's a different type of test. I thought I did pretty well on it. I'm not concerned about how that went.
Bill (Toronto)
I can only imagine that the process of meeting different team personnel and doing interviews can be interesting and eye opening. What is the oddest question that you have been asked by an NFL team during meetings/interviews?
Jake Locker
(1:07 PM)
Each interview was different. There was no two of the same. They kept you on your toes. It was fun to meet those guys and get a feel for what each organization was about.
Oakley A. (Largo,FL)
If you could pick, what would be the NFL team you would most want to play for?
Jake Locker
(1:08 PM)
No. To be honest. Anywhere that I end up and would want to draft me, I'd want to be there and play.
Steve (Chicago)
Jake, why did you come back to Washington last year instead of entering the draft?
Jake Locker
(1:09 PM)
When I really thought about it, it was easy for me. I had a chance to graduate and go to a bowl game. Things that will stick with me for the rest of my life.
Darek (Denver)
What was the biggest change Sarkisian made to the huskies when he arrived at UW?
Jake Locker
(1:09 PM)
I think the biggest change he made was the culture. He wanted to change the culture that was there and he's been successful in doing that.
David (Chicago)
why you for the cover?
Jake Locker
(1:10 PM)
All four guys are worthy candidates. I'm proud of what I was able to accomplish and I would be honored to be voted by the fans to be on that cover.
Richard (West Virginia)
who has the stronger arm you Newton or Mallet?
Jake Locker
(1:11 PM)
We did a little radar thing. I didn't know what they got. I would say Mallet probably has the strongest arm out of all of us.
Penizze McQuaid (San Francisco)
Jake...What did you think was the most difficult drill at the combines?
Jake Locker
(1:11 PM)
There's one drill where you have to back bedal out of your drop. That was a little difficult.
Darrin (Long Beach, MS)
Who are your top five wide receivers currently playing in the NFL that you'd like to play with?
Jake Locker
(1:12 PM)
There are so many guys in the NFL right now that are talented at that level. The interesting part is that there are guys with different skill sets that help their offenses in different ways. The opportunity to play with any of those guys at that level would be great. It would be a pleasure to be able to play with any of them.
J.B. (PA)
Do you think the NCAA is a bit too strict with the celebration penalty? Seems like they are taking some of the fun out of playing college football.
Jake Locker
(1:13 PM)
There are some calls that have been questionable the last few years. I understand why they've been doing it. But when it's just a reaction to a big touchdown, I don't agree with those.
Kurt (Wenatchee, WA)
Do you feel any tension when you meet guys at the combine that you once played against on the field?
Jake Locker
(1:14 PM)
No. It was competitive and you want to do your best. You're all going through the same process. We had a good time with each other passing the ball around and going through the drills.
Kyle (VA)
What are you going to work on now until the draft?
Jake Locker
(1:15 PM)
The same stuff. Throwing a lot. Keeping myself in shape and getting ready for pro day.
J.B. (PA)
Let's talk video games. Which sports games do you most enjoy and what systems do you own?
Jake Locker
(1:15 PM)
I like Madden. I like Tiger Woods golf. I like hockey games. Those are some of them.
Jake Locker
(1:16 PM)
I appreciate the support that you guys give me. I appreciate you following me throughout this process. I'm excited for what the next few months will bring.