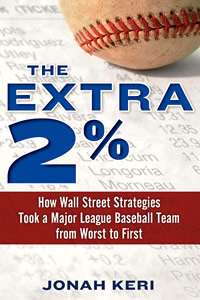 Welcome to SportsNation! On Tuesday, sports and stock market writer Jonah Keri stops by to about his new book and the upcoming MLB season.
Keri's recent book, "The Extra 2%: How Wall Street Strategies Took a Major League Baseball Team from Worst to First," chronicles the Tampa Bay Rays in their journey from the bottom of the pack to pennant winners and the methods they used to get there. To read an excerpt, go here.
Jonah has written for ESPN.com, The New York Times, The Wall Street Journal, Bloomberg Sports, Street & Smith's Sports Business Journal and many other publications.
Send your questions now and join Keri Tuesday at 1 p.m. ET!
More Jonah Keri: www.jonahkeri.com | @JonahKeri
More Special Guests: Previous chats | SportsNation
Jonah Keri
(12:59 PM)
Hey gang, thanks for coming.Feel free to check out ESPN.com's excerpt of my book, "The Extra 2%". Excerpt is about how the (Devil) Rays almost drafted Albert Pujols:http://sports.espn.go.com/mlb/news/story?id=6189583Lots more book stuff here:http://extra2percent.com/All right, enough of that. Time to chat. Questions needn't be solely about the Rays. Any and all baseball stuff, whatever you got.Let's go!
LOWELL RIKERT (MILLERSBURG, PA)
DOMONIC BROWN = BUST ??
Jonah Keri
(1:00 PM)
Way too early to call Brown a bust. He's a rookie who suffered a relatively minor injury.I did have concerns about the Phillies given Utley's health (this was before the latest injury) and Werth leaving. Not to say their rotation isn't more than enough to make a strong playoff run. But this team has holes, the Braves look frisky, etc. Should be interesting.
Jeremy (Ironton, MO)
I noticed it was not mentioned and very often forgotten in St. Louis that Pujols failed to make the opening day roster in 2001 until Bobby Bonillia got hurt at the last minute. Why do most writers forget to put this in there articles when obsessing about Albert?
Jonah Keri
(1:02 PM)
Good point. Same thing happened to the Rays with Evan Longoria. Willy Aybar got hurt just a few games into the season, Longoria took over, and the rest is history.I would argue that the main point stands, though: Pujols has grown into one of the best players of all-time. Had Bonilla not gotten hurt, he probably would have cracked the lineup some other way, before long. (same with Longoria)
Knish (NYC)
Hellickson? U buying?
Jonah Keri
(1:04 PM)
Mos def. He's my front-runner for AL Rookie of the Year, and I'm not alone.Lost in the hand-wringing over the loss of Matt Garza is the fact that Garza is a good-but-not-great pitcher. Hellickson might be better than Garza right now, forget about 3-4 years from now.
Matt (Pennsylvania)
Having not read your book yet--darn you Amazon/UPS--is the Pirates situation at all similar to that of the Rays four or five years ago?
Jonah Keri
(1:06 PM)
Tough to say this early. You have to be somewhat optimistic about high-end pitching prospects like Taillon. But of course those guys are a few years away. In the interim, there's a nice, young core of hitters with Tabata, Alvarez, McCutchen, Walker etc.There's real hope in Pittsburgh, which is something we haven't been able to say for a long time.
Sarge (Tampa, FL)
I thought Chuck Lamar picked most of the roster you now see on the Rays, except for the no-brainer 1st round picks Price and Longo. If you look at his drafting history it was amazing. Even Hellickson was a Lamar pick.
Jonah Keri
(1:10 PM)
One of the distinctions we have to make is that it's not the GM who makes draft picks, it's the Scouting Director early on, followed by area scouts and crosscheckers. But yes, the Rays have had a strong scouting and player development staff for several years now, and much of the team's core comes from that era. I do give credit to the old regime for much of that work.On the other hand, look at what the new regime has done in terms of finding undervalued talent since then (Price and Longoria aside). They got Ben Zobrist, J.P. Howell, Grant Balfour, Carlos Pena, Joaquin Benoit and many others for next to nothing. They turned Delmon Young into Matt Garza and Jason Bartlett, which set off a chain reaction that turned a historically bad pitching-and-defense team into a pennant winner in one year. They traded Scott Kazmir for Sean Rodriguez and a very good pitching prospect, dumping a ton of money AND upgrading their roster at the same time.The Rays would be a pretty good club if all they had were those homegrown guys. They're a very good club because they built around those players, cheaply and very effectively.
Sean (Miami)
Will Scott Kazmir have a break out year this season?
Jonah Keri
(1:12 PM)
Unfortunately I think that ship might have sailed. For one thing, he had his breakout year in 2007. For another, there are real concerns about his health (and related, his effectiveness) at this point.
Scrapper (Chicago)
Please define what the "extra 2%" refers to and provide an example of how the Rays used that principle.
Jonah Keri
(1:15 PM)
The Extra 2% refers to something the owner Stuart Sternberg said. He states that to beat the Yankees and Red Sox, two loaded teams with smart management and tons of money, you need to do absolutely everything 2% better than the competition. Scouting, player development, promotions, lineup moves, everything.There are a million examples of this in the book. One of my favorites:Joe Maddon probably works more closely with his team's stats guys than anyone else. After Mike Mussina ripped through the Rays' lineup a bunch of times, Erik Neander, the Rays' co-head of R&D, noticed that Mussina kills lefty hitters, which is unusual for a righty starter. The Rays started a lineup full of righties next game -- including some guys who frankly were pretty bad most of the time -- and they smoked Mussina. They started doing the same thing against other pitchers with big reverse splits: John Danks, Shaun Marcum, Tim Wakefield. And it worked.They might pick up, say 2-3 wins a year doing stuff like that. But consider that a 3-win player might cost $12-$15 million on the open market, that's a huge advantage. That's the beauty of trying for The Extra 2%. Sometimes you end up with a lot more.
Pat (Philadelphia)
Does your book have footnotes? I got a Kindle and the footnote thing is tough to read on it.
Jonah Keri
(1:17 PM)
No footnotes. As big a pain in the butt to write as they are to read. There are a few more general notes at the end, to give credit to the St. Pete Times, DRaysBay, and the many other publications I referenced in researching and writing the book.
Andy (Colorado)
Going to buy your book one way or the other, but what do you prefer: I buy the hardcopy or buy on my ereader?
Jonah Keri
(1:17 PM)
Either one is great. The Extra 2% is available in hardcover:http://www.amazon.com/gp/product/0345517652?ie=UTF8&tag=jonahkericom-20
JC (NY)
What do you expect from The Mets young players, ie. Ike Davis, Thole, F-Mart (if Beltran's knees really give him trouble as they are acting up again?)
Jonah Keri
(1:20 PM)
I like those guys! Thole especially strikes me as quite underrated. Left-handed-hitting catchers who can get on base and cost $400K a year...there's Thole and the Rays' John Jaso, and that's about it.There's a generation change coming, and it's already started. Beltran's in decline, Jose Reyes is in his walk year, etc. The Mets would do well to reload with a young core, plus maybe target 1-2 elite free agents (rather than the middle-class guys who inevitably end up not being worth their free agent dollar figures).
George (Montreal)
Years later, I still miss the Expos.
Jonah Keri
(1:20 PM)
Me too, mon ami. Me too. Always.
Luke (St. Paul, MN)
Your Canadian, so you must like hockey(aren't stereotypes fun). So who is your current favorite NHL player, and why.
Jonah Keri
(1:21 PM)
Carey Price. Habs fans were ready to crucify the poor guy after they traded the playoff-tested Halak and put Price in goal instead. He's responded brilliantly. And he's an arrogant SOB too, which is fun.
Aaron (San Fran)
Can and will Brandon Belt turn elite? I know it's early, but what looks reasonable from him?
Jonah Keri
(1:22 PM)
Definitely early. We have to remember that it can take several years before we have the best read on a young player. Dom Brown isn't bad and Brandon Belt isn't good yet. We need to let things play out.I do like Belt's upside, though. If I'm a Giants fan, I'm hoping Belt replaces one of the lesser bats at the corners in the near future.
Dave (Minneapolis)
Do you really think the White Sox and Tigers will contend for the AL Central, or is this like almost every other year where people don't talk about the Twins and they just get it done?
Jonah Keri
(1:24 PM)
I like the Sox better than the Tigers this year. Twins defense and bullpen are both shaky, there's a real question about whether their (very good) offense can overcome that -- doubly so if Morneau struggles to get back. White Sox upgraded their bullpen, and there's reason to believe young guys like Beckham and Sale could take a step forward. I've gone back and forth on my AL Central pick. Gun to my head right now? White Sox by the slimmest of margins.
Bill Q (Beaumont, TX)
Me thinks the Twins are the ultimate front office with a solid track record. It was way to early to judge the current Tbay front office.
Jonah Keri
(1:27 PM)
Love the Twins' front office, scouting and player development group and everything they've done. There's certainly more than one good story to be told in baseball right now.
Robinson Chirinos (Tampa Bay, FL (Port Charlotte for now))
Do you see me making the active roster any time this year? I've got experience all over the diamond, but that would mean 3 catchers on the active roster.
Jonah Keri
(1:28 PM)
If you're in a DEEP fantasy or sim league, pick up Robinson Chirinos. Could see him being the Rays' 2012 Opening Day catcher, much as I like Jaso. Chirinos is old for a prospect. But he's got pop, on-base skills, good athlete, etc.In the interim -- yes, a multi-position role for him some time this year is certainly possible. Nobody likes versatility more than Joe Maddon and the Rays.
Robert (Lutz, FL)
I heard you on the radio speaking about access to the team. I read a lot of news on line and in print and find that some of the best, most intelligent coverage of the team comes from outsiders without much access. Do you agree?
Jonah Keri
(1:31 PM)
You're damn right, I agree. Frankly I think it's a little strange to think that the only way to do quality coverage of ANYTHING -- sports, business, politics, whatever -- is to be embedded 24/7. There are some fantastic beat writers and investigative writers in all those fields, of course. But there's a reason that Andrew Sullivan and Baseball Prospectus and FanGraphs and other outsiders in various fields have been successful. Heck, Bill Simmons is an outsider. They do intelligent work, and they work hard at it.If anything, being free of the biases that can come with being too close to your sources can work to your advantage.
Jeff (Virginia Beach, VA)
It's expected that the Red Sox and Adrian Gonzalez have an agreement on a contract extension that will be announced shortly after the season begins for luxury tax purposes. What happens if he has a career-ending injury before then? It seems that he would be out of luck.
Jonah Keri
(1:32 PM)
Great question. I would guess that his agent put in some kind of safeguard/insurance clause there. Would make no sense for the Red Sox to get all that potential reward while assuming none of the risk.
Jack (Toronto)
How do you compare the TB situation to what Anthopolos has done so far in Toronto?
Jonah Keri
(1:34 PM)
Birds of a feather. The Extra 2% is in many ways a blueprint for the Orioles and Jays (and their fans) on how to take down the two toughest teams in all of baseball.I did a Q&A with Anthopoulos in December:http://blogs.thescore.com/mlb/2010/12/06/an-interview-with-alex-anthopoulos/...the guy knows what he's doing, and Jays fans should be optimistic. And I'm not just saying that because Anthopoulos is a fellow Montreal native.
Kevin (NJ)
Is anything on the Rays 2009 draft in the book, and how the (non)-signings of their top two picks went down?
Jonah Keri
(1:35 PM)
Yes sir. It's not as intriguing or shocking as it might seem, though. That was a weak draft in some respects, frankly, and the guys they drafted as compensation picks for the two players they didn't sign could end up with better careers in the end.
Jay (Chi)
Jonah - I want to study baseball stats more in-depth, and I have Baseball Between the Numbers on my list. But, seeing as it is published in '07 I am concerned that it may be outdated, considering the stats work that has been done in the last 5 years. Am I right or wrong? Should I get it, or are you working on a newer version I should wait for? Thanks!
Jonah Keri
(1:37 PM)
FanGraphs has a sabermetrics library put together by a smart blogger named Steve Slowinski. That's more up to date than Baseball Between the Numbers and well worth checking out (although BBTN is still a good read, if I do say so as a completely biased observer).
Paulie (Minneapolis, MN)
You've done a lot of chatting this week! Can you explain how this book differs from Moneyball? Thanks.
Jonah Keri
(1:41 PM)
I've got small kids to feed, and I love to chat!First off, I'd say a major difference is that Michael Lewis is arguably the best non-fiction writer in the Western Hemisphere. I'm still working at it.Beyond that, Lewis focused a lot on the stats vs. scouts angle, as well as OBP being a market inefficiency. I take a more holistic approach. There's stuff in here about analysis, sure. But there's a whole chapter about scouting and player development, only it's written in a positive light in this case. There's also an entire chapter on Joe Maddon (who's a key guy for the Rays, whereas Art Howe was portrayed as a bit of a middle manager in Moneyball). There's a chapter in The Extra 2% about marketing. One about stadium economics. It's a broad list of topics, woven into one narrative.What I like to tell people is, even if they have very little interest in the Rays, or even if they just like to read good stories or learn how smart people make good decisions, they'll like The Extra 2%. If you run the bodega on the corner, there's a good chance you'll like The Extra 2%.
Lee (Grand Rapids, MI)
Would it be fair to say that the Rays wouldn't be in their great position with a boat load of top talent if Pujols was on the Rays? I mean he would have pushed them down on the draft order on his skills alone and possibly pushing a lot of their top prospects right out of reach.
Jonah Keri
(1:43 PM)
Absolutely! I love what-if scenarios, and Pujols making the Rays better and pushing their draft spot down a few notches every year is definitely a good one. On the other hand...they'd have Albert Freaking Pujols! Really intriguing to me as far as what might been.
John (Sioux Falls, SD)
Given the Twins park and pitching staff, do you think they would benefit by making a move to help the IF and OF defense? Would moving Delmon Young to make a place for Ben Revere be a good idea? How about trying to move for a SS that is defensively above average and moving Cassilla to a utility role?
Jonah Keri
(1:46 PM)
The problem with moving in, say, Revere for Young is you risk giving back all your defensive gains by sacrificing offense. The Rays get lauded for focusing on defense and advanced defensive metrics before much of the competition. But of course the bigger story is they had great all-around players who could help on both sides. The Twins don't have a ready-made star like Evan Longoria just waiting to come up. They're in a bit of a tough spot, as things stand. They really need a healthy Morneau.
Dave (Brooklyn, NY)
Congrats on the book!Right now, the Rays are expected to win 84 games (http://www.belmont.com/live-lines/baseball/mlb-regular-season-wins) and are 12:1 to win the pennant (http://www.belmont.com/live-lines/baseball/al-pennant). Putting aside your likely pro-Rays bias, how do these numbers seem to you? (FWIW, Baseball Prospectus likes the Rays for 83.3 wins.)
Jonah Keri
(1:52 PM)
I think that's low. The Rays always seem to get a low number from Vegas. It's not that the sharps don't see hidden value. There's a reason they make bank and the rest of us lose. But with the Rays there's always something of a whole-greater-than-the-sum-of-the-parts thing going on. Stuff like finding good players who can play multiple positions, putting the right relievers into the right situations, playing unusual lineups when necessary...the front office and the manager do all of this very well.The Rays' over/under number last year was 88.5. They crushed that. Another gun to my head, I'd say the Rays win at least 88 this year, and possibly 90-plus.
Justin (New York)
Can you give me 1 thing I can look forward to about the Dodgers this year?
Jonah Keri
(1:55 PM)
Clayton Kershaw's curveball is apt to make Vin Scully rhapsodize about Sandy Koufax. That's always a good thing.
Ron Swanson (Pawnee)
How many of the "Pillars of Greatness" did you incorporate into your book?
Jonah Keri
(1:55 PM)
Several meat proteins. I also ignored skim milk, twice.
Chaz (Amherst)
The Rays have somewhere around 10 of the first 60 some odd draft picks this June. Looks like they have potential to have years of success with what many are calling the deepest draft in recent memory. Do you think a change need to be made in the CBA in regards to the labeling and compensation of Type A/B free agents?
Jonah Keri
(1:58 PM)
12 of the first 89 picks too. It's the biggest haul in draft's history. Check out pieces by Kevin Goldstein of Baseball Prospects, and others, and what it could mean.Does MLB need to change the system of comp picks? Well, first of all it's nice to get compensation when you're losing a superstar like Carl Crawford, to your arch rivals no less. Beyond that, 29 other teams could have gamed the system like the Rays did in trading for crappy players like Chad Qualls who were nonetheless worth comp picks by MLB's bizarre rules.Whether or not MLB SHOULD change the rules, my guess is they will, when the CBA expires after this season.
Mark (Milwaukee)
Can I get your opinion on how the Brewers are gonna do this year? Optimism is at an all time high here in Wisconsin.
Jonah Keri
(2:00 PM)
How about they're my pick to win the NL pennant.Love the additions of Greinke and Marcum. Axford and Braddock anchor a bullpen that's much improved from couple years ago. Offensive core still strong. They just need to upgrade SS. Hoping they see that sooner rather than later. Honestly, even a J.J. Hardy reunion would be a big upgrade over Yuniesky Betancourt and his unique brand of incompetence.
Rene (Van Nuys, CA)
Hi Jonah, I'm joining the discussion a bit late so please excuse me if you've already been asked this. With the Yankees and Red Sox already set at first base with Texiera and Gonzales what team has the money to pay Albert Puljols near 30-million a year for a 7-10 year contract and why would you offer such if there is no one you're bidding against?Thanks!
Jonah Keri
(2:04 PM)
Hi Rene,At the MIT Sloan Analytics conference this past weekend ("Dorkapalooza" as Bill Simmons calls it), I sat on the Baseball Analytics panel with a guy from SportVision, three scout/exec types from various teams, and ESPN alum Rob Neyer (whose Chat slot I'm in right now...love ya, Rob). Anyway, the discussion started by guessing Albert Pujols' "real" age. Consensus was he was older than he claims (I don't necessarily agree, but this is what others thought). If teams even suspect that he's, say, 34 instead of 31, that changes the equation considerably.Who has the money to sign him? All 30 teams. Who has the will and the obvious hole to sign him? Who knows. Cubs? Dodgers? Orioles? Blue Jays? Lots of potential choices.
Brian (NJ)
One thing about the Rays Over/Under. If they don't feel like they can make the playoffs, they are very aggressive trading veterans for prospects at the trading deadline. Makes their floor/ceiling gap wider. Over 90 wins is very possible, but so is less than 80.
Jonah Keri
(2:06 PM)
That's a great point. I've actually argued that you can game that in your picks. For instance I took the Astros over...I believe it was 72.5 games last year. Did the Astros suck? Sure. Did the owner have a history of stubbornly hanging onto older, name veterans rather than rebuilding? Yes he did.Of course the Astros traded Oswalt and Berkman in the end. Yet they STILL hit the Over. So I guess I have no point. Except that yes, it's a good idea to think about management tendencies and likely division races, not just raw talent, when making over/under picks.
Jim (Denver)
Besides looks and coming from a country with a reputation for fudging birthdates, is there any other evidence that Albert is not as old as he says?
Jonah Keri
(2:08 PM)
The fact that no one since...Mel Ott? Jimmie Foxx?...ever hit like Pujols did at that age might be the biggest influencer.He did go to high school in Missouri, of course.Like I said, it's speculation. But when you're considering a 10-year, $300 million contract, you consider every angle.
Craig (Chicago)
The Bonilla-Pujols issue is a myth. Pujols was going to make the team anyway. It is just an argument LaRussa haters use about how he hates young players. Were the Goldman Sachs guys on the Rays involved in any of the practices that got that firm in hot water in the last decade?
Jonah Keri
(2:10 PM)
I confess to never writing a 100-page thesis on the early aughts Cardinals. But yeah, Pujols would have played one way or another.Sternberg and Silverman were long gone (and over to the Rays) by the time things hit the fan on Wall Street in 2008. Sternberg was a partner at a market specialist firm called Spear, Leeds that sold out to Goldman for $6.5 billion (with a B) around the time Pujols took his first big league swing. He stayed with Goldman a few more years, then took off after baseball. Considering he bought majority control for $65M and the team is now (according to Forbes) worth more than $300M, that looks like another shrewd move.
Jonah Keri
(2:14 PM)
The Extra 2% just cracked the Top 200 on Amazon for the first time. Thanks a zillion, seriously.
Casey (Memphis)
Since you bring him up every time you talk about The Extra 2%, care to explain the greatness of Neyer the Editor?
Jonah Keri
(2:15 PM)
If you write a book, have Rob Neyer be your first editor. He made me a better writer. He even improved Michael Lewis' book. Rob might also be the nicest guy in the business.
t-phil (manistique,mi)
the rays gave away some good players i don't think there a contender anymore, does anyone else?
Jonah Keri
(2:18 PM)
If by give away you mean they got a boatload of prospects for Garza and Bartlett and then replaced those two with potentially superior replacements, then yes.If you mean they refused to pay inflated rates for the most unpredictable commodity in baseball, relief pitchers, then yes.If you mean they didn't want to pay an aging 1B coming off a .196 season $10 million, then yes.They'll miss Carl Crawford. But even then they got two comp picks. And they left a ton of talent behind. They'll compete now, and they project to be good for the foreseeable future. The fact that they have Evan Longoria signed to the most team-friendly contract in baseball for 6 more years doesn't hurt.http://online.wsj.com/article/SB10001424052748704504404576184710995277694.html
Louis (NYC)
Do you think the MLB took the whole team name purification a little far with the Devil Rays? I really liked that name. The Tampa Bay Rays seems kinda silly.
Jonah Keri
(2:21 PM)
I'm not the biggest fan of either of the two names, to be honest. But they did need to be rid of their old image and everything that went with it, that's for sure. There's a whole chapter in the book specifically about remaking the team's image. Really goes hand in hand with on-field stuff like the Longoria contract, Garza trade, etc.
Chris (Orlando, FL)
Do you discuss in your book the thought process that went in to taking Tim Beckham #1 overall instead of in-state hero, Buster Posey. As a Rays and FSU fan, it still drives me crazy to this day.
Jonah Keri
(2:23 PM)
Wouldn't say I went into excruciating detail. I'll namecheck the excellent prospect analyst Kevin Goldstein again and note that he (and others) felt at the time that Beckham was the better pick. More long-term upside, finding a potential elite SS is huge, etc.I do still point out how it ultimately ended up a mistake. But the pick, at the time, was defensible. Even if it looks terrible now.
Amy (Seattle)
I bought the book mid-chat so you should definitely answer this. Will the redsox rotation bounce back or be an issue? Whose rotation in the AL east do you like the best (assuming the unassumable--health)?
Jonah Keri
(2:26 PM)
Way to go, Amy! Seriously, if you buy the book while we're chatting, I'm not gonna lie, there's an excellent chance I'll answer your question. I'm only human.There are question marks about Beckett and Lester, for sure. But the bottom three of Boston's rotation still looks stronger than the bottom three of New York's. And I like the rest of the Red Sox roster a little better. They're the clear favorites in the AL East.Best AL East rotation? I'll take the Rays, with total salaries of about $7 million. Assuming Hellickson is healthy, that's a deep staff, one through five. The bullpen is the question mark there. On the other hand, I do like Jake McGee and Adam Russell as two young relief pitchers to watch.
Tarek (NYC)
Mil over the rays in the WS 4 games to 2. I really think people are underselling the Rays and overselling the Yanks. I could see the Yanks ending up only 1 or 2 games ahead of the Jays.
Jonah Keri
(2:28 PM)
I wouldn't go that far. First of all the Jays hit more HR than any team in MLB in half a decade last year. Expect serious regression there.Right now I see Boston winning the East, Yankees, Rays and runners-up in Central and West (Twins and A's?) having a fierce battle for the wild card.
JToronto (Toronto, ON)
Hi Jonah, I'm looking forward to reading the book! My question for you is why do you think other teams are so slow to change their way of thinking? For instance, I believe the teams in AL East are about the smartest in baseball (except for maybe the Orioles), but then you have teams like the Pirates who just seem to be stuck doing what they do. Also would you ever want to work in a front office?
Jonah Keri
(2:30 PM)
If you do something one way your whole life and you're confronted with new trends and new evidence, it's tough to change -- in baseball, or any other endeavor. You have to be willing to accept that you may have been doing things wrong all along, and that's tough for many people to swallow. As for your specific examples, Orioles and Pirates, there are some good things happening for both those organizations, just might take a few more years before we see dramatic results.I'm not qualified to work in an MLB front office. I'm just a guy who writes and talks and quotes Simpsons lines.
Andrew Friedman (via mobile)
Would you please inform Louis (NYC) that he's been fined? Thanks.
Jonah Keri
(2:31 PM)
Seriously, don't ever call the Rays the Devil Rays around any member of the front office. They WILL fine you. (That's in the book too)
Josh (Toronto)
You keep saying that Ott thing about Pujols, but ARod put up a 1.045 OPS as a 20 year old.
Jonah Keri
(2:32 PM)
Yup, A-Rod is the great modern example. To this day his 20-year-old season might have been his best.The broader point is that it's really rare. Of course, as someone who tends to believe Pujols might in fact be 31, I would counter that Pujols is a really rare ballplayer.
Shane (Knoxville)
who do you think starts a major league game first: Feliz or Chapman?
Jonah Keri
(2:33 PM)
Feliz. Not sure Chapman starts at all this season, and there are long-term questions about how his pitching style might play throwing 200 big league innings too. (Though I'd give it a try, of course)
dave (erie, pa)
Jonah do you think McGee starts the year as the rays closer? What kind of impact could he have this year and longterm?
Jonah Keri
(2:35 PM)
I see the Rays going to a quasi-committee at closer to start the year. If you're asking a fantasy question, Farnsworth might get a few more saves than other guys to start.McGee has a chance to make a great impact this year and long-term, though. Forgetting fantasy implications for a second, McGee has the kind of stuff that could make him a (much-)harder-throwing J.P. Howell, a high-leverage reliever who can get both lefties and righties out. And he costs the league minimum. Extra 2% kind of player.
Casey (Memphis)
Did you mean to say Lackey, not Lester? I thought you had Lester as your CY pick.
Jonah Keri
(2:35 PM)
Lackey, not Lester! Lester is indeed my Cy Young pick. And Adrian Gonzalez is my AL MVP pick. You could say I'm bullish on Boston this year.
Ben (Brooklyn)
Just bought the book! Can you think of any reason why owners, who one would assume are pretty smart businessmen, don't take the hint and hire some of these smarter, stats-oriented front office people? For instance, why is Jim Hendry still the Cubs GM?
Jonah Keri
(2:37 PM)
I'm that easy.You don't have to be stats-oriented to be a good GM (or a good writer, actually). The Braves and Twins have been successful forever with a very scouting-heavy approach. They do look at analytical concepts, but their bread and butter is still quite old-fashioned, in terms of outscouting the competition. And that's great. Lots of ways to win in baseball.Why is Jim Hendry still the Cubs' GM? If the Cubs keep struggling, never know what the future might hold.
Rob (Alaska)
Rays fan in Alaska - woot! Can't wait to read the book. Wondering what you think about Maddon's penchant for mixing-and-matching his lineups and how this plays into front office roster construction. Is this an example of the extra 2%?
Jonah Keri
(2:38 PM)
It is a perfect example of The Extra 2%. Goes to what I said earlier. On paper the Rays never seem to be as good as NYY or BOS. But by putting the right players in the right spots, Maddon (and his staff) find extra value, turn good players into very good ones.
Jonah Keri
(2:38 PM)
Lightning round!
Lee (Grand Rapids, MI)
What do you make of Miguel Cabrera's off the field issues from a few weeks ago? Do you think its going to hamper his on field production or do you think he will turn it into a "see what I can do" type performance.
Jonah Keri
(2:39 PM)
He's been drinking this long and put up numbers. Quite possible he pulls through and keeps hitting like nothing changed. I'm more concerned about Cabrera the man than Cabrera the player right now.
Max (CA)
Re: Rays draft picks. I don't have an issue when a small revenue team like the Rays stockpiling draft picks. It's teams like the Red Sox who can afford to sign players like Crawford and eventually Gonzalez at the same time they get extra picks for their elite FA's. It should be one or the other. Allow teams to build through the draft or sign elite FA's at higher prices. Meaning, the Sox don't get picks for Beltre or Martinez. Also, one supplemental pick for a type A, not the other teams first rounder. So everyone keeps their first rouner, and you only get supplementals if your FA's sign with other teams and you do not sign any type A's.
Jonah Keri
(2:40 PM)
I agree, and that would be one way to tweak the system, yes
Peter (AZ)
Do you see the Angels wining the A.L. West this year? Why?
Jonah Keri
(2:41 PM)
I do not. Like their rotation, hate their lineup. I'm expecting them to finish 3rd behind Texas and Oakland.
george (queen creek az)
vlad to HOF- what more will it take? will he go in with a 'Spos cap?
Jonah Keri
(2:42 PM)
I think he's in. And I'd guess he goes in as an Angel. I'll still go to Cooperstown and cheer for him.
Brandon (CA)
Any chance the Garfoose sticks in the Rays bullpen? Entertainment overload if he tweets about major league games...
Jonah Keri
(2:43 PM)
Brandon is referring to Dirk Hayhurst, a relief pitchers in Rays camp whose book "The Bullpen Gospels" is phenomenal. Had fun talking to Dirk on my podcast:http://jonahkeri.com/2011/02/08/podcast-22/Will he stick in the Rays' bullpen? Possible. He'd has some success in the past. Lots of open spots, but also lots of competition this season in TB.
Joshua (Toronto)
OVer under years until Toronto is a legit playoff contender? 1.5?
Jonah Keri
(2:44 PM)
Jays? 2.5 years.Leafs? Infinity years.
Brian (Montreal)
If Vlad goes in as a Angle, the only chance for another Expos' HOF is Raines, right? Jonah, make this happen, the Rock deserves it!
Jonah Keri
(2:45 PM)
Raines30.com for all your Tim Raines advocacy needs. It's a crime that Rock isn't in already. He reached base more times in his career than Tony Gwynn, and stole more than 800 bases, with the highest success rate in MLB history for someone with anywhere near that many attempts.
Rob (Alaska)
Desmond Jennings: end of the year stats?
Jonah Keri
(2:45 PM)
He won't play much with the big club. Needs Triple-A seasoning, and acquisitions of Manny and Damon mean not enough playing time to go around.
Ben (Oly, WA)
Johan, big fan. Your thoughts on the Pirates future? Please give a lifelong Pirates fan (since 91) an atom of hope.
Jonah Keri
(2:46 PM)
Answered earlier in the chat, Ben! I like the Pirates' future, but it's going to take time. Nice to see a good, young core of hitters already in the big leagues, though.
Jonah Keri
(2:48 PM)
Thanks for the time, everyone!Please pick up a copy of The Extra 2%. You'll love it!http://www.amazon.com/gp/product/0345517652?ie=UTF8&tag=jonahkericom-20