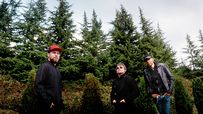 Tres Mts. will hit the road for a five-city tour starting March 16.
Welcome to SportsNation! On Thursday, Pearl Jam bassist, Tres Mts. founder, skateboarder, Seattle sports junkie, graphic designer and all-around good guy Jeff Ament will stop by to take your questions in chat.
Ament, born in Montana, moved to Seattle at the age of 20 and played in several bands before helping found Pearl Jam, which has grown into one of the biggest rock bands of the past 20 years. In addition to releasing a solo album, "Tone," in 2008, Ament recently rounded up dUg Pinnick of King's X and Richard Stuverud of the Fastbacks to form Tres Mts. and record "Three Mountains," a collection of songs that has been in the works since 2001.
Send your questions now and join Ament on Thursday at 3 p.m. ET!
More: PearlJam.com | TresMts.com
Jeff Ament
(3:02 PM)
what's up?
Jeff Ament
(3:03 PM)
Nope...immediately call Howard Schultz and give him the business!
James (Seattle)
Hey Jeff, Do you see the Supersonics coming back to us in some form?
Jeff Ament
(3:04 PM)
see answer #2...figuring this interweb out....&%
Nicholas V (Colts Neck)
With Cameron jamming with Soundgarden again, does this mean Pearl Jam is looking for a new drummer?
Jeff Ament
(3:04 PM)
Matt is our last drummer...SG is just "borrowing" him from time to time...
Scott (Brooklyn)
Jeff- Will the next PJ effort be produced by Brendan O'Brien? We're looking forward to your next "Sweet Lew" performance on tour.
Jeff Ament
(3:06 PM)
looks like it...BOB is the best. Sweet Lew is in full retirement...I can write better songs....have written, will write better songs....unless the tear down the Forum.
Cameron (Greenville,NC)
Jeff! Who you got for your final four?
Jeff Ament
(3:06 PM)
San Diego State and not Duke...I'm a bad gambler, I bet with my heart.
Javier Esquivel (Juarez Mexico.)
I'm a Huge fan of PJ, thus your self. Looking forward to hear Tres Mts.I have a small local radio show called Cineradial. I hope you can tell us which 3 movies you would take if you where stranded in an Island.Thanks. VIVA LA VINYL!!!!
Jeff Ament
(3:07 PM)
No Country For Old Men.Affliction.and Caddy Shack to swing the foul mood.
Patrick (Philadelphia, PA)
Hey Jeff... long time fan since the love bone days... where will you be hanging out when you are in philly?
Jeff Ament
(3:08 PM)
Richard lives in Philly with his family...so we'll be heading to his house for some Moroccan food.
Brendan (Manchester NH)
How did you get Mike MicCready to come along on the Tres Mtns tour?
Jeff Ament
(3:09 PM)
I bought Mike a brand new 911 for his massive efforts...and by limiting the tour to 6 shows...it's great to have Mike...and he played on the record.
Angela T. (Bronx, NY)
Hi Jeff, my husband and I are going to the NY show on the 26th. We've been big Pearl Jam fans forever and were excited to see you and Mike teaming up w/ some other great musicians for this fun project and in such a small venue. I've been having a hard time finding the cd - are all the stores currently carrying it? Also - I hope PJ is considering NY for the 20th anniversary show! Love u guys!
Jeff Ament
(3:10 PM)
We distributed the disc to the mom and pops that wanted it...and it's available at the pearljam.com...and we'll have them at the shows...
MrsOakley (New Jersey)
Jeff, in 2008 you said that if Tone was a basketball player, it would be Ronny Turiaf, ?an over-achieving, not very talented shooting guard.? So of course, my Knicks play him at center ? what player would Three Mountains be (would have to be an All Star, the album is great, but I need lyrics from you on these things!!)
Jeff Ament
(3:15 PM)
I will change to Barea from the Mavericks....that dude plays like he's in college. Tres Mts would be Bill Walton.
Cary Kemp (Ballard HIGH)
Will the drummer be allowed to remove his shirt during live performances, and are fellow band mates and crew interested in betting he will? Perhaps a reminder that he is almost 50 will help?
Jeff Ament
(3:16 PM)
We have a clause in the 60 page contract with Ricardo that he canonly remove his shirt once every six shows...he's still pretty ripped!Are you Shawn's brother?
Leonardo Diaz (Sao Paulo, Brazil)
I know in others interviews and chats, you didn't answer the question but this question couldn't stay away... The people want to know: If there is a disagreement with Pearl Jam and Dave Abbruzzese. Have a nice day
Jeff Ament
(3:17 PM)
Dave was a great drummer but it didn't work out...we wish him the best...(was that politically correct enough?)
brian (hoboken nj)
What are your thoughts on having a basketball team from another city move to Seattle much like how the Sonics were moved?
Jeff Ament
(3:17 PM)
#@*! David Stern's NBA.
David Soltys (Orlando, Fl)
You ever surfed with Eddie Vedder? Who is the best surfer in PJ? Sports & Music nothing better.
Jeff Ament
(3:18 PM)
It's no contest...surfing is not a contest unless your Slater, ten time world champion...EV slashes it up...I just stoked to catch a wave....
Jonas (Portland, OR)
So...let's say the Blazers meet the Thunder in the playoffs. Where's your allegiance.
Jeff Ament
(3:19 PM)
tough one...Mr Sonic versus ex Sonicos...because I like to feel sad, I'll say the Thunder....Long live the Sonics, the Sonics are dead!
Jani (Finland)
When is Pearl Jam coming to Finland? We have been waiting for you guys since 1993 and the support gig for Neil Young!
Jeff Ament
(3:20 PM)
I know, I know...please know that I bring Finland's name up every time we talk about Europe...fingers crossed for next year.
Cigdem (Istanbul)
Hello Jeff, my question to you is rather weird. 15 years ago, on 19 November 1996, at your one and only concert here in Istanbul, I threw my journal all the way onto the stage in the hope of one of you getting hold of it and reading it. Yes, that seems a bit weird and embarrassing now, but I was only 16 then though I still feel the same about you, that is Pearl Jam. I was wondering if you really did get it and had a look at it. I tried to ask you the same question through a placard at the Athens gig you played in 2006. My husband believes you saw it and gave an affirmitive nod. Did you really? Lots of love from Istanbul.
Jeff Ament
(3:21 PM)
Sorry I don't have your journal....Istanbul is perhaps my favorite city on the planet...it's been almost ten years since I've been back to Turkey...way too long.
Glenn J Conte (Conte)
Jeff how did you get from 1988 to the present. You managed to survive the all the rif raf in the music industry not to include fame and fortune and still have a clear head for great song writing/ART after so many years. How do you NOT burn out? Im digging this Tre Mts. stuff... did you ever get that stolen LAPTOP back from when those dudes jumped you 2 years ago?Glenn Conte NJ HAPPY 20 ANNIVERSARY PJ love you guys.
Jeff Ament
(3:24 PM)
Going back to Montana every year and hanging with my family and friends gives me perspective....there's nothing better than making music/art and hanging with your friends...
Lou (New York)
What was it like recording with Dug Pinnick? Two monster bass players on one record...Which one of you played guitar?
Jeff Ament
(3:25 PM)
Dug plays guitar on this record...he is one of my fav singers/musicians. Stoked to put together a band for him to do his thing. we blew it though, we should have had a bass summit! Next time.
Grant Harse (Lawrence, KS)
Jeff, I'm a long-time PJ, 3 Fish, & Ames Bros fan, as well as a bass player and amateur graphic designer/silk screener, so it may be needless to say you've influenced me in many ways over the years. So, thank you. That said, and assuming you have filled out a mens' 2011 NCAA bracket, Belmont v. Wisconsin: who are you picking to win this evening, why, and how far does the winner of this game advance?
Jeff Ament
(3:26 PM)
Wisconsin. That's a tough bracket...keep playing and making art...it keeps you young!
Kyle Vozenilek (Ohio)
I saw the footage of you skating in Touring Band 2000. What is your favorite place to skate in the country? P.S. I saw you in Columbus and Cleveland last year!
Jeff Ament
(3:29 PM)
There's a lot of favorites...Lincoln City, Orcas, Walla Walla, Missoula, Pier Park....lots of new killer parks...
alejo (argentina)
Please man come back to argentina this year
Jeff Ament
(3:29 PM)
working on it....love B.A...
Dave (Boston)
Are you gonna die from heroin?
Jeff Ament
(3:30 PM)
you're an idiot.
Dave Cherubin (Methuen, MA)
What is your favorite original song to perform? What is your favorite song to cover? How close did you guys come to breaking up back in 1995ish?
Brad (Gadsden,Alabama)
Jeff, Who do you think is going to win the NCAA tournment?
Jeff Ament
(3:32 PM)
I'm hoping UW, SDSU or Marquette...
Beth (Long Beach, CA)
Jeff: Can you talk a bit about helping Jim Murphy to build concrete skateparks on the Pine Ridge Indian Reservation for his Wounded Knee Four Directions Skatepark Project under the Stronghold Society, a Non Profit which was formed to inspire confidence in Native American Youth? Thanks!!!
Jeff Ament
(3:33 PM)
Jim and I have been talking for a couple years about getting this done...hopefully this summer we get it started...it's looking pretty good.
chad f. (spokane, wa)
I have been a long time fan of your work. How difficult is it to play and record with Pearl Jam and then switch to your own projects? When are you or PJ coming to Spokane. We would love to have you here!!!
Jeff Ament
(3:35 PM)
We need to hit Spokane again...lots of family and friends there....switching gears musically is the best...it's fun to drag different tendencies over to the other bands...
Rick (NYC)
OK, so EV wins in Surfing. How about Hoops? Whose got the better game? And how many takes did it take EV to sink that half court shot on the Touring Band DVD? Be honest.
Jeff Ament
(3:42 PM)
I've been hooping since I was 6...Ed's been surfing since he was 6....pretty self explanatory...pretty sure it was first or second try on that half court hail mary..
david (atlanta)
when is PJ playing atlanta again? I mean BOB does live here
Jeff Ament
(3:42 PM)
I love Atlanta...my sister lives in the area....the lovely O'Brien family...we'll be back.
Jason Z (Philadelphia)
Jeff, thanks for all the great year of music, who is your all-time starting five NBA? Also do you have a favorite King's X song?
Jeff Ament
(3:43 PM)
Big O. Kareem. Brent Barry. Pete Maravich. Kevin Durant.
Brett Stetzner (Butte America)
Are you guys gonna back Senator Tester again in the 2012 election. We could use PJ back in Montana.
Jeff Ament
(3:45 PM)
Yes. We will be in Tester's corner in 2012...how can you not back one of the truly honest congressmen left?
Brian (Hartford)
PLEASE PLEASE PLEASE Jeff.....Give us a little heads up on this summers 20th Anniversary show!! PS-> Hartford show in May was EPIC! Thx for the great show!
Jeff Ament
(3:46 PM)
We're working on it. There's a lot of work and decisions to make meanwhile....
Andrew Burrowes (Toronto, Ontario)
Hey Jeff... Do you ever listen to your own music, live or studio, when you're skateboarding? If not, what songs get you in the right mood?
Jeff Ament
(3:47 PM)
No. I love cranking Devo, Motorhead, Mogwai, Mastodon, DKs,...
Rich (Hamilton)
Too bad our Grizzlies couldn't hang on, but it looks like Northern Colorado has their hands full. What cities are you and Tres Mts. hitting? Been a while since we've seen you in Zoo-town.
Jeff Ament
(3:48 PM)
Tough year for the Griz...lots of injuries...Quale had a incredible year/career...
Alex (Kansas City)
Who popularized the Hamer 12 string bass first? You or dUg?
Jeff Ament
(3:49 PM)
Tom Petersson/Cheap Trick invented and popularized the 12 string....listen to Dream Police...Gonna Raise Hell...Dug might have had the best tone w a 12 str though...
Alex (Kansas City)
Jeff, I read that you're a fan of Mastodon and their latest, Crack the Skye. Have you had a chance to see them perform the album live?
Jeff Ament
(3:49 PM)
Yep. Incredible band.
Kinga (New York)
Hi Jeff, Which actor would you pick to play you in a movie about your life?
Jeff Ament
(3:51 PM)
Emile Hirsch plays my younger self....Shia LaBouef, my even younger self....
FashionPlateStone (Atl)
Why did Pearl Jam change its guitar tones so drastically around the Vitalogy era, and can we ever get some of the old tones to match the old songs?
Jeff Ament
(3:51 PM)
Cha-a-a-nges....are good.No.
David Stern (NY)
I would venture a guess that we're not going to be hearing from Jeff Ament for the rest of the season. I think when he stops and reads what he said, realizes what he did, he will say no more. I have a feeling some modicum of self-restraint will cause Jeff, and the band for which he works, to rein in his aberrant behavior.
Jeff Ament
(3:54 PM)
I've been trying to get a meeting with you for three years, David...can I take you to dinner next week when I'm in NYC?...
Keith H (Seattle)
Thanks for coming on the chat. I'd just like you to know that there are folks such as myself in the 206 that refuse to patronize Starbucks since Howie sold the Sonics and greased the skids to OKC. The green and gold still live in our hearts.
Jeff Ament
(3:55 PM)
I miss the green and gold....I'm an All City Coffee guy.
Derek (Great Falls, MT)
Jeff, you know my mother-in-law Melanie Bush from Big Sandy! Do you play any fantasy sports, ie Football? Or any of the guys from Pearl Jam?
Jeff Ament
(3:57 PM)
I do remember your mother in law...I used to deliver papers to her family's house when I was a youngster.
PHARAOHS SON (10C)
Hi JeffAre you ever going to cover Grand Fund Railroad. We would love to here your big green monster pound out their funky bass line.
Jeff Ament
(3:57 PM)
I loved Grand Funk as a kid....the live record.
Stephanie (Warner Robins, Georgia)
Who was your favorite band growing up?
Jeff Ament
(3:58 PM)
Hey Steph! I was into a lot of bands....what do you remember hearing thru the walls the loudest? Nugent? Kiss? Beatles?Jackson 5?
David (Glassboro, NJ)
Thank you guys soooo much for paying tribute to the Spectrum the way you did. Dr. J will smile upon you forever
Jeff Ament
(3:59 PM)
Love Philly. Playing the final shows at the Spectrum was a huge honor.
Double K (Milwaukee)
Hey Jeff, is the PJ festival coming to Alpine Valley in Wisconsin?
Jeff Ament
(4:00 PM)
I hope so....I have many friends in Milwaukee.
Perry (Hell, MI)
Margret Cline wants to know if you really broke her DISCO HITS album... Peace Bro!
Jeff Ament
(4:02 PM)
I did break that record while cranking Black Flag at the annual Disco Sucks dance at Big Sandy High School Thanks for helping out Bert Toid.Sincerely, Egg Toid of Toid Bros fame.
Adar (Washington, DC)
Hi Jeff, long time fan. You, Flea and Ben Sheperd were the reason I started playing bass way back when. My question is does PJ ever think about playing smaller venues? It would be pretty rad if you guys played some club shows on your next tour.
Jeff Ament
(4:03 PM)
Flea and BS are two of my fav bassists...total commitment.I like the clubs.
Jeff Ament
(4:04 PM)
Over and out...thanks people, family and friends....this is one of my favorite ways to communicate about the band/music/sports etc...Take care.