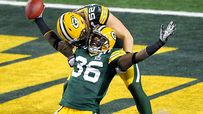 The Packers selected Collins with the 51st overall pick in the 2005 draft.
Welcome to SportsNation! On Tuesday, we'll have safety Nick Collins from the reigning Super Bowl champion Green Bay Packers stopping by to chat.
Back in February, Collins, in his sixth season with the Packers, returned an interception for a touchdown to help Green Bay defeat the Pittsburgh Steelers in Super Bowl XLV.
In his career, Collins, a Bethune-Cookman product, has 21 interceptions, returning four for touchdowns, including three in one season in 2008.
Send your questions now and join Collins Tuesday at 12:45 p.m. ET!
More Special Guests: Previous chats | SportsNation
Buzzmaster
(12:35 PM)
Nick should be here shortly to take your questions!
Buzzmaster
(12:47 PM)
Nick is walking down the hall!
Ryan (Minnetonka, MN)
What was your favorite super bowl moment?
Nick Collins
(12:48 PM)
The greatest moment, my pick. Catching it and running it back for a TD.
Jay (Boston)
Did the long post-season leave you feeling any more haggard than usual heading into this off-season?
Nick Collins
(12:49 PM)
Just a little. But I had some time off, let my body heal. Took a month off and now I'm trying to get back into things.
Matt P (Berkshire, NY)
How is the lockout going to affect you as a player?
Nick Collins
(12:49 PM)
It's out of my hands and my control. But at the same time, I'm a professional and I'm going to do what I have to do to get ready for the season.
Matt (DC)
Nick, big fan. What do you see as the Packers biggest needs this offseason?
Nick Collins
(12:50 PM)
Probably get another OL guy. I think that's the direction I would go if I were the GM. But who knows what they're going to go after.
Keith (Milwaukee)
First - congrats and thanks for a great Season - my kids are still buzzing about XLV. Second - what are you going to do this off season during the lockout to stay ready? Are you getting together with any teammates?
Nick Collins
(12:51 PM)
I think we're going to plan to get together as a secondary. The guys that are a part of the team are in Florida. I'll call them to see if they want to work out. But we're professionals. We know what to do to get ready for the season.
Shaun (Livermore,CA)
Congrats on the SB! Can you explain the feeling you had once you picked the ball off and were in the end zone? As a fan, when you are watching it on tv it's exciting but it most be unbelievable down there on the field? Do you hear anything? Is everything in slow motion?
Nick Collins
(12:52 PM)
My main focus was to not drop the ball. Once I got it, I made a few moves to get in the end zone. Growing up, I always said that if I could get to the Super Bowl and score, that would be one of hte best moments of my life. It came true this year.
BJ (Indiana)
Don't lie, you think you should've gotten the Superbowl MVP
Nick Collins
(12:53 PM)
I do! You're right, I would be lying if I didn't say that. I thought I had a chance to win it, but A-Rod was the man with the ball in his hand 24-7 and he did some great things to help us seal the victory.
Michael (Norfolk)
What's it like to play against Aaron Rodgers in practice?
Nick Collins
(12:53 PM)
It's tough. He's a competitor, I'm a competitor. We make each other better. It's easy for him to go out there and make all of the throws, because we have a great secondary. For us, it's better for us going out there against a team with a great QB, because he gives us that look.
Tyler (ATL)
Congratulations on winning the Super Bowl. What motivated yall to play so well at the end of the season and throughout the playoffs?
Nick Collins
(12:54 PM)
We had a goal. We set a goal at the start of the season and we wanted to fulfill it. Once we got to the playoffs, we were hungry and knew what we wanted. We were able to get four key victories to win it all.
Cameron (Greenville,NC)
Hey Nick, congrats on the Super Bowl! I went to high school and college with Jay Ross and I asked him about the atmosphere at the Super Bowl when he came back home to North Carolina, and he said it was something he had never experienced before. How was it just stepping on the field right before kickoff?
Nick Collins
(12:55 PM)
It was crazy. Jerry Jones did a nice job putting the stadium together. Seeing yourself on that huge jumbotron. It was unreal. I made it. It was just a dream come true.
Chris Fiegler (Latham,NY)
How do you Feel that you are being Locked Out by the Owners?
Nick Collins
(12:56 PM)
My feeling was it's a business. Both parties are going to do what they can to get the job done, but the owners didn't want to open their books. We want to play football. The fans want us to play football. It is what it is.
BJ (Indiana)
10 different NFC teams in the Superbowl the last 10 years...can the Packers break this wacky streak?
Nick Collins
(12:57 PM)
I think we can. We have a great team. A lot of young guys have to step up and fill some big shoes. I think we'll be able to repeat this year. Just stay focused.
Matthew (Columbia, NJ)
Nick, have you thought about trying to play any sports during the lockout?
Nick Collins
(12:57 PM)
Yeah, I was thinking about giving baseball a try. If things don't pan out in the next couple of weeks, I might have to make a couple of calls....(laughs)
CW San Diego [via mobile]
What is it like playing with a vet like Charles Woodson?
Nick Collins
(12:58 PM)
It's unreal because I remember days of watching him on TV and thinking I wanted to be like him. But now I'm with him on the team. He's a true veteran, true leader. I'm glad to say I played with the guy.
Michael (Norfolk)
Do you follow any other sports? Have a favorite baseball or basketball team?
Nick Collins
(12:59 PM)
Yes, Orlando Magic is my basketball team. I really don't have a favorite team, but I follow the Florida teams. I was a big Braves fan growing up.
Jeff (ABQ)
Nick, do you play Madden? If so, other than the Packers, what's your favorite team?
Nick Collins
(12:59 PM)
I'm not a big video game guy, but when I do play, I play with the Packers.
Roy (Cal)
How would you try to defend ARod? jam the receiver to stop the quick lasers or play off and hope to jump a route? man hes accurate
Nick Collins
(1:00 PM)
That's a good question. I would mix it up. Do both, just to show him that you can do both. Try to jump in front of a couple of passes. It would be difficult because it's hard to get a read on the guy.
Jay (Boston)
Who in the locker room is the best at lightening the atmosphere at the right times?
Nick Collins
(1:00 PM)
We have got a bunch of those guys. I would have to go with Colin Jenkins. Jenks.
Aaron (South Dakota)
What is it like to play with Woodson? Would you mind if he lined up at safety with you?
Nick Collins
(1:01 PM)
We've tried that before. But I think Wood is good where he's at. Blitzing. We don't want to change anything.
JC (West Point)
What's the first thing you think to yourself when you wake up in the morning... is it still: I'm a super bowl champion?
Nick Collins
(1:02 PM)
It hasn't set in yet. I think when I get my ring, that's when it will set in.
Nick Collins
(1:02 PM)
There will be a season this year. Don't worry about it. We'll get the job done.