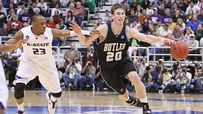 Hayward grew 9 inches in four years in high school.
Welcome to SportsNation! On Tuesday, last year's NCAA Tournament mid-major hero, and current Utah Jazz forward, Gordon Hayward stops by to chat some basketball.
Just months before the Jazz picked Hayward ninth overall in the 2010 NBA draft, Hayward took his Butler Bulldogs within one halfcourt heave of winning the NCAA tournament. The sophomore forward averaged 15.5 points and 8.2 rebounds per game last season for Butler.
For this year's NCAA tournament, Hayward is teaming with Subway in "Meatball Madness." To honor his Butler team making the title game as a No. 5 seed last year, if a No. 5 seed wins it all this year, Hayward has pledged to buy the $5 footlong meatball pepperoni sub for 5,555 fans.
Send your questions now and join Hayward Tuesday at 3:45 p.m. ET!
More Special Guests: Previous chats | SportsNation
Buzzmaster
(3:21 PM)
Former Butler Bulldog, and current Utah Jazz forward, Gordon Hayward will be here at 3:45 p.m. ET to take your questions!
Buzzmaster
(3:46 PM)
Gordon is here!
John (Houston)
Your schedule looks brutal down the stretch, what's it going to take to squeak into that final playoff spot?
Gordon Hayward
(3:47 PM)
For us as a unit, I think it's going to take team defense. When we play defense well, that's how our offense gets going. Playing defense and focusing on that will help us out.
Brian (East Lansing)
I am assuming you have already done the math (given you were an Engineering major), but you do realize $5 x 5,555 fans would equal $27,775. I am assuming that is more than your first big NBA purchase of a Honda Accord.
Gordon Hayward
(3:48 PM)
Actually, the Honda Accord is a little more expensive that that. It's a lot of money, but we're doing it to support those 5 seeds. It's a big deal. No one has ever won it as a five seed.
Stephen [via mobile]
How are you dealing with the process that the Jazz are going through this season?
Gordon Hayward
(3:49 PM)
With the changes, it just opens up your eyes that the NBA is a business. They have to make business decisions and they have to do what they think they need to do to make the team better. I'm sure it's pretty shocking for some of the Jazz fans. Coach Sloan was coaching longer than I've been alive. But we're excited for the changes.
Sean (Muncie, Indiana)
Have you ever had a dream or flashback of making the halfcourt shot?
Gordon Hayward
(3:50 PM)
I have gone over that play numerous times in my mind. Many of my friends and people I see on the street will say something about it - "I wish you would have won." I don't know if I've had dreams or nightmares about it, but I have thought about it a lot.
Nathan (Missouri)
Hey Gordon, how is Butler going to fare in the tourney?
Gordon Hayward
(3:51 PM)
I know they got the 8 seed and they play ODU, which is good squad. It will be fun to watch as a fan. They've been playing well in March. I think they'll do all right. It will be fun to watch.
Nathan (Kentucky)
Gordon, can you explain the "Meatball Madness" project you are doing this year?
Gordon Hayward
(3:52 PM)
Well, I was a 5 seed last year with Butler. We were the closest 5 seed to almost win it. In honor of that and to celebrate the $5 footlong, we're supporting those five seeds. Hopefully one of them will pull throw.
Johanna (Bartlesville)
Now that you are in Utah, are you a fan of Jimmer and BYU?
Gordon Hayward
(3:53 PM)
Well, I actually haven't watched that much of Jimmer play. He's a phenomenal scorer. He led his team to the tournament. It will be interesting to see how they do in the tournament. He can really put the ball in the basket.
Matthew (Los Angeles,CA)
What went through your mind during the attempted half-court buzzer beater in the championship game against Duke?
Gordon Hayward
(3:53 PM)
When you're out there just playing the game, there's not much going through your mind. You're just going on instinct. I'm just thinking I have a couple of dribbles and I have to shoot.
Corey (SLC)
I know you're rooting for Butler to win it all. But are you with me when I say anbody can win, but please don't let it be Duke
Gordon Hayward
(3:54 PM)
Obviously, with the way that we lost to Duke you have some resentment toward them. But I have a lot of respect for them. They were the best team we played all year. Though we lost to them, it's always good to see them do well.
Kevin (CT)
Are you surprised with everyone talking about you eating at Olive Garden?
Gordon Hayward
(3:55 PM)
It was kind of surprising to me. Jeremy Evans and I didn't see it as a big deal. The endless salad and breadsticks, you couldn't pass it up.
Dustin (Idaho Falls, ID)
What has surprised you most about your experience in the NBA compared to college?
Gordon Hayward
(3:56 PM)
The biggest difference is mentally. It's such an investment. You go where you're the guy and the ball is run through you and you get a lot of shots. To the NBA where everyone was a star and you learn from the sidelines. Mentally, it's been a big adjustment.
Bawb (Fairview, UT)
I have lived all 34 years of my life in Utah, what kinds of things have you enjoyed about the state since joining the team?
Gordon Hayward
(3:57 PM)
The first thing that jumps out at you is the mountains. You're driving on the highway and it almost looks fake. It's really cool. To look at that and see your surroundings is beautiful. I also like the simplicity of the city.
Ryan (orem)
do you feel your shooting has improved as the season progressed
Gordon Hayward
(3:58 PM)
Yes, I have felt like my shooting has improved a lot. It's amazing with how I started shooting at the 3-point line until now. It's a complete difference.
Fred (Salt Lake)
The Jazz are a young team, what's their potential and what type of player could provide the missing piece or pieces?
Gordon Hayward
(3:59 PM)
I think the potential for this team is great. As long as we find our role and buys into what coach is trying to get us to do. As long as we do that, we can do a lot of things.
Justin (SLC)
As one of the only two Jazz players on Twitter, what do you think about the way it has changed how players, fans, the media, and now officials interact with each other? Do you ever worry about saying the "wrong" thing?
Gordon Hayward
(4:00 PM)
I think Twitter and the social media outlets are great for the NBA and the fans. We can interact with them in a different way. They can see a different side of you. You do have to worry about what you say, because once you put it out there, everyone can read it. Things that you can say can be twisted around, so sometimes you have to watch what you say.
Gordon Hayward
(4:01 PM)
Thanks for all of the questions. Bring on the 5 seeds!