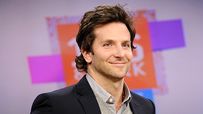 Cooper graduated from Georgetown in 1997.
Welcome to SportsNation! On Thursday, we'll have actor Bradley Cooper stopping by to chat about his latest film "Limitless," which hits theaters Friday.
In "Limitless," Cooper stars beside Robert De Niro star in a paranoia-fueled action thriller about an unsuccessful writer (Cooper) whose life is transformed by a top secret drug that allows him to use 100% of his brain and become a perfect version of himself. His enhanced abilities soon attract shadowy forces that threaten his new life.
Cooper has more than 30 film and TV credits to his name, including "Wedding Crashers," "The Hangover" and "The A-Team." The 36-year-old's first credited role was an appearance on the TV show "Sex and the City."
Send your questions now and join Cooper Thursday at 12:15 p.m. ET!
More Special Guests: Previous chats | SportsNation
Buzzmaster
(12:01 PM)
Bradley Cooper will be here at 12:15 p.m. ET to take your questions!
Buzzmaster
(12:13 PM)
We have Bradley!
Ricky Figueroa (Orlando FL)
What was your thoughts about this movie as you read the script? How was it working with Robert De Niro?
Bradley Cooper
(12:15 PM)
My thoughts were holy crap. This is the best script I've read in a long time. So, I did everything I could to get a meeting with the director to tell him why I should be in the movie. Robert De Niro is one of the reasons I wanted to become an actor. Standing across from him playing a scene, you can imagine the gratitude I felt.
Eduardo (Texas)
What interested you most about the story that made you want to do the movie?
Bradley Cooper
(12:16 PM)
The challenge of playing a guy who opens up 100% of his brain. And even more so, playing a guy who goes from where you meet him in the beginning and leave him off in the end.
Jenny (Dallas)
Why were you such a jerk in your movie "Wedding Crashers"?
Bradley Cooper
(12:17 PM)
Jenny, I don't know how to answer that. Other than to say the movie needed a foil for Vince and Owen and I was honored to fill that role.
Scott (Lincolnshire)
We lost Doug! Bradley - Is GT3 going to take his boys into sweet 16?
Bradley Cooper
(12:17 PM)
Let's hope so.
Brett (ATL)
i think i've seen you involved with the alzheimer's association. is that a cause that's important to you?
Bradley Cooper
(12:17 PM)
A really close friend of mine's mother died from it. I've tried to help out in any way I can.
Brad (Gadsden,Alabama)
Bradley, Who do you think is going to win the ncaa tournment?
Bradley Cooper
(12:18 PM)
Hopefully Villanova, they have to take George Mason out first.
dan (ny)
You went to the new school of drama for acting correct? My question is did you have any acting experience before going to acting school and would you recommend taking classes before applying to a school if you have no experience?thanks
Bradley Cooper
(12:19 PM)
I actually went to the actors studio MFA program, which is at Pace now, not to be mistaken for the new drama program. If you're interested in acting and don't know anything or what's going on, I highly reccommend applying. It's not necessary that you take classes beforehand, but if interested, I reccomend it.
Kevin (Atlanta)
Are you a big college basketball fan? If so, how upset are you that you have to do a media tour for your movie on the opening day of the tournament?
Bradley Cooper
(12:20 PM)
I've reconciled that weeks ago, in order to prevent a meltdown today.
Studebaker (NJ)
You've made the transition to more standard leading man roles at this point in your career. Still interested in playing villains? Man, I really hated your character in Wedding Crashers, and I mean that as a compliment.
Bradley Cooper
(12:20 PM)
Thank you. Villains are often times the most interesting roles. In the right project I'd be honored to do it again.
SteveFitz (Chicago, IL)
One of the funnier actors around today. How is the Hangover 2 coming and what can we expect? Can't wait.
Bradley Cooper
(12:21 PM)
Thank you very much. You've made my day. H2 is going to be off the charts.
Jason (Pittsburgh)
Lets be serious, Alias was the best thing you have ever done... you ever miss those times on TV?
Bradley Cooper
(12:21 PM)
Wow. No.
Cosmo (Anytown, USA)
Big fan of your appearance on 'Between Two Ferns'. Do you ever get concerned about holding your own, comically, with people like Zach Galifinasjdnnsfakis?
Bradley Cooper
(12:22 PM)
No, I just give over to his genious and roll with it.
Cheesehead Sports Nut (Chicago, IL)
What has been your favorite role in a movie?
Bradley Cooper
(12:22 PM)
It's hard to say. I'm the kind of guy that is love with whatever I'm doing at the time. Right now it's Eddie, but come May 26 it will be Phil.
Eduardo (Texas)
Do you prefer action or comedy movies?
Bradley Cooper
(12:23 PM)
Both. It's all about the film maker and the material. With that said, I would love to do a western.
Caleb (Denver)
was Mike Tyson scary in person?
Bradley Cooper
(12:24 PM)
No. A little pussycat. Love him. Such a sweet guy and very funny. Generous.
Marc (Charlotte)
Gas or Charcoal grill?
Bradley Cooper
(12:24 PM)
It's gas. Haven't had a chance to grill lately. But there was a time about a year ago where just about everything went on there.
Carlos (Orlando)
With the big influx of superhero movies, which superhero (or villain) would you like to play most?
Bradley Cooper
(12:24 PM)
Hmmmm. I don't know. I don't really know.
Steve (Buffalo, NY)
What director would you most want to work with?
Bradley Cooper
(12:25 PM)
Tons of them. Jonathan Glazier. Tarantino. Mendes. I could go on for about two pages.
Ryan (Augusta, Ga)
Being that you were a Lit major in college, do you still find the time to read? (outside of work of course) If so, what are you reading now?
Bradley Cooper
(12:26 PM)
Yeah. I love to read. But it's a good question because some times it seems all I read are scripts.
Eduardo (TX)
Do you see yourself directing a movie in the future? How hard is it to direct a movie?
Bradley Cooper
(12:26 PM)
I reckon it's impossible, but I'm dying to do it.
Peter (RI)
what was the best part of filiming this movie?
Bradley Cooper
(12:27 PM)
Probably working with De Niro.
Garrett (West Virginia)
What was it like to work with Liam Neeson and Rampage in The A Team? My second favorite movie of yours, by the way.
Bradley Cooper
(12:27 PM)
A blast. Both tremendous actors. Rampage really brought it. I was lucky to be a part of that group.
Cameron (Greenville,NC)
The Hangover, without a doubt, one of the funniest movies I've ever seen, just letting you know. How deep do you see Georgetown going in the tourney?
Bradley Cooper
(12:28 PM)
Unfortunately, I'm not very well versed on this season. I'd like to see them go far.
Bradley Cooper
(12:28 PM)
Thanks so much for your interest. It means a lot to me. I hope you enjoy "Limitless." We're pretty proud of it.