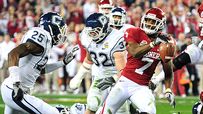 Murray is the No. 8 RB in Scout Inc.'s positional rankings.
Welcome to SportsNation! On Monday, NFL draft prospect, and former Oklahoma Sooners RB, DeMarco Murray stops by to chat some football and video games.
Murray ran for over 1,200 yards last season, while also accumulating nearly 600 yards receiving. He scored 20 total touchdowns, bringing his career mark to 63, the most all-time at Oklahoma. Scouts Inc. ranks Murray as a third round pick in the upcoming NFL draft.
Murray is competing to become the cover athlete for EA Sports' NCAA Football '12 against Nick Fairley, Mark Ingram and Jake Locker. Fans can vote on EA Sports' Facebook page. Voting is ongoing and runs through April 4.
Send your questions now and join Murray Monday at 12:45 p.m. ET!
More Special Guests: Previous chats | SportsNation
Buzzmaster
(12:43 PM)
Hey, everybody...former Oklahoma RB DeMarco Murray will be here in a couple of minutes to take your questions!
Nathan (Missouri)
Hey DeMarco, have you heard anything about where you'd go in the upcoming draft?
DeMarco Murray
(12:46 PM)
I'm not listening to that stuff.
Bryan (Oklahoma city )
What was your most memorable game as a Sooner?
DeMarco Murray
(12:47 PM)
My most memorable game was against Texas Tech in 2008. They came in ranked No. 1 and we were top 5 somewhere. We beat them pretty good. The whole atmosphere was crazy.
Matthew (Los Angeles, CA)
For the NCAA football '12 cover, if you couldn't vote for yourself. Who would you vote for?
DeMarco Murray
(12:47 PM)
Jake Locker.
Nathan (Missouri)
Hey DeMarco, what have you done to help yourself become the next cover athlete for NCAA Football '12?
DeMarco Murray
(12:48 PM)
Just being myself.I think I represent myself well on and off the field. I'd be the first Sooner to be on the cover. I'm sure I'm the best player of the game out of them. I'm sure I could beat any of them in the game.
Handel (Canton)
How much will a long lockout hurt you as rookie trying to learn the playbook and the differences in the NFL game?
DeMarco Murray
(12:49 PM)
A lot. Just not being able to go to the team where you get drafted. Not being able to get the reps. It will definitely hurt a lot. Hopefully they'll get it worked out before the draft.
Joel (Niagara Falls) [via mobile]
Hi DeMarco, As a lifelong Sooner fan it was incredibly painful to see you have to watch from the sideline during the 2008 National Championship. Were you as anguished about it as I would think, or was there any solace in knowing that you would still have another season or so ? Thank you.
DeMarco Murray
(12:50 PM)
When I first found out I wasn't going to be able to play it was heartbreaking, but I knew I would be there with the team and in the atmosphere, that was a great experience. But it was tough at first.
Markell bham ala [via mobile]
Who is your favorite nfl team
DeMarco Murray
(12:51 PM)
I don't have a favorite NFL team, just players.
Nathan (Kentucky)
DeMarco, who was your favorite player growing up?
DeMarco Murray
(12:51 PM)
My favorite player growing up was Barry Sanders and LaDanian Tomlinson.
Jeremy (Chicago, IL)
Would you rather be the starting RB on a under 500. team or the backup RB on a over 500. team?
DeMarco Murray
(12:52 PM)
I would say starting RB because I believe I can help them be an above .500 team.
Brad (Gadsden,Alabama)
DeMarco, Do you have any pre-game rituals?
DeMarco Murray
(12:52 PM)
I have a journal that I write in the night before every game. That's about it.
Nathan (Kentucky)
DeMarco, what would you do if you weren't going to play football?
DeMarco Murray
(12:52 PM)
In Skip Bayless' seat.
Dave (Boston)
Hey DeMarco, what was your favorite stadium to play at in college, except for OU?
DeMarco Murray
(12:53 PM)
Cotton Bowl. Just seeing that big split from burnt orange and red.
Steve (Chicago)
What do you think will be your first big purchase after you get that big healthy check?
DeMarco Murray
(12:54 PM)
Nothing. No big purchases.
Michael M (Sooner Alum) (Denver)
Congratulations on a record setting career At Oklahoma! Had you not been injured on the K.O. of the B-12 C. Game and had gone on to play in the N.C. Game vs Florida, would you have considered leaving early for the NFL as an underclassman?
DeMarco Murray
(12:54 PM)
Yeah, who knows. I thought about it my sophomore year and junior year. But I think I made the right decision in staying.
Zack (CT)
What's the #1 area you tried to improve in last year? What do you want to improve before Week 1 (whenever we have a Week 1)?
DeMarco Murray
(12:55 PM)
I think just breaking more tackles. Staying on my feet.
matt (pa)
Demarco-which back in the nfl do you resemble your game around most?
DeMarco Murray
(12:55 PM)
I would say LT.
Hanson (DC)
How do you rate your pass blocking skills,something that wil help you get PT in a hurry?
DeMarco Murray
(12:56 PM)
I think I would rate it very high. It's something I take very seriously, protecting my QB.
Karl
any thought about the not attending the draft?
DeMarco Murray
(12:56 PM)
I think you should do what you feel comfortable doing. You should go with what your heart says and where you feel more comfortable watching the draft.
Dave
What do you normally eat?
DeMarco Murray
(12:57 PM)
I eat healthy. I eat 4 big meals a day and 3-4 small snacks. A lot of protein. A lot of fruits and vegetables. I work out every day.
Hanson (DC)
Worse nightmare fials for class you didn't know you had or Ray Lewis in the whole with no one in front of him?
DeMarco Murray
(12:58 PM)
Definitely the finals. I think I can handle my own against Ray Lewis some day. He's a great player, but I think I can handle my own. Especially one on one.
DeMarco Murray
(12:59 PM)
I appreciate everyone who has always supported me. Thank you a lot. Thanks for the question. Go vote me at Facebook until April 4 to be your cover athlete.
Buzzmaster
(1:01 PM)
And you can follow DeMarco on Twitter: @DeMarcoMurray.