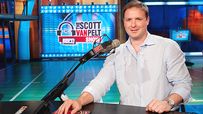 Welcome to SportsNation! On Wednesday, ESPN Radio's Ryen Russillo will be stopping by to chat.
Russillo is co-host of The Scott Van Pelt Show on ESPN Radio, which runs 1-4 p.m. ET. Listen live

He also hosts the NBA Today podcast on ESPN.com. He has covered the NBA draft since 2003 and prior to joining ESPN, he was a TV studio analyst for Boston Celtics games.
Send your questions now and join Russillo on Wednesday at 4:15 p.m. ET!
More Ryen Russillo: ESPNRadio.com | Chats | Search | SportsNation index
ESPNRadio.com
(4:14 PM)
Ryen will be here momentarily. Please keep the questions coming.
Vlad (PDX)
Ryen, do you think the magic can beat the bulls in the second round. I think DHoward will be too dominate.
Ryen Russillo
(4:21 PM)
No. The Magic haven't shown that the guys around him are consistent enough. I actually think they're kind of a mess.
Pick things up (Put them down)
Dude, totally working the lats today....
Sarah (Lexington)
Did you play ball in college? Everybody from Compton is a baller right? This isn't a "you have to play to commentate" kind of things... I'm just curious.
Ryen Russillo
(4:22 PM)
I didn't play. I think I could have if I was a little bigger, but I didn't really fill out until I was 25 and I was so sick of basketball by the time I was done with high school. But if I played anywhere good, I would have never played, so I probably actually couldn't play the more that I think about it.
BSB (Philly)
You are a much grittier person that I first thought, It's a style that plays well in Philly. That being said, which EC power would not like to see the 76ers as a first round opponent?
Ryen Russillo
(4:24 PM)
Well they're basically locked into playing Miami because they're better than New York and are not going to catch Atlanta. Every team in the playoffs is kind of tough to face (except for Indiana). Philly could be tough for Miami because they've changed some things up defensively and Collins has done a really good job.
Nick (CT) [via mobile]
Ryen, do you have Kobe at 2nd behind Rose in the mvp voting?
Ryen Russillo
(4:24 PM)
I have Howard second.
Ivan (Chicago)
What if Lebron never wins a championship? How will he be remembered?
Ryen Russillo
(4:26 PM)
He will get crushed historically. He will probably be remembered as the greatest loser in pro sports. It will be way worse than Marino. We care when it's basketball players and QBs. Baseball: no one cares and you can still be considered great.
Shaka (Richmond)
If you had your choice among the vacant college basketball coaching openings, which one would you choose?
Ryen Russillo
(4:27 PM)
The only thing I would be worried about with Tennessee is how bad are the sanctions going to be. Then I would think Oklahoma or Georgia Tech.
Kevin in Baton Rouge [via mobile]
how's your womens bracket holding up?
Ryen Russillo
(4:27 PM)
It's invisible.
Nick (Owego, NY)
Waiver wire pickup ?, Mitch Moreland Michael Morse or Logan Morrison and in what order?
Ryen Russillo
(4:27 PM)
Are you serious? Get this fantasy stuff out of here.
Bart (Denver)
Ryen can I put money on you taking your talents to sit in for Jim Rome is Burning before you get a shot at sitting in on PTI? Im hoping it would be a better effort than your showing for Colin Cowherd.
Ryen Russillo
(4:29 PM)
What does this mean? I didn't do well filling in for Cowherd? Or you think I should be on PTI?
Zach (Greenville, nc)
Couldn't NC State be a consistent top 4 ACC team and sweet 16 type team by taking all the instate talen in north carolina that UNC and Duke relatively ignore (Quincy Miller, Deuce Bello)? Mainly ignored cause those types of guys are in deep with the D1 AAU teams, but talented nonetheless.
Ryen Russillo
(4:30 PM)
I just don't see how you can be the third-best in your state and consistently make runs in the tournament. Maybe every now and then. They actually are loaded from this past season, so maybe a new coach gets more out of this talent. But I'd rather have the Oklahoma, Georgia Tech or Tennessee job.
Ryan (Chicago)
Who wins this Heptathlon of sporting events between you and SVP? The events are basketball(HORSE game), ping pong, golf, bowling, pool, some sort of football throwing accuracy deal, and darts
Ryen Russillo
(4:30 PM)
I think I do because I would take it way too serious.
Kevin in Baton Rouge [via mobile]
Ryen: I leavethe sliding back glass of my truck open because it is hot in Louisiana. (85 currently) Anyway, the little IT guy keeps sliding in through the open window and messes with the knobs in the truck. I leaving the window open to bait the kid into keep doing this because I plan to get him back. I'm think axle grease on the rubber seal so his shirts gets greasy for him to wear in shame. Anyother suggestions?
Ryen Russillo
(4:31 PM)
Would fire be out of the question?
Ryan (Las Vegas)
Pretty healthy bet on Mayweathers part. What you think about that?
Ryen Russillo
(4:31 PM)
Yah. Would love to see the tickets when he loses, though. I love when gamblers brag about all of their winnings, as if they're the one guy.
Chilly (humboldt)
Ryen whats the deal with the NO FUN LEAGUE? OK i get the labor dispute and personally handling it like the swiss. But the new kick off rule sucksssssssss as a coach and a football fan the NFL effectively just took out one of the most exciting plays in the game the bug momentum changing return the NFL has made the QB position even more important. The NCAA Tourney is gonna end and the NFL will have alot of explaining to do. Im all for pertecting players but dont believethis is a way to do it. Oh and Dez pull your damn pants your a pro now have been for 2 years in the NCAA opinion. Grow up my 13 yr old does.
Ryen Russillo
(4:32 PM)
I don't want to sound old, and I know the pants around the waist is something that has been around for a while, but it's just so stupid. It's like walking around with a plate on your head - just a pain in the @$$.
Zach (Greenville, NC)
NC State's wishlist of candidates included Jay Wright, Rick Barnes, Sean Miller and Jamie Dixon. I am clowning them for the pipe dream. Thoughts on the State job?
Ryen Russillo
(4:33 PM)
Dude, no, no, maybe and no.
Bart (Denver)
Any chance of Larry Brown going to Europe to coach Ricky Rubio?
Ryen Russillo
(4:33 PM)
That may be the only way that he gets traded off of that team (I know he can't be traded and Minnesota still has his rights).
Punjabi Singh (Manhattan, NYC)
Any chance KG can win DPOY? Or is it a lock for D Howard? Since he isn't going to win the MVP.
Ryen Russillo
(4:34 PM)
No shot. It's Howard's.
Colton Walters (Miami, FL)
Hi Ryen, what do you think winning a title with the Heat this year would do for Mike Bibby's legacy? Do you see him as a first ballot hall of famer? Possible top 10 pg of all time?
Ryen Russillo
(4:35 PM)
First of all, the Hall of Fame is impossible to predict. There are 10 women coaches in from women's college basketball, and 10 men from professional basketball. And Bibby will never be mistaken for a top-10 PG of all-time.
Marc (Charlotte)
Has anyone ever told you that you are a doppelganger for Johnny Lawrence in the Karate Kid?
Ryen Russillo
(4:36 PM)
Has anyone told me? I've been trying to look like him for 20 years. I've even developed quite an attitude. I do not have a dirt bike, though.
Jeremy (Chicago, IL)
If you could be one of the ESPN's sports anchors for a day (i.e stuart scott), who would it be and why?
Ryen Russillo
(4:36 PM)
Max Bretos.
Seth (Winooski, VT)
Hey Ryen,UVM '09 grad. Here's a not-so-bad NBA trade idea. The Cavs trade Baron Davis and one of their Heat draft picks to the 76ers for Iguodala. The Cavs get a B/B+ level wing player that they have financial control over, the 76ers get a shorter contract in Davis and someone to cover for Holliday's short-comings as a point guard. Go Cats Go.
Ryen Russillo
(4:38 PM)
I don't think you want Baron Davis on any team that's good at this point. The Clippers wanted to trade him because he told them he was going to shut it down for like three weeks, and he came into camp way out of shape, which led to their bad start. I don't care how talented you are, you've got to want to play. It's not crazy (crazy as Simpson 5th).
Twitter question (Space)
Ryen what's up with people asking for retweets for their sick kids? Do they think you'll cure them?
Ryen Russillo
(4:38 PM)
Wait a minute, I haven't been curing them?
John (Boston)
Adrian Gonzalez or Mark Texeira, right now, all things considered ie; age, health, contract? Different answer if they switch teams? (no, not like that, gutter mind...)
Ryen Russillo
(4:39 PM)
Teixeira.
jordan (illinois)
here's the answer to ivan's question: as the best, and the biggest disappointment, of a group that includes charles barkley, patrick ewing, karl malone, john stockton, reggie miller, gary payton, etc. etc. etc.
Ryen Russillo
(4:39 PM)
That's funny. LeBron would be looked at as a bigger failure than all of these guys.
Zach (Greenville, NC)
I bet all the Herd fans hated you cause you made sense...
Ryen Russillo
(4:41 PM)
It was even. "Where's Colin?" and "Hey, good to hear you." I've worked with some terrible people that have gotten the most praising e-mails, so either positive or negative, you don't get too worked up. I get far more upset about factually incorrect arguments or when people argue with me about a point that I actually didn't make.
Raymond (Baltimore)
Ryen, I know you've mentioned Ronnie Brewer, but who are some other players that so-so (worse), but you've secretly liked, and thought/convinced yourself that they'd be good if they only got a chance? I'm the same w/ Ronnie Brewer, and Gerald Green was one
Ryen Russillo
(4:44 PM)
I liked DeAndre Jordan. It's not the same question, but I couldn't believe how far he fell on draft night. Gerald Green had no shot, but he had a lot of us fooled because he could shoot. He wasn't just an athlete. A friend of mine once described Gerald Green's game this way: if Gerald was at a grocery store and he had three items, he would look at the express lane with no one waiting and then look at the line with full carts five people deep. He would go in the long line. I'd like to see Luke Babbitt be in a spot where he's not buried by other SFs.
Mike Felger (Burlington MA)
Who's better looking? My wife or your girlfriend?
Ryen Russillo
(4:44 PM)
I guess we'll have to let Google decide.
Ryen Russillo
(4:44 PM)
That's all, guys. Have a good one.
ESPNRadio.com
(4:45 PM)
Thanks for stopping by. Be sure to check back next Wednesday for another chat. Have a good week.