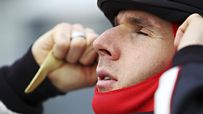 An Australian native, Powers won the 2002 Australian Drivers' Championship.
Welcome to SportsNation! On Tuesday, IndyCar driver Will Power stops by to chat as the 2011 season is set to start with Sunday's Honda Grand Prix through the streets of St. Petersburg, Fla. ABC airs the race starting at 12:30 p.m. ET.
Racing in the No. 12 Honda for Team Penske, Power finished second in IndyCar points last season, just five points behind winner Dario Franchitti. He won five times in 2010, including 11 top-5 finishes in his 17 starts.
Power owns seven wins in his three seasons and 41 starts in IndyCar to go along with 10 poles.
Send your questions now and join Power Tuesday at 2 p.m. ET!
More Special Guests: Previous chats | SportsNation
Buzzmaster
(1:52 PM)
IndyCar's Will Power will be here at the top of the hour to take your questions!
Buzzmaster
(1:59 PM)
Will is here!
Tyler (Indy)
Will, describe the feeling for you before the green flag drops, nervious? anxious? numb?
Will Power
(1:59 PM)
Everywhere, you're just nervous and anxious, I would say. A bit of everything. Every emotion, except anger.
Drew (Bloomington, Ind.)
Will, how confident are you on the ovals heading into this season? Are they the final piece to your claiming the championship?
Will Power
(2:00 PM)
I would say yes, they are definitely the final piece to master. Although, I don't think you ever master driving. You have to keep working at it. I feel much more confident this year. I know what to expect and what I want from my car. I gained a lot of experience last year.
Alan (Detroit)
How's your NCAA Bracket going, hopefully you stayed away from the Big East.
Will Power
(2:01 PM)
No, sorry, I haven't followed it at all. My wife has, though. I haven't paid much attention to who she is rooting for. I think it was Purdue.
Steve-O (Australia)
Do you think IndyCars will ever come back and race on the Gold Coast?
Will Power
(2:02 PM)
I really hope so. I think it would be great considering how strong the series is coming in competition. If you ask any competitor in the series they all say that was the No. 1 event and the one they liked going to the most.
Daniel (West Palm Beach)
Hey Will, you were fastest in testing last week at Barber. Does that test correlate to St. Pete and the other street courses or more for open tracks like Mid Ohio, Sonoma and the return to Barber?
Will Power
(2:02 PM)
Definitely more for road courses like Mid Ohio and Sonoma. It's very tough to gain any information on a smooth track like that.
eric (rome,ga)
the saying is you have to lose a title to win one. Do you think last years points battle helps in the long run?
Will Power
(2:03 PM)
I would definitley say it helps mentally. If I'm in the same situation again, I think I learned a lot last year. Although I was disappointed to lose, I came away with a lot of experience.
Ashley Olszewski (Georgia)
What was the steepest learning curve in your racing career? How did you handle it?-thanks for signing my motor at Homestead
Will Power
(2:05 PM)
I think ovals were the most unknown to me, because I raced on road courses my whole life. I guess that was something that I had to somewhat start from scratch. Although I found a lot of the principles from road courses applied. On the oval, it seems like it's more about getting the car right than anything else.
John (Detroit)
How does it feel to be the favorite for the championship this year? Any extra pressure?
Will Power
(2:05 PM)
Actually I feel a lot more prepared coming into this season. I've had a lot more time getting up to fitness. I was recovering from a bad injury last year. I think the experience of last year put me in such a better mental state.
Tim (Madison, WI)
Will,The team had some uncharacteristic problems in the pits last year (Chicago and Indy jump to mind, and I think it was Kentucky where Hello had problems). Has Team Penske done anything different in the off-season to try to improve in pit lane? Good luck at St. Pete!
Will Power
(2:06 PM)
Thank you. Yes, the guys have been working twice as hard as they have done before in pit practice back in the shop. I think we're going to come with three very strong pit crews this year.
Tim (indiana)
Do you feel you've mastered tho ovals after several STRONG showings on them last year? Thanks and good luck thisSeason!
Will Power
(2:07 PM)
This is the first time in my career that I'm looking forward to it and getting on the ovals this year. To me that says I'm a lot more confident and starting to love racing on ovals.
Kevin (Raleigh)
Hi Will. How do you feel about the change this year to start Indy 3-wide going into turn 1? I know the fans are eager to see that again.
Will Power
(2:08 PM)
I think that all of the changes that they've made with double file restarts, the start of Indy, I think it will definitely make for better viewing for the fans, but maybe it will cause more carnage.
Patrick (Indy)
Since you can't always hop in your car to work on your oval raicng, how do you practice?
Will Power
(2:09 PM)
Unfortunately, there is no other way but to be in your car to practice oval racing. You have to have a very good feel. There's no other way than being on the track.
Gene (Orlando)
Is there any race or track that you are looking forward to?Also is there one that you dread?
Will Power
(2:09 PM)
Looking forward to all of them. I can't think of a track that I can't like going to. I'll race cars anywhere in anything.
Ryan (Iowa)
What's your opinion on adding a few more tracks to the schedule? Also - what is your opinion on limiting the field to 26 cars? Best of luck this year!
Will Power
(2:11 PM)
I feel as though the offseason is too long as it is. Having a longer schedule so we're not off the radar for 6 months would be good. Limiting it to 26 cars is setting a standard that you have to be on your game. At the end of the day that I don't like sending people home that came to race.
Caleb (Indiana)
This year is perhaps the toughest and most competitive field since the CART heydays. How tough is it going to be against the field this year?
Will Power
(2:12 PM)
I think you're exactly right. This will be the toughest field in IndyCar history. We've had the same cars for so long that no one seems to have an advantage.
Daniel (Illinois)
How do you feel about going for the speed records at Indy?
Will Power
(2:13 PM)
Well, I feel that I'm not sure they'll be able to do it this year. I would say that they will almost definitely be able to do it in the 2012 car because that will be crazy fast. I think fans will be happy to hear over 230 MPH averages again.
Andrew H. (New York, NY)
How long did it take you to fully recover from your accident at Sonoma?
Will Power
(2:15 PM)
I think fully recover, back to absolute full fitness, I would say probably now, I'm back to the fitness I had before the accident. I still get a sore back every now and then.
Ryan (Indy)
What do you feel is the most challenging track on the schedule?
Will Power
(2:15 PM)
I think the most challenging track is Indianapolis because of the speed and the consequence of making a mistake. It's really hard. You always feel like you're on a knife edge.
Ryan (Indy)
Have you had the chance to see the 2012 car yet? What is your opinion of it?
Will Power
(2:16 PM)
I haven't had a chance to see it. I'm really looking forward to seeing the first version. I honestly can not wait to drive one of those things with the extra horse power, speed, grip, etc.
Bart (East Bay)
Hey Will, are you planning a swapping your Indy car for a NASCAR stocker, maybe with Kurt Busch the way that Scott Dixon and McMurry recently did?
Will Power
(2:17 PM)
No. I'm very focused on what I'm doing. I'm happy with where I'm at at the moment. And happy with the direction the sport is going. But I would love to try NASCAR one day.
Ricky (Cali)
Are you gonna stay up late and watch the Australian Grand Prix live and do you think F1 will leave Australia due to financial pressures?
Will Power
(2:18 PM)
I don't know much about the politics of the F1 race staying in Australia. Hopefully it does. It will be Saturday night, so I'll be sleeping in preparation for the Grand Prix. But I'll be taping it at home.
Rick (Nashville, TN)
What is the hardest part about driving an Indy Car?
Will Power
(2:19 PM)
Depends on the track. But this current formula is hard because this car was built for ovals. This car is quite a nervous car to drive in comparison to other open wheel cars I've driven. It feels as though you always need to be ahead of the game or else you'll get called out.
PJ (Denver)
How will you be better on ovals this year without a lot of testing?
Will Power
(2:19 PM)
I think I'll be as fast as I was in the last four races, except finishing the result off.
Tom (Texas)
Describe the racing at Texas Motor Speedway, high banks & high speeds, do you need blood pressure medince during that race?
Will Power
(2:20 PM)
Yes, you do! That joint is the scariest place we race at all year, but somehow I think Vegas will be just as intense.
Tom (St. Louis, MO)
How much of an advantage do you think the Penske and Ganassi teams have over the smaller independent teams?
Will Power
(2:21 PM)
It's been harder and harder to find an advantage, so it's allowed the small teams to catch up. But I believe we still have a small advantage over the small teams.
Will Power
(2:21 PM)
Thank you very much for participating. Look forward to a great season and some great racing for all of the fans racing. Thank you.