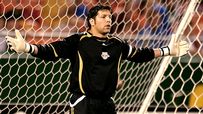 Meola helped the 1994 U.S. team reach World Cup Round of 16.
Welcome to SportsNation! On Friday, former U.S. men's national soccer team goalkeeper Tony Meola stops by to chat about the U.S.-Argentina friendly match on Saturday (7 p.m. ET, ESPN2).
Meola played for Team USA from 1988-2006, making 100 appearances for the national team. He started in goal for the 1990 and 1994 U.S. World Cup teams. He played 11 years in MLS, starting with the league's inaugural season in 1996.
Meola will be making an appearance for fans from 4-6 p.m. ET Saturday in the Allstate Fan Zone outside of New Meadowlands Statdium prior to the U.S.-Argentina match. On Friday, he will also be surprising a New Jersey youth soccer team with free soccer gear and tickets to the match.
Send your questions now and join Meola Friday at 4 p.m. ET!
More Special Guests: Previous chats | SportsNation
Buzzmaster
(3:58 PM)
Former U.S. soccer goalie Tony Meola stops by at the top of the hour to take your questions!
Buzzmaster
(4:01 PM)
Tony is here!
Willie (LA)
What did you think of Team USA's performance in the World Cup last summer?
Tony Meola
(4:03 PM)
I thought for sure we definitely overachieved off the field as far as the media coverage and excitement. I thought we could have achieved a little more on the field if we could have had better starts to the games. Overall, I think they showed that they can compete with the best of the world at the highes levels.
Tom (Denver)
Are you going to stay and watch the game tomorrow night after the Allstate Fan Zone closes?
Tony Meola
(4:04 PM)
Yeah, absolutely. I'm looking forward to catching up with my old buddy Tim and seeing how things are going before he has to return. I think it will be an exciting game.
Peter (RI)
Can teams actually get anything out of playing in international friendlies?
Tony Meola
(4:05 PM)
Absolutely. These things really serve a purpose. It serves a purpose from a coaching standpoint and a fan standpoint. It can show if you can press some attack in these games where you won't have the same consequences if you're in the knockout phase in a tournament. Plus you have some guys that are probably hoping to make an impression on Bob Bradley in that game and other friendlies.
John (Norfolk)
Tony, when you were part of the UVA soccer dynasty, were you and your teammates like rockstars around campus or was it all about football and basketball with your fellow students?
Tony Meola
(4:06 PM)
That program prior to me getting there was one of the more popular programs in the school, for sure. John and I used to talk about how at some of our high school games we used to get 10,000 or 12,000 games at. We didn't get that in college, but we still had some great fans and atmosphere there.
David (NJ)
Tony, what are the U.S. chances against Argentina?
Tony Meola
(4:07 PM)
I think pretty good. I think the game lends itself to being a wide open game. There is no reason that either team should sit back and defend. It lends for an exciting night if they both have that attitude. It's a friendly with two of the best teams. One of the best attacking teams in the world will be here at the Meadowlands. I think the U.S. is best when they're counterattacking.
Greg (Dallas)
You were kind of on the front lines of helping soccer get a foothold in the U.S. with the World Cup performances in the early 1990s. How does it feel knowing that you had that kind of impact on the sport here in the States?
Tony Meola
(4:09 PM)
When you play, sometimes you don't think about those things. You don't really think about what it's going to lead to or what doors it will open to somebody else. You're really just playing because you love to play. You begin to realize that when you see the guys behind you play overseas and get respect when they play overseas. Those are things that we battled for so long that these guys don't have to battle any more. They're given opportunities overseas that other guys would have had to fight for.
Matt (Minnesota)
Could you stop a penalty kick from Chad Ochocinco now that he is a soccer player?
Tony Meola
(4:11 PM)
I think I could stop one. I know they're not the type of people to do something for the sake of the media, so they must have seen something in him to want to see him train and play. But it will be like the Michael Jordan experiment and he'll have to shake off the rust. He probably comes in at probably the worst time where guys are coming in after 2 months of fitness and getting ready for the season. But there's no question athletically that he can compete.
Jon (Virginia Beach, VA)
Tony, what is your opinion of college soccer? In the time since you were at UVA and now, is the college game still relevant or would tell someone to go from high school straight to say MLS or Europe?
Tony Meola
(4:12 PM)
Telling guys to do that, it's really a personal preference. As far as the college game, it gets hurt a little bit by so many guys leaving high school to go play, leaving after two years to play in MLS. When I played college soccer was the end, so everyone played.
Darryl (DC)
What's more pressure -- trying to make a stop on a PK in the World Cup or trying to kick a field goal to win the Super Bowl?
Tony Meola
(4:13 PM)
I had the chance to do only one of those, so I would have to say saving a penalty kick in the world cup. I didn't have a chance to do the other one, but I would have to say it's identical pressure.
Cheesehead Sports Nut (Chicago, IL)
As a soccer player who attended a bunch of Bob Gansler camps growing up, I have a ton of admiration for him as a coach and what he did to help elevate soccer in the United States. What are your thoughts on Bob Gansler?
Tony Meola
(4:14 PM)
He gave me my first oppotunity with the national team at a time when most coaches wouldn't have. He believed in me from the start. He wasn't the first national team coach I played for, but he was the first one to give me a chance. I will forever be grateful to him for giving me that chance.
Cheesehead Sports Nut (Chicago, IL)
For all the detractors, I actually think soccer has made great strides in the United States. What are your thoughts on how soccer will play out in the United States over the next decade?
Tony Meola
(4:15 PM)
If the last decade is any indication of the next decade, then we'll be in great shape. We've developed as many players as we ever have. We're playing the best soccer that we ever have. We have the best feeder program that we've ever had.
John (Baltimore)
Toughest place to play in MLS when you were playing? I know the crowd in DC hated you! Ha!
Tony Meola
(4:16 PM)
The DC crowd didn't like me, but I think the toughest place to play was New England. Their fans were great. They did their research. They knew all of your kids names. Where you were born. Your wife's name. They were the most researched group of people that I ever met.
Otto (CA)
Do you think steroids or other PEDs like EPO are a problem in soccer?
Tony Meola
(4:17 PM)
No, I don't think we'll ever have an issue with steroids. They don't translate very well to our athletes. They don't help the athletes at all with what they need to play soccer. That doesn't mean some idiot won't try it some day, but I don't think we'll see an epidemic like in baseball.
Tony Meola
(4:18 PM)
Thank you for joining us. Hopefully we'll catch you at the game tomorrow night!