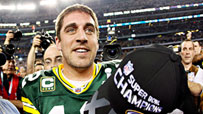 The Packers won the Super Bowl this year. Will there be a 2011 season?
Welcome to SportsNation! On Wednesday, ESPN's new NFL business analyst Andrew Brandt stops by to chat about the NFL's CBA negotiations.
Brandt, who has over 25 years of experience in professional football, both from the management and player representation side, runs NationalFootballPost.com, where he gives fans an insider's view on the business of football. His Twitter is: @ADBrandt.
He is also a lecturer at the Wharton School of Business, teaching Sports Law, Sports Business and Negotiations. He has written for Forbes, the Huffington Post and Sports Business Journal, while also appearing on all of ESPN's platforms, including SportsCenter, NFL Live, "Outside the Lines," "First Take" and ESPN Radio. In his time in the football business, Brandt as served as a player representative, a World League GM and a VP with the Packers.
Send your questions now and join Brandt Wednesday at 3 p.m. ET!
More Special Guests: Previous chats | SportsNation
Buzzmaster
(2:56 PM)
Andrew will be here at the top of the hour to take your questions on the NFL CBA situation!
Kevin (CT)
Andrew, we're not really hearing much about any talks going on right now....is anything happening behind the scenes? Or is this totally a court battle right now?
Andrew Brandt
(3:03 PM)
I think both sides right now are waiting to see what happens on April 6 and what ruling the judge will have on the preliminary injunction. Meaning that talks are suspended right now.
Ray (New Jersey)
AndrewThanks for your time. My question is what should we the fans be rooting for on April 6? Do we want this Judge to lift the lockout and grant the injunction or does that simply cause the owners to appeal and for this to continue to drag out in courts? But if that happens, at least the lockout is over for now. But if the Judge were to deny the injunction request by the players, that could shift leverage back to the owners and would have to force the players back to the bargaining table. Obviously, this decision will be a huge leverage shift towards one side or the other. So once again, what's best case scenario on April 6?
Andrew Brandt
(3:04 PM)
As a fan, you obviously want football as soon as possible, so you would want a ruling for the players on April 6. However, as you said, the owners will appeal a negative ruling and it will be tied up in the courts. At the end of the day, both sides need a decision that they both can live with. It's hard to say which decision that she makes would foster a quicker deal. We'll just have to get through the next couple of weeks to see.
Pete (Florida)
Not that there is much of a chance of it happening, but is it possible that this could end without the courts intervening? If both sides somehow came up with a solution without the help of the court?
Andrew Brandt
(3:06 PM)
I think it's a possibility that there are two other options for the judge besides ruling for the players or the owners. No. 1, she could say this has to be resolved by the National Labor Relations Board before she rules. There is a pending action by the NFL calling the decertification illegitimate. She could say that needs to be resolved before she takes action. The other option is for her to say that she's not going to make a ruling and tell them to resolve their differences and set another court date.
Dave (Columbus)
Could the NFL "fold" and "re-form" in a couple of months to avoid all the legal mess?
Andrew Brandt
(3:07 PM)
The NFLPA has folded as a union. They're now a trade association. But if/when there's a settlement and we have a new CBA, they will re-form as a union and we'll be back to where we started. This is what happened in 1993 in the Reggie White v. NFL case.
Chris Fiegler (Latham,NY)
Do you think that the NFL Should Test Players for HGH If they test Positive then Suspensions is that a part of the CBA discussions?
Andrew Brandt
(3:09 PM)
Yes it is a part of the CBA discussions. It's not clear how much a priority the NFL is making this. It may be something on the table that they end up relenting on in order to make a deal down the road. In terms of my opinion, it's all in the negotiations. I think there's more integrity to the sport with testing, but I think the NFL has to realize in asking for something it doesn't have, they would have to make concessions elsewhere.
Carl (Denver)
How can they negotiate and sign a CBA if there is no union? I thought only unions could sign CBA deals?
Andrew Brandt
(3:11 PM)
Any settlement of this dispute would now be a settlement between the NFL lawyers and the "class council" lawyers who represent the class of players led by Tom Brady. Having said all of this, it's really semantics. At some point there will be negotiations by the two sides, but because we're in litigations, we'll have to call it settlement talks, instead of negotiations.
James (NY)
Realizing that players can not be traded until the CBA is allowed, could NFL teams get around this by trading a "player to be named later" or "future considerations"?
Andrew Brandt
(3:12 PM)
No. The rules state that there shall be no trades. Those kind of arrangements would potentially draw discipline from the NFL.
LL (VA)
Andrew, let's say that the judge lift the lockout and the owners do not appeal, how will it effect the draft in terms of teams trading players for picks?
Andrew Brandt
(3:13 PM)
Yes, if the judge lifts the lockout and there is no appeal or if the appeal goes to the players, the court would order the NFL to open business. The NFL would then put in rules while the court proceeds. The rules would likely be those from 2010, which involves free agency and no salary cap. But once business opens, free agency and trades become active.
Raul Guerra ()
do you foresee an agreement before the draft? It will be a not so interesting draft without being able to trade players for picks.
Andrew Brandt
(3:15 PM)
I do not foresee an agreement before the draft. There remains the possibility of the NFL being open for business due to the injunction ruling. That's the best we can hope for in terms of trading activity. But keep in mind, teams can trade picks for picks. They just can not trade players for picks.
Bart in Calgary (Calgary, AB, CAN)
In your opinion, who is more likely to win in court on April 6th? Sounds like players based on court system reliance on past precedents.
Andrew Brandt
(3:16 PM)
I'm sorry to not pick a winner right now, but I think there are strong arguments on both sides. On the players side, the precedent on that specific court in Minnesota is a real positive. On the owners' side, however, they make a strong argument that the players have not shown "irreparable harm" which is the necessary burden of proof for the judge to grant the injunction. I'll have my prediction on what will happen when I'm up at ESPN doing shows on the day of the hearing next Wednesday.
Stephen Shumock (Jackson, MS)
Why is there so little talk of compromise? I don't hear either side saying this what the other side is offering, this is what we'd be willing to accept. For example with the Owners wanting more revenue and the players not wanting to play an 18 game schedule, why doesn't some one suggest a 19 week regular season, but only sixteen games per team? This would give two additional weeks of tv revenue and two weeks of additional tv games for fans. In addition, the players would get three in-season by weeks per a team.
Andrew Brandt
(3:19 PM)
That's a good suggestion and there have been many like that. If you talk to the NFL people, they continue to be frustrated and angered by the fact the NFLPA walked away from negotiating on March 11. There have been no talks since. If you talk to the players side, you hear similar frustrations that the NFL never got serious about making a deal until it was too late. Now, the fate of the NFL is in the hands of a judge in Minnesota and we'll await negotiations until some time after April 6. We hope.
Kevin (CT)
Are both side putting too much into the court ruling?
Andrew Brandt
(3:21 PM)
Kevin, let's be clear, neither side really wants to go to court. The lawsuit and the lockout are about one thing: creating leverage in negotiations. Unfortunately, we're at a point where the courts are going to determine who has the leverage in the negotiations. Whichever side wins the ruling will have the upperhand in getting the deal they wanted to achieve. But no one wants to go to court.
Bobby (Middletown)
So let's pretend that the injunction is filed and the lockout is lifted, is there still some way there won't be football in 2011. Also when would free agency start?
Andrew Brandt
(3:22 PM)
The NFL would have to impose rules that are blessed by the judge. It will likely be the 2010 rules, as the players were on record in February saying that they would gladly continue with the old system. Once that decision is made, there would likely be a grace period of a few days for teams to get ready for free agency, trading, etc.
Andrew Brandt
(3:23 PM)
But to the first part of the question, if the lockout is lifted, the NFL is back in business, albeit with temporary rules, until the litigation is resolved.
Timmy (MD)
Once the injunction is ruled on and the leverage is given, will we start to hear more about negotiations?
Andrew Brandt
(3:24 PM)
I do think we will. But we're in a cat and mouse game. The NFL only wants to negotiate with a union, because they don't believe the decertification was legitimate. The NFLPA says you must negotiate with our lawyers because we're not a union any more. We're in a game of chicken. I think it's possible that's declarative on one side will advance the process.
Zack (CT)
Can the league punish players retroactively for arrests and stuff? Seems weird they can suspend guys when there's no league?
Andrew Brandt
(3:27 PM)
Good question. As an executive of the Packers for 9 years, this is the time that I always worried about the most. On the NFL's side, I'm sure they think they can impose discipline when the lockout passes, as this time shouldn't be a free pass. However, on the NFLPA's side, they believe with the NFL not operating, it would be wrong for the NFL to impose discipline for the time that the players are locked out. My thought is here that this will be teed up as another issue that will be resolved as a part of the settlement. One side will agree to either have discipline or not have it in exchange for concessions in other parts of the deal.
Andrew Brandt
(3:27 PM)
But like any other offseason, we'll have a police blotter for the NFL.
Andrew Brandt
(3:30 PM)
I'll be on the air Wednesday and Thursday from ESPN HQ, covering all of the issues and outlining what could be next. I'll be Tweeting away: @ADBrandt. And I'm writing about these issues on NationalFootballPost.com.