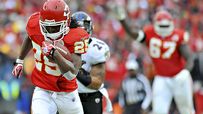 Charles was a third round pick in the 2008 draft.
Welcome to SportsNation! On Monday, Kansas City Chiefs running back Jamaal Charles stops by to chat about the Madden NFL 12 Cover Vote bracket in which SportsNation will decide who will grace the cover of the new video game! Go to ESPN.com/MaddenVote to choose your cover athlete!
Charles defeated Tim Tebow in the first round and faces Maurice Jones-Drew in the second round. The results will be revealed on ESPN2 on Monday at 4 p.m. ET on SportsNation.
In the last two seasons, Charles became just the second NFL player -- Jim Brown is the other -- to rush for over 1,000 yards and average 5.9 yards per carry or more. His 6.4 ypc last season was the highest by a running back with over 1,000 yards since Barry Sanders in 1997. His 1,467 rushing yards ranks sixth in Chiefs history.
Send your questions now and join Charles at 12:30 p.m. ET!
For exclusive Madden Cover Vote content, follow SportsNation on Facebook!
Buzzmaster
(12:15 PM)
The Chiefs' Jamaal Charles will be here in 15 minutes to take your questions!
William (Bellevue NE)
If you had to choose only one word to describe the Arrowhead atmosphere on game day, what would that word be? How important is the Arrowhead crowd to you on those days?
Jamaal Charles
(12:31 PM)
Have you ever watched Spartaca, the arena? That's how I would describe. It's exactly the same.
Scott Sarley (Webb City,Mo)
How big was it having Thomas Jones this past season?
Jamaal Charles
(12:31 PM)
It was real big. Having a veteran guy come in and play a major role helped me in my career. And it also kept my body fresh.
Scott Sarley (Webb City,Mo)
After winning the AFC West and now hitting a lockout... How will this affect the Chiefs? It seems like this could not of happened in a worse time for a rising team.
Jamaal Charles
(12:32 PM)
Hopefully, it doesn't effect us at all and it will make us stronger. We'll come together as a team and get another AFC West championship.
Alec (Stratford, CT)
Hey Jamaal. Congrats on the Madden NFL 12 Cover Vote First Round win!My question for you is what do you feel the Chiefs need to address come draft day?
Jamaal Charles
(12:33 PM)
We have a good group of guys right now, but to improve, I think we need another WR, OL. A WR to help Dwayne Bowe. And a OL, because I'm a RB and we can always use more of them.
Matthew (Los Angeles,CA)
What do you like to do most in the offseason?
Jamaal Charles
(12:33 PM)
Be around family and friends.
Zack Lehnhart (Lexington, Ohio)
What would it mean to you to be on the Madden cover?
Jamaal Charles
(12:34 PM)
A dream come true. I know I would make a lot of people back home proud of me to make it this far. And I know I would make the community back in KC proud too. And it would be thanks to the fans.
Marcus Burnham (Albuquerque, nm)
Stats dont lie, You had 100 less carries & about 150 yards off the rushing title, 6.4 average which hasnt been done in forever by a RB only losing the all-time lead by your last attempt of the season...Do you feel your not getting the credit you deserve when mentioned around best RB in the league or even the madden cover?
Jamaal Charles
(12:35 PM)
I really don't look for the hype and everything. I'll just keep putting up the numbers and let it talk for themselves. I'm not trying to be a superstar in this league, I'm trying to be a hall of famer. They can keep hyping the other RBs to be superstars.
Micah (Hartford)
Have you gone to any of the latest meetings reguarding the lock out or just your agent? Did a lot of players show up?
Jamaal Charles
(12:36 PM)
I know the NFLPA will work out the best deal for the fans and the players. I'll let them discuss that with the owners and hope that we get a deal done soon.
KC Dave (Clark,NJ)
JC...What motivates you to be the best at your position and do you feel you can build on the momentum you started in 2010? Us Chiefs fans REALLY appreciate the way you can turn a game with your explosive play Keep up the good work and we will have a Worlds Championship back in KC,God Bless
Jamaal Charles
(12:37 PM)
Hard work pays off. I have to keep working hard. There's someone out there every year trying to take your position. So, I work hard every year.
Shane (Los Angeles, CA)
Growing up, which NFL RB did you idolize? Which one do you think your run style is most like?
Jamaal Charles
(12:38 PM)
LaDainian Tomlinson. He had a great style. Making people miss in the open field.
Timo (San Diego)
That's a tough second round matchup with MJD ... how do you think you'll fare against him?
Jamaal Charles
(12:38 PM)
Start voting! Help me out.
Joe (Wichita)
Other than winning Superbowls, what are some of your personal goals?
Jamaal Charles
(12:40 PM)
Really, I keep personal goals to myself. I don't wany anyone to recognize them other than me. My personal goals from last year was to rush for 1,500, avg. per carry of at least 6.0. Every year, I try to set some goals. But my No. 1 goal every year is to win the Super Bowl.
Jamaal Charles
(12:40 PM)
And stay healthy. Those are the two goals.
Scott Sarley (Webb City,Mo)
Does the Madden Curse scare you?
Jamaal Charles
(12:40 PM)
No, I think it's all mental. Curses can be broken.
TyRone (AUSTIN)
What's up JC! So I just moved down to Austin, and my buddy won't stop telling me that Texas BBQ is better than what I had in KC (the trifecta of Oklahoma Joe's, Gates, and Arthur Bryants). Settle the debate, who's got better BBQ, Texas or KC?
Jamaal Charles
(12:41 PM)
I'm going to have to go with the home state in Texas. But I won't lie, Oklahoma Joe's is one of the best BBQ places.
Mike (Guilderland, NY)
Jamaal, you are awesome! Two Q's: Toughest defender to get by in the NFL? And your favorite movie?
Jamaal Charles
(12:42 PM)
I think the toughest defense is the Baltimore Ravens. And the next is the Pittsburgh Steelers.
Jamaal Charles
(12:42 PM)
My favorite movie is Avatar.
Hans (KC)
As a RB do you think EVERY draft pick should be an OLman.
Jamaal Charles
(12:42 PM)
Yup.
Zack (CT)
What area are you trying to improve on this offseason? And thanks for a giving my fantasy team a great year!
Jamaal Charles
(12:43 PM)
Everything. Improve as a team.
Jamaal Charles
(12:43 PM)
It's good to improve in every area.
Scott Sarley (Webb City,Mo)
How was your first Pro Bowl experience? It seemed that you bonded with Arian Foster.. Please dont ever put on a Texans helmet again haha. Forever a Chief!
Jamaal Charles
(12:44 PM)
It was great. It was a fantasy. Dream come true. Great weather.
Jamaal Charles
(12:44 PM)
Great football players.
Terrell (Dayton Oh)
Congrats on an explosive season last year but now that this lockout is going on what are you doing to prepare yourself for next year, because i think you will be alot better next year but w/o practicing how is it going to work out if yall cant work together.
Jamaal Charles
(12:45 PM)
No, I won't do anything differently. Every year, I try to approach the offseason differently. I know every year won't be the same, so every offseason won't be the same. It will be different. Since I can't be at the Chiefs facility, I've been working out at UT.
Chris (Iowa)
Im not buying Madden 12 if your not on it
Jamaal Charles
(12:45 PM)
Then you can be my vice president and my campaign manager. Make a Facebook page for me and vote for me!
Will (Omaha NE)
What gets your blood pumping more on game day; the National Anthem or that first contact?
Jamaal Charles
(12:46 PM)
My family in the stands. Seeing them in the stands and having them come watching, I have to perform for them. The passion I have for the game. It's just fun to be on the field on Sundays.
Micah (Hartford)
Do you play fantasy football? If so did you draft yourself? I don't think I could pass on myself. I wouldn't want to blame my first rd pick for not preforming.
Jamaal Charles
(12:47 PM)
I would draft myself if I played it. But I don't play it.
Joe (Kansas)
Which team will be the toughest for KC this year in the AFC West? And what team do you think you will play in the Super Bowl this year?
Jamaal Charles
(12:48 PM)
I think all of the teams, because we're all fighting for one goal.
Brandon (Pittsburg KS)
What is your greatest moment you've had so far as a pro?
Jamaal Charles
(12:49 PM)
Playing in the playoffs. Being three games from the Super Bowl. Playing in the playoffs with my teammates.
Brad (Clinton MO)
With 2 seconds left in the game, the ball on the 1 yard line and down by 3 what play would you call?
Jamaal Charles
(12:49 PM)
Probably 36 Power, 28 Toss.
Greg (VA)
Did you put VCU in the Final Four?
Jamaal Charles
(12:50 PM)
No, but I had UConn. I like Kemba Walker. He's a great basketball player. That's who you had?
Chris (Iowa)
What was it like splitting time with Thomas Jones last year? You ever get mad when he was in there instead of you at the goal line?
Jamaal Charles
(12:50 PM)
No, because it was for the team. He was there for the both of us. He didn't get wore down and I didn't get wore down.
Terrell (Dayton Oh)
I dont want to bring up the 08 draft but i thought you were suppose to be at least a second rounder were you upset at the number you were selected? I know its a dream to even be called but i know you thought you were better than a third rounder. P.s love your style of running.
Jamaal Charles
(12:51 PM)
No. I think God has a plan for me. Everything is the way it's supposed to be. Everything won't happen the way you want it to be. You're not in control. I got a new contract this past year. I can't complain.
Chase (IA)
what do you eat before your big games?
Jamaal Charles
(12:52 PM)
I like CC Pizza. I go to CC Pizza before I go to the hotel on Saturdays. I get some cinnamon rolls.
Jamaal Charles
(12:52 PM)
Go vote for me! You have to pick me up. Go to ESPN.com/MaddenVote. Follow me on Twitter: @JCharles 25.