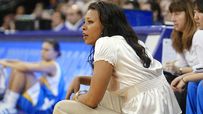 Caldwell has already won 72 games in three seasons with UCLA.
Welcome to SportsNation! On Tuesday, we will be joined by UCLA women's basketball coach Nikki Caldwell, as women's half of the women's Final Four will be set. Tuesday's Elite Eight games start at 7 p.m. ET on ESPN.
Caldwell, in her third season at UCLA, led the Bruins into the second round of the NCAA tournament, the second straight year UCLA has made the tournament. She won the Pac-10 coach of the year following the 2009-10 season after going 25-9.
Caldwell played collegiately for Pat Summitt at Tennessee, winning the 1991 national championship, the third in the program's history.
Send your questions now and join Caldwell Tuesday at 4 p.m. ET!
More Special Guests: Previous chats | SportsNation
Buzzmaster
(3:51 PM)
We've got Coach Caldwell!
Erin Hengesbach (Portland, MI)
How often do you go back to Tennessee now that you're coaching at UCLA?
Nikki Caldwell
(3:53 PM)
I probably get back to Tennessee three times a year. Twice during the summer and during Christmas break. We've added them to our schedule. So, during the season, we'll get back there another time.
jbb1985 (ny)
Before the Tenn-ND game, given the historical 20-0 record the Vols enjoyed, by how many points did you expect Tenn to beat ND by?
Nikki Caldwell
(3:55 PM)
I thought the game would be a close game. This time of year, there are no surprises. I thought that ND did an exceptional job of executing their game plan on both ends of their floor. When you have your floor general playing at a different level as she did last night, it was a matter of the team following her lead.
kevin (macon ga)
Tara Vanderveer is obviously an all time great coach. What will it take for UCLA (or any school) to consistently compete with her and Stanford for Pac 10 supremacy?
Nikki Caldwell
(3:57 PM)
I think it starts with your recruiting. You have to be able to recruit size, intelligence, a very competitive spirited player. STanford has been the staple on the west coast and nationally. It starts with your recruiting. In order to beat a Stanford, you might have to catch them early in the season, because they're good late. They're a locomotive. They really pick up steam as the season goes on. Our game in the Pac 10 tournament, we played a strong 34-35 minutes. We didn't have the depth. You need to have a bench that can come in and sustain what you've been able to do or take it to another level. Stanford is a team that will stay true to what they do best and the establishment of inside play. They also have one of the best backcourts in the country. You need to match that style.
jbb1985 (ny)
Presuming form holds tonight, no guarantees, but if form holds and Baylor and UConn advances -- how do forecast the two semi-finals and then the finals?
Nikki Caldwell
(4:00 PM)
When you get to the Final Four, at that point, whatever you've done to get there, you're well deserving of it. The team that plays with great passion and enjoyment for each other and the game, typically, you see them prevail. Looking at the matchups, you have some of the greatest players in the game with Moore, if UConn advances. Griner at Baylor. Skylar Diggins and what she's been able to do. With Stanford's roster you might have 3-4 All-Americans on that team. You have some special players in the Final Four if it holds true. I would like to see what the supporting casts can do. Your Batman and Robins will erase each other. So let's see what Batgirl and the Super Friends can do.
Arkham (Danville, PA)
Nikki, Congratulations on a terrific season. What can you tell us about the bigs coming to Westwood next season? Immediate impact?
Nikki Caldwell
(4:01 PM)
Definitely. Our bigs will be instrumental in us being able to take this program to another level. Our bigs are skilled, fundamental. They love basketball and they're competitive. They also bring a work ethic. They also know what to win. You look at them at being the No. 3 recruiting class in the country, behind Tennessee and UConn. There are a lot of expectations in this class, but they need to understand that they don't have to do it all themselves. That class will just add to what we have now.
Robert (Indianapolis)
I know it's just the way it is right now, but aren't you and your team at least feeling a little slighted that you drew the short straw and had to go to Spokane and play Gonzaga? Having a hard time excepting the committees stance that homecourt isn't an advantage, after all why would there be the phrase "homecourt advantage" if it didn't exists?
Nikki Caldwell
(4:06 PM)
I think when you look at the seeding, 1-16, that definitely needs to be seeded correctly. I don't think geography should be the X-factor to determine the true seeding of someone. Having played in the environment for our second round game, yes that was an unbelievable crowd, but that was a great crowd for Gonzaga. When you look at your body of work that your players have done for that entire season, you want to make sure that when the committee takes into account who should be seeeded where. Gonzaga was a tough team this year and they were ranked nationally during the entire season. They were one of the best 11 seeds that I've seen in a long long time. At the end of the day, not that you don't have to place someone, because you do, but you want to make sure that the seeding isn't compromised but the body of work as well. When you look at RPI, strength of schedule, last 10, all of that has to match up. But the fan support, no question, that's great to have, but is that at the expense of where someone should be seeded or where someone should be placed. That's the question that you have to ask yourself.
Matt (IL)
If you were to play Uconn, what would you tell your players to do in order to beat them?
Nikki Caldwell
(4:16 PM)
If we were to face UConn, for our team, we would make sure that we're all insync in what we would have to do defensively. We would extend our defense 94 feet. I wouldn't give them a full shot clock. Moore is key for them, but you can't be so consumed by her that you can't forget that she has a great supporting cast. I would give her different looks. I would be physical with her. I would give her space. Through your defensive switching, you limit her touches. I don't think there is one defender that can guard her. Our bigs have to open up to let the guards trail. They can generate runs. They can score quickly. That would be something we talk about. And if you control boards, you control the game. I'm big on one and one. They do a great job of taking away paint points with their big lineup. I would use any opportunities to exploit the mismatch. We would also have to be ready for change up. Change up your offensive packages with your ball placement. A game like that is going to be a game that I want to see the hustle plays. I want to see you generate your own togetherness. A player goes down, all four go over to help them up. Jogging to the bench. I want to see that in a game with UConn.
Nikki Caldwell
(4:18 PM)
Continue to suppport women's basketball. It's an exciting time to be a student athlete. This game has come a long way. The quality of players in our game has evolved. You have the 6-8 Griner. Maya Moore. We love the parity of the game. Thank you for all of your support. Go Bruins!