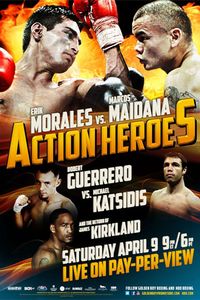 Welcome to SportsNation! On Friday, we'll go inside the ring when legendary boxing writer Bert Sugar stops by to chat about Saturday's "Action Heros" fight card featuring Erik Morales vs. Marcos Maidana, Robert Guerrero vs. Michael Katsidis and James Kirkland vs. Nobuhiro Ishida.
The main event highlights Morales (51-6, 35 KO) against Maidana (29-2, 27 KO) in a welterweight title fight live from the MGM Grand in Las Vegas, Saturday at 9 p.m. ET/6 p.m. PT on HBO Pay-Per-View.
Sugar has written over 80 books and from 1979-83 he served as editor-in-chief of The Ring. Sugar also, according to his bio on HBO.com, founded Fight Game magazine in 1998. Sugar has also appeared in a few movies, including recently in "Rocky Balboa," the final chapter of Sylvester Stallone's Rocky boxing movies.
Send your questions and join Sugar Friday at 4 p.m. ET!
More Bert Sugar: Chats | Search | Boxing index
Buzzmaster
(3:59 PM)
The great Bert Sugar will be here at the top of the hour to take your questions!
Bert Sugar
(4:03 PM)
For the first time in a long time, boxing fans have an action card top to bottom with four fights that promise excitement and unlike any other fight I've been to, good fights at the bottom as well as the top. Maybe boxing is learning something.
Liam Power (London, England)
Bert, in recent times you've been highly critical of the heavyweight division. What do you think needs to be done to make improvements, both in the US and worldwide?
Bert Sugar
(4:07 PM)
First of all, I've always been in support of a unified champion, so you can refer to THE champion, not A champion. Second, I don't know if it was Lennox Lewis or Dolph Lungren in Rocky that showed us that 260 pounders can fight and not just be clumsy. Ali at his heaviest was 220. Now they're all over 250. In America, we like big things - big cars, big bank accounts, big houses and big fighters. That said, at 250, more American kids that are talented will go into pro football. To me, the best two America heavyweights, today, are Ray Lewis and Brian Urlacher, both of whom play in the NFL. That said, we ain't got any. For most Americans, the current heavyweight champions, Klitchsko, Klitchsko and Haye - which sounds like a lawfirm - could go into a police station wearing gloves, belts and robes while carrying their belts over their heads and most wouldn't know who they are or what they do for a living.
courtney j (lindenwold, NJ)
hi bert, do you think erik morales will beat marcos maidana?
Bert Sugar
(4:08 PM)
I think it will be a stretch of the imagination to believe that a man that has been off for two of three years and has beaten, at best, average opponents could. The only way Morales could win is to use his guile, experience and legs, because Maidana is a fearsome, ferocious fighter who keeps coming after you, as witnessed by his record with wins by knockout. It's a tall order, but if anybody can do it, Morales might be able to, to become the first four-time Mexican champion in history. Still, it's a long shot.
jose (stockton)
Do you believe freddie roach will turn julio cesar chavez jr into a better boxer
Bert Sugar
(4:09 PM)
I think he already has, as witnessed by his fight against Duddy. Jr's style is nothing like his old man's. But Freddie has already begun the process of turning him into a better fighter, yes.
courtney j (lindenwold, NJ)
hi bert, do you think david haye has a shot at beating either brothers?
Bert Sugar
(4:10 PM)
I'm sort of puzzled by the way the contracts, as they were against Adamek, in which Adamek is to fight either one of them. Which leads to my cynical belief that there is only one Klitschko and they keep changing their names. I don't think Haye can beat either of them without a ladder. But he has a chance, that's all can I say. (BTW, which one is he fighting?)
Kevin (CT)
Bert, are you ever photographed without your hat on?
Bert Sugar
(4:11 PM)
Allow? No. My hat comes off with the same frequency as my nose, which in this weather is running better than my car.
jose (stockton)
who wins julio cesar chavez vs salvador sanchez
Bert Sugar
(4:13 PM)
I like the fight, depending upon which weight, knowing that it was Chavez v. Sanchez. Chavez was a helluva body puncher, but Sanchez looks like he could have taken anything-plus. It would be a coin flip, and since I can't find a coin right now, let's just call it a draw - unless it's the same judges that said it was a draw with Chavez and Whitaker, one of the worst decisions I've ever seen.
Greg (C T)
Bert what do you think of the undercards in the fight this weekend?
Bert Sugar
(4:15 PM)
I have rarely seen a better fight card, top to bottom than this weekend. Cotto-Malignaggi, Kirkland-Ihabu. And if one of these ends early, you'll get Nate Campbell. This is an action-packed fight, which boxing rarely puts on. I remember one of the televised fights where all of the attention was on the main event and the preliminary fight leading up to the main event that the writer in front of me told me to quit snoring because I was keeping him awake. There will be no one sleeping this weekend. In the co-featured events, they have almost a 70% slugging average, which is number of KOs in their total fights. This is a fight card that any boxing fan would love.
Jeff (RI)
Do you like outdoor fights?
Bert Sugar
(4:17 PM)
The fight matters, not the venue. Although days of yore, the big fights were always in stadia (that's plural for stadium). But it doesn't make any difference if it's indoor or outdoor, if the fight is good or bad. It was a sign in the past of how big it was if it was in an outdoor stadium. But it makes no nevermind to me, as long as the fight is good. (That is, unless it's raining.)
Courtney J (Lindenwold, NJ)
Hi Bert, who is your current favorite fighter?
Bert Sugar
(4:19 PM)
I like Manny Pacquiao, because he's a buzzsaw. You want action? He gives action, probably more than any fighter in recent years. You have to go back to Henry Armstrong, Beau Jack, or several of the older fighters to see this much action. That's what I like in a boxing bout, action and the PacMan gives it.
Peter (Dallas)
Bert, will Mayweather-PacMan ever happen?
Bert Sugar
(4:21 PM)
Good question. I think it's all up to Mayweather, who believes that he is still the best fighter in the world, and maybe according to him, the best ever, because he never lost. He will tell you that Ali, Sugar Rays - Robinson and Leonard - all lost. That's his legacy. But legacies are built on whom you meet and beat. But until he gets in the ring and proves it, his legacy is still wanting. Maybe this is why some fans are calling him "May-Never."
Trent (NJ)
What should we be looking at Morales as a key to his win?
Bert Sugar
(4:22 PM)
His movement and his ability to get inside. He can not swap and trade with Maidana, he's got to move him, he's got to turn him. Maybe because he was such a fierce body puncher in the past, he can hurt Maidana in the body.
Bert Sugar
(4:23 PM)
Thank you. Good question. I enjoyed being with you. Hopefully you not only enjoy the fights tomorrow night, but my new book "The Ultimate Book of Boxing Lists" which I co-authored with ESPN's Tedy Atlas. Thank you.