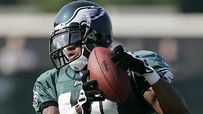 Jackson is the first player to be named to the Pro Bowl at two different positions (WR, KR).
Welcome to SportsNation! On Thursday, Philadelphia Eagles wide receiver DeSean Jackson stops by to throw his support behind his quarterback, Michael Vick in the Madden NFL 12 Cover Vote, where SportsNation decides who will grace the cover of the new video game!
Vick faces Minnesota Vikings Adrian Peterson in one semifinal matchup, while Aaron Rodgers and Peyton Hillis square off in the other.
Jackson remains active in the community through his Foundation 10 work, which aims to raise awareness of pancreatic cancer, a disease his father passed away from in 2009.
Send your questions now and join Jackson Thursday at 1 p.m. ET!
For exclusive Madden Cover Vote content, follow SportsNation on Facebook!
Buzzmaster
(12:52 PM)
Eagles wide receiver DeSean Jackson will be here at the top of the hour to take your NFL questions.
Andrew (Georgia)
Who do you see winning the NFC East next year?
DeSean Jackson
(12:59 PM)
The Philadelphia Eagles.
Andrew (Georgia)
Which would you consider your arch rivals, the Giants or Cowboys? Why?
DeSean Jackson
(1:00 PM)
I would have to say the Cowboys because we go at it with them every year. They are also known as "America's Team" and it's always fun beating "America's Team."
Nathan (Missouri)
Hey DeSean, who was your favorite player growing up?
DeSean Jackson
(1:01 PM)
My favorite player growing up was Michael Irvin.
Nathan (Kentucky)
DeSean, assuming there is a season, what are you looking forward to the most this season?
DeSean Jackson
(1:02 PM)
I just look forward to getting back out there and competing with my teammates. Playing football is something we love to do.
Ike (Philly)
Do you secretly want Michael Vick to lose in the madden NFL 12 Cover Vote because of the "injury curse" attached to it?
DeSean Jackson
(1:02 PM)
I wouldn't say that I want him to lose but I am aware to the curse. I do want him to win though.
Matthew (Los Angeles,CA)
What went through your mind during the kick return that won the game against the Giants?
DeSean Jackson
(1:03 PM)
Don't kick me the ball and if you do I'm sending you home.
Zachary Miles (Windham, ct)
hey jackson your my favriote player of all time and i want to ask what do the eagles have to do to win the super bowl next year
DeSean Jackson
(1:05 PM)
I think we just have to put all the pieces of the puzzle together. We all have one destination that we want to get to and now we just have to accomplish it.
Chris (Kentucky)
What do you feel about the lockout?
DeSean Jackson
(1:06 PM)
Honestly, I think that everything will work out. I just want it to be over and done with so we can get back to playing and get back to our jobs.
Lisa (Camden, NJ)
It's a great thing you are doing with your foundation, "Foundation 10"." Do you have any upcoming events in Philadelphia area?
DeSean Jackson
(1:07 PM)
Yes, May 13-14 we are having our second annual gala. To find out more you can go to www.foundation10.com.
Husain (West Philadelphia)
What's up D-shawn!!!! What do you think our team needs to draft most of all? And who are you closest to on the team?
DeSean Jackson
(1:07 PM)
A cornerback.
Attila Ecsedy (ventura, CA)
what advice would you give a person that wanted to be a WR? What would they have to do
DeSean Jackson
(1:08 PM)
You have to be dedicated to what you want to do. You have to work hard and have somebody to look up to. Somebody to help you get to your ultimate goal.
Tyler (Atlanta)
Desean I just started workouts for high school football for the first time. Can you tell me the best way to stay patient for a starting job because I don't quite have the skills like Desean Jackson?
DeSean Jackson
(1:10 PM)
Just have confidence in yourself to go out there to make the team and then the starting spot. You may not have the skills now but if you work harder than everybody you will get noticed.
Jesse (iowa)
You have been on the cover of ncaa college football before. What would it mean to you to oneday grace the cover of madden yourself?
DeSean Jackson
(1:10 PM)
I was on the Cover of NCAA Football in 2008. As far as the Madden cover, because of the curse, I'm not too sure I want that cover.
Caleb Repko (Suffolk, VA)
Were you surprised by Michael Vicks success when he returned to the league last season?
DeSean Jackson
(1:11 PM)
I wasn't surprised at all. I was confident in him and I know what he is capable of doing. He's been a great player for a long time and he's a player I looked at growing up.
Emmy Lou (San Diego )
Desean, will you be doing any camps this summer in CA?
DeSean Jackson
(1:12 PM)
I actually you have a couple of camps. To find out more info, go to www.sportsrhythms.net.
Dan (new jersey)
Do you still keep in touch with Jerry Rice? I know he worked with you before the 07 draft.
DeSean Jackson
(1:13 PM)
Yes, I do keep in contact with him. He's a mentor to me.
Brian (Austin, TX)
Hey Desean, huge fan. How are you and the guys working out during the lockout? Anyone orginizing a group thing, or everyone doing it on their own?
DeSean Jackson
(1:14 PM)
Right now, everybody is kind of doing their own thing but everybody is working hard and we will be back together soon.
Chris (NY)
Hardest DB you've faced in a game?
DeSean Jackson
(1:15 PM)
It's hard to say because no one covers me one-on-one.
Chris (NY)
Best WR in the NFL besides you?
DeSean Jackson
(1:15 PM)
Larry Fitzgerald.
Jamie (Philly)
Can Asante cover you?
DeSean Jackson
(1:16 PM)
We go at it, we go at it a lot. Sometimes he wins and sometimes I win.
Scott (Philadelphia)
Who has the best celebration's after a touchdown? You can't say yourself.
DeSean Jackson
(1:16 PM)
Maybe Chad Johnson.
Mitchell (Philly)
What do you like the most about Philadelphia as a city?
DeSean Jackson
(1:17 PM)
I like the city of Philadelphia because people from Philly are known to be hard-working. I grew up around hard-working people so that's something that I appreciate about the city.
DeSean Jackson
(1:18 PM)
Thanks to everyone for all the great questions. Be sure to check out my foundation at www.Fountadtion10.com and follow me on twitter @DeseanJackson10.