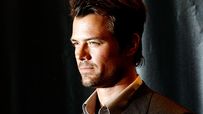 Duhamel's Transformers 3 is scheduled to hit theaters July 1.
Welcome to SportsNation! On Friday, actor, and big time Minnesota Twins fan, Josh Duhamel stops by to chat about the baseball season, as well as the latest Transformers movie set to be released this summer.
The third installment of the Transformers franchise, "Transformers: Dark of the Moon," is scheduled to hit theaters on July 1. He has already appeared in the first two of the series: "Transformers" and "Transformers: Revenge of the Fallen." Duhamel became well known with his role in "Las Vegas" which ran from 2003-08.
While not working on his movies, Duhamel has recently teamed up with Reebok on the Real Flex shoe.
Send your questions now and join Duhamel Friday at 1:10 p.m. ET!
More Special Guests: Previous chats | SportsNation
Buzzmaster
(1:11 PM)
Josh should be here in minutes to take your questions!
Mike (Ohio)
Mauer is on the DL again. At what point should they start looking at a different position for him?
Josh Duhamel
(1:21 PM)
I guess when you pay someone that much money, he should probably learn to play more than one position. I've seen those Head and Shoulders commercials, he could probably find some time in a sitcom too.
Kevin (CT)
How does an actor go about getting a shoe deal? That's pretty good on your part. And how cool is it to work with Reebok?
Josh Duhamel
(1:22 PM)
It's very cool to work with Reebok. First of all I love the shoes. It was something that was easy to get on board with because I've had knee and back problems. The Reebok Real Flex. And they've also done a lot of work with youth health and fitness, which I love. A lot of the charity work I've done is with youth health and fitness. I really like the initiative they've done with getting kids exercising.
Frank (Houston)
With your athletic background, do you ever want to try a sports movie?
Josh Duhamel
(1:23 PM)
that's the one thing that I want to do more than anything. I could play a QB on the tailend of his career fighting for his spot. Or I could play an aging pitcher. My time is running out.
Josh Duhamel
(1:24 PM)
It is something that I want to do, for sure. I'm constantly looking for something. To be honest, it's hard to get those movies made because they do great domestically, but not internationally.
David (NYC)
Do you know if they've completely finished Transformers 3 yet? I can't wait to see it!
Josh Duhamel
(1:24 PM)
We finished shooting it. I don't think they'll be done with the post production stuff until right before the movie comes out. They'll be working on it right until the end. I have seen 30 minutes of it and it's pretty unbelievable.
Jessica (FL)
'All My Children' was just canceled, so how does that make you feel? Your career pretty much started there, so is it heart-breaking for you to hear about that? Also, what can we expect from your character in the third Transformers?
Josh Duhamel
(1:27 PM)
Yeah, it's sad. It is where I was given my first break. I'm still very close to a lot of the people there. It's given a lot of people their first breaks in their careers. If you look at all of them. It's too bad that a lo tof those opportunities will be taken away now. But Leo lives.
Jeff (Sioux Falls)
I am heading to the middle of North Dakota this weekend, do you know where I could get some good food and nice drinks?
Josh Duhamel
(1:27 PM)
Yeah, 10 N. Main in Minot.
Josh Duhamel
(1:27 PM)
I may be a little biased but it's the best food there.
Jon (NYC)
Hey Josh, Twins fan eh? Worried about Mauer and Liriano?
Josh Duhamel
(1:29 PM)
Yes and no. This is a team that seems to have the best scouting and farm programs in the MLB. They always seem to reload no matter what happens. We develop the players for these rich teams and we're competitive every year. They always seem to be fine.
Jeff (Devils Lake)
You could play Jim Thome (he is only halfway through his career)?
Josh Duhamel
(1:29 PM)
Only halfway through his career? That's not a bad idea. I'd have to learn how to swing with power, though. I'd be a better pitcher than power hitter.
Matt (Chicago)
It sucks that Las Vegas was cancelled. Loved that show. Any ideas on how it was supposed to end before the cancellation?
Josh Duhamel
(1:30 PM)
nobody really knows what the last episode was. I talked to the creator and we had a baby boy. That's all I know.
Ryan (Dayton)
Still keep in touch with any of the Las Vegas cast?
Josh Duhamel
(1:31 PM)
yes I do. I keep in touch with James. I play basketball with him from time to tim. I wear my Reebok Real Flexes, although they're meant for running. Molly, Vanessa, James. I'm playing in a golf tournament next week. We were all friends. That's partly why it was so much fun to shoot.
Eduardo (TX)
Do you follow the NBA? If so, who do you have winning it all?
Josh Duhamel
(1:32 PM)
The Lakers.
Josh Duhamel
(1:32 PM)
Wooohooo. Kobe and the Lakers. Although that Derrek Rose.
Drew (Scottsdale)
How many Fighting Sioux hats do you have?
Josh Duhamel
(1:32 PM)
I have about 12.
Tyler (Atlanta)
Josh How many twins games have you seen at the beautiful Target Field?
Josh Duhamel
(1:33 PM)
I haven't been yet. But I'm planning on going this year.
Josh Duhamel
(1:33 PM)
Have you?
Jeff (Devils Lake)
Who was your favorite Twin growing up?
Josh Duhamel
(1:33 PM)
My favorite Twin...I have to say Kirby Puckett.
Josh Duhamel
(1:33 PM)
I have to go with Kirby Puckett.
Jon (NYC)
You think you will go back to the small screen?
Josh Duhamel
(1:34 PM)
I never say never to anything. If it's good. If it's something I feel like I have to do, I'm not opposed to doing TV. If the project is well written, funny, dramatic, whatever it is, if it's something I feel I can do well, I'll do it.
Josh Duhamel
(1:36 PM)
Thanks for the questions. Thank you to Reebok Real Flex for bringing me Bristol so I could finally see ESPN's studios.