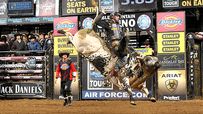 Lostroh's been riding professionally for 7 years.
Welcome to SportsNation! On Friday, we're going to visit with one of the toughest athletes out there in Professional Bull Riding's Kody Lostroh. Lostroh is preparing for Saturday night's "Last Cowboy Standing," with the winner taking home $200,000.
The PBR event will take place at the Mandalay Bay Events Center in Las Vegas and is available on pay-per-view. Lostroh is currently sitting 11th in the points standings, with two top-5s and six top-10s in his nine events this year.
Send your questions now and join Lostroh Friday at noon ET!
More Special Guests: Previous chats | SportsNation
Kody Lostroh
(11:59 AM)
I hope everyone checks out the event this weekend, it should be something really special.
Ashley (Fort Worth, TX)
When did you know you wanted to be a pro bull rider, and what drew you to the sport?
Kody Lostroh
(12:00 PM)
Well, I wanted to be a pro bull rider when I got interested in riding and that was around 7 years old. I knew I was good enough to do it professionally around 17-years old.
Taylor (Chicago, IL)
Do you have any special rituals you must perform before you compete?
Kody Lostroh
(12:02 PM)
(Laughing) I don't really have any special rituals but I do go through the same routine before I compete. I do chew gum when I ride but I don't really consider that a ritual. It's just something that makes me feel more comfortable while riding.
Butch (Philly)
Hi Kody. What kind of workout do you do to keep in shape?
Kody Lostroh
(12:03 PM)
I actually do P90X along with riding horses bear back. Both those are really good for your legs.
Joe (Myrtle Beach, SC)
When you're riding the bull, does the 8 seconds go by quickly?
Kody Lostroh
(12:04 PM)
It depends on how well I'm riding. Eight seconds can go by super quick if I'm doing things right but eight seconds can also feel like eight years if I'm doing things wrong.
Jacob (Salt Lake City, Utah)
What has been the most memorable moment of your career so far?
Kody Lostroh
(12:05 PM)
That's a tough one. I have a lot of really fond memories but in 2009 it was a three-man race for the world title and nobody knew who was going to win until the final ride and I came out on top.
Tammie (Texas)
Will Kody be riding in any Touring Pro Events?
Kody Lostroh
(12:06 PM)
Yes, I'll be riding in some Touring Pro Events during my off time from the Built Ford Tough Series. I like to go to those just as much as the big ones.
Cheesehead Sports Nut (Chicago, IL)
What is your favorite and least part of bull riding?
Kody Lostroh
(12:08 PM)
There's a 100 different things I love about bull riding. And the danger part is one of them; it lets you know you're alive when you're that close to danger. I also like meeting different people from all over the world. My least favorite is the travel. Sometimes traveling gets to be old. The injuries aren't that fun either but it comes with the sport.
Cheesehead Sports Nut (Chicago, IL)
My buddy Gaber is big bull riding fan. Every time bull riding comes on, Gaber can't get enough. I am starting to come around to Gaber's thinking. Do you see bull riding taking off and potentially becoming a main stream sport at some point?
Kody Lostroh
(12:10 PM)
I do see bull riding growing into a mainstream sport. I think people don't know about it and that's why they don't watch it. When people realize that it's not just a bunch of dumb cowboys on bulls, I think our sport will be up there with the NFL's and NBA's.
Brian Keith Dominue Jr (dayton texas)
how long did it take you to get into the pbr?
Kody Lostroh
(12:11 PM)
I got my permit when I was 18 and then got on the Built Ford Tough Series when I was 19. So it took about a year.
Tracie (Florida)
How do you feel about the new format this year with the extra short round and only 10 riders advancing?
Kody Lostroh
(12:12 PM)
I think the new short round is a good opportunity for guys to win a little extra money and get some points on the board. I'm not real happy that it counts towards the event average though. I don't think it puts us on a level playing field.
John (Milwaukee, WI)
Does anyone else in your family ride or have ridden bulls before?
Kody Lostroh
(12:13 PM)
Nope, I'm the first in my family. I just grew up farming a thought this was just a fun thing to do.
Briana (Stensrud)
Why do you wear a helmet and not a cowboy hat?
Kody Lostroh
(12:14 PM)
I actually used to wear a cowboy hat when I was riding and just recently I found a helmet that doesn't affect my vision or my riding. There's nothing that makes this sport absolutely safe but wearing a helmet helps a bit.
Betty (Nampa)
Who's going to win Last Cowboy Standing?
Kody Lostroh
(12:16 PM)
(Laughing) This may sound like a comp out but the guys that wins Last Cowboy Standing will be the last guys standing. Any guy can win on any given weekend but and the end of the deal hopefully it will be med!
Kody Lostroh
(12:21 PM)
The total for this weekend's event will be $300,000 which is the second in PBR history so it shall be a good one. Thanks for all the questions and check me out at www.facebook.com/KodyLostroh.