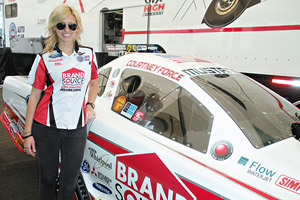 Welcome to SportsNation! On Monday, Courtney Force, the next in line in the Force racing dynasty in the NHRA, stops by to chat.
Courtney earned her license to drive competitively in the NHRA series in 2005 and has been pursuing a full-time racing career ever since. In 2009, she took home the People's Choice Award for the Ford Fiesta Movement, and became the NHRA Northwest Nationals Champion (A-Fuel). Force is the youngest daughter of 15-time NHRA Funny Car champion John Force.
Send your questions now and join Force Monday at 3 p.m. ET!
More: Chats | NASCAR index
Buzzmaster
(3:09 PM)
Hang on folks. Courtney is just finishing up a meeting with her crew chief.
Buzzmaster
(3:14 PM)
Courtney is here!
Sheri Lawrence (Lake Havasu, AZ)
Hi Courtney,So when will the big day be for us to see you compete? Don't want to miss it. We are all big fans of the Force family.
Courtney Force
(3:15 PM)
Well, we are planning on testing and getting some seat time and experience throughout the season and maybe racing an event at the end of the season. We have a long time to go. We don't want to get ahead of ourselves.
Mark Teterud (Seattle)
So just how scary is it to sit behind 8000 HP, barely able to see anything through the windshield? Do you hold your breath or are you able to breathe at all with the G-forces? Good Luck to ya'!
Courtney Force
(3:16 PM)
It's an adrenaline rush. It's something you can't really describe to other people. It's a blur going down the track. It's a pretty amazing feeling.
David (Eau Claire,WI)
Do u put to much pressure on yourself because of success of sister?
Courtney Force
(3:17 PM)
Ashley has done very well for herself. I have some big shoes to fill with her and my dad. There is some pressure, and I have a lot to prove. I'm taking this opportunity and hopefuly doing as well as they have.
Buzz Murdock (Los Angeles)
Do you rely on your sister Ashley for a lot of advice?
Courtney Force
(3:18 PM)
Yeah, Ashley's been there every step of the day, along with everyone else. She's helped me with the transition. It's something that only she has really experienced. She's there for all of that advice and how to handle the car and things I need to be careful of or aware of. She's been here to help me a lot.
Courtney Long (Lake Havasu City, AZ)
What kind of things do you enjoy doing away from the track and racing?
Courtney Force
(3:19 PM)
I actually just graduated from college at Cal State Fullerton. I've been working at my dad's shop when I'm not at the track. I've been hanging out with my friends. It's fun going to go to the movies, just like every other girl does. Except on the weekends, I'm driving an 8000HP car.
Cody (Rochester, NY)
Courtney, is there one particular race you would like to make your first start at?
Courtney Force
(3:20 PM)
For making my start at, I'm excited to race at Ponoma, that's my home track. But you can never forget the feeling at Indy. All of the fans are excited. I would be very excited to race there. That's one of the big ones.
Kim Gentry (Bakersfield,ca.)
how soon will we see you racing with your Dad.
Courtney Force
(3:20 PM)
We'll be testing this season and hopefully running a race or two at the end of the season. Maybe toward the end of the season or the start fo the 2012 season.
Kyle Jackson (Corona, CA)
Courtney, are you testing today and if so how is it going so far?
Courtney Force
(3:21 PM)
Yes, I was testing today. I made my first full pass at about 4.12 seconds. It was 287 MPH. It went pretty good. I scraped some paint against the wall. It's going good.
Courtney Force
(3:21 PM)
It will all be a big learning experience for me. Long way to go.
Cary Ellingson (Rapid City, South Dakota)
Do you worry going from a dragster to a funny car, with the shorter wheelbase? Which do you feel safer in?
Courtney Force
(3:23 PM)
The biggest change was the steering, because of the short v. long wheelbase. I'm still learning a lot about it, learning to not over correct. That will come with seat time. That was one of the biggest changes. We've worked with Ford, my dad has worked very hard with Ford since his crash, to make the cars safer. I feel confident with all of the safety equipment.
victor (Monroe,la)
what made you join the nhra and how did you get started?
Courtney Force
(3:24 PM)
Going into this family business was not something that I popped up and decided to do. It's something I've been waiting to do. I was always a track kid, ever since I was born. I have a picture that I drew of me racine a funny car against my dad. I told all of my teachers that I was going to be a race car driver. No one is surprised by my decision.
John Krebs (Kinde, MI)
What's the fastest you're driven so far and does John drive you as crazy as he does Ashley?
Courtney Force
(3:25 PM)
Today's test was the fastest. 287 MPH. And the quickest.
Mark Teterud (Seattle)
Hear you are filiming a new reality show. True?
Courtney Force
(3:26 PM)
That is something that we're working on with John Force Entertainment. A lot of fans have asked about it. We're in the process of building a pilot. I guess based around me, I'm not sure. They want to film my progress in the transition. It would be pretty cool to bring it back.
Tim Hart (Chicago)
Have you had a fire yet in testing? If so "How'd that go?"
Courtney Force
(3:26 PM)
I haven't had a fire or anything in testing. The only real thing is scrapping against the wall. That's the only exciting thing so far.
Adam Bondrowski (UNOH)
How was it the first time you strapped into the car? and I'm going to school to become a drag racing mechanic.. any advice?
Courtney Force
(3:27 PM)
It was pretty nerve wracking. You don't know what to expect and there's nothing that can prepare you for it. You just have to strap in and hope for the best and do what everyone has taught you.
danny (maryland)
how much do you notice the speed and horsepower difference between the fuel and alcohol car?
Courtney Force
(3:28 PM)
The launch is a lot harder in the funny car. Once you get past half track, you can still pick up speed. There's no slowing down. It's only 4 seconds and comes up on you pretty quick.
Sharon Smith (Phoenix, AZ 85028)
Courtnery, will you be part of the Force Team racing a full season in 2012?
Courtney Force
(3:29 PM)
I think that would be the plan, yes. I think we are hoping that if everything goes well and get liscensed that 2012 is a full season. I got through college to make a career out of it. I am finally done with college and I think it's time.
Kevin (Livonia,Michigan )
can you get me a job on your crew ?
Courtney Force
(3:29 PM)
That's something you have to take up with Dad!
Jim B. (Sacramento)
Has the Force team ever considered running a Top fuel dragster instead of a Funny car?
Courtney Force
(3:31 PM)
We have. That's something I had considered at the beginning of this process before we started "Funny Car 101." I considered it. I talked to my dad about it. But my dad said we know funny cars, we've worked to make the funny cars safer. We're going to work with what we know and have the tools for. That's where that went.
David (Eau Claire,WI)
what do hope to do in your first funny round at first race?
Courtney Force
(3:31 PM)
Have a good straight path and hope to get qualified.
Courtney Force
(3:31 PM)
And get a first round win would be pretty awesome too.
Courtney Force
(3:32 PM)
Thanks for the support and everything you've helped out with. Hope for the best. I'm hoping to get through this weekend.