Chat with Muhammad Wilkerson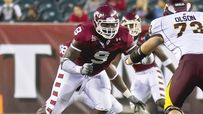 Mel Kiper has Wilkerson ranked No. 12 overall.
Welcome to SportsNation! On Wednesday, NFL draft prospect, and former Temple Owls defensive tackle, Muhammad Wilkerson stops by to chat some football.
Wilkerson provided a big impact to the Temple defense during his three years as an Owl. He helped his team go from 5-7 his freshman year to 9-3 and 8-4 the last two years. Wilkerson led the team with 9.5 sacks in 2010.
Scouts Inc. ranks Wilkerson No. 15 overall and likes his size and durability and his profile says that he "consistently fires off the ball and gets into the pads of OL. Can anchor versus the run but is also very adept at finding the ball, disengaging, pursuing and making the play."
Send your questions now and join Wilkerson Wednesday at 2 p.m. ET!
More Special Guests: Previous chats | SportsNation
Buzzmaster
(1:47 PM)
Muhammad Wilkerson will be here at the top of the hour to take your questions!
Buzzmaster
(1:57 PM)
He's here!
matt (pittsburgh pa)
Muhammad what position do you prefer 3-4 de or 4-3 dt? and which player do you resemble your game around most??
Muhammad Wilkerson
(1:58 PM)
I got the chance to play both in college. I don't have a preference. I got the chance to be successful at both, so no preference.
Hooter (Temple University)
Has Temple's former coach Al Golden contacted you/gave you advice since declaring for the draft?
Muhammad Wilkerson
(1:59 PM)
Before I left, he gave me some advice about the process. He told me to make sure I was doing well and said he'd see me on TV.
Kevin (New York)
What's the biggest you want to improve before you enter your first NFL season? Is it your explosion off the ball, your technique? I'm a huge fan!
Muhammad Wilkerson
(1:59 PM)
I want to improve, overall, my technique. I feel there's always room for improvement.
Nathan (Missouri)
Muhammad, what have you heard about where you may go in the draft? Are you even paying attention?
Muhammad Wilkerson
(2:00 PM)
I have seen a few things, but I'm just hearing a lot of different things all over the place. From the Chargers to the 25th pick to the Saints.
Andrew (Allentown, PA)
Great Job on First Take today Muhammad! Do you hope to be drafted by a team on the East Coast to stay close to Temple or would you prefer the West Coast?
Muhammad Wilkerson
(2:00 PM)
No preference. I'm ready to hear my name called next week.
Neal (Philly)
Hey Muhammad, who was your favorite player growing up?
Muhammad Wilkerson
(2:01 PM)
It would probably be Michael Strahan.
Dan (New Orleans)
Hey Muhammad, what stadium was your favorite to play in while in college?
Muhammad Wilkerson
(2:01 PM)
I would probably say Beaver Stadium, Penn State. It's a crazy environment.
Nathan (Kentucky)
Hey Muhammad, what has been your favorite part of the draft process?
Muhammad Wilkerson
(2:02 PM)
Traveling, visiting teams. Visiting cities I've never been to before and eating good meals.
Brad (Gadsden,Alabama)
Muhammad, Do you have any pre-game rituals?
Muhammad Wilkerson
(2:03 PM)
Yeah, I do a little bit of stretching on my own and do some pass rushing while listening to my iPod.
Dave (State College, PA)
Muhammad, as a Temple alum and Temple athletics fan, I want to congratulate you and your teammates for bringing Temple football back to prominence. What will you miss the about being at Temple and will you return to finish your degree? Also, how do you feel about the football helmets sporting the Temple "T" this year instead of "Temple"? Good luck and best wishes, #9.
Muhammad Wilkerson
(2:04 PM)
What I will miss the most is being with my teammates and being on campus and being a regular student. And yes, I will return to finish my degree. It's something that I promised my mom when I was trying to decide to leave or not that I would get my degree.
Kevin (Texas)
Muhammad, what or who do you attribute your success to?
Muhammad Wilkerson
(2:04 PM)
I would say all the coaches that I had growing up through the years helped me be the athlete I am today.
BSB (Broad Street- Philadelphia)
When did you realize you had the ability to play in the pros, Did Coach Golden help you to reach your potential? PS: We'd love to keep you at #23 if we could.
Muhammad Wilkerson
(2:05 PM)
Probably at the end of my sophomore year. I had some big shoes to fill behind Terrence. I sort of found out. The coaches told me I had the potential. Coach Golden brought a business aspect to the game and tried to get you to see life after football.
Cheesehead Sports Nut (Chicago, IL)
What has been your most favorite and least favorite part of the draft prep process?
Muhammad Wilkerson
(2:06 PM)
Probably traveling coast to coast. Flying in those coach seats.
R.lo (NJ)
Pacquiao or Mayweather?
Muhammad Wilkerson
(2:06 PM)
I'm not a big boxing fan, but when I watch, I like to watch Mayweather.
Steven (LaClair)
How would you feel to play for a team like the San Diego Chargers, a dynamic, talented team, that seems to just be missing one piece of the puzzle?
Muhammad Wilkerson
(2:07 PM)
I would love to be a part of that organization. If I was the missing piece that was missing, I would do what I could to make sure I fulfill that.
Jeremy (Chicago, IL)
What is one thing that you have to do before every game?
Muhammad Wilkerson
(2:07 PM)
Yeah, I have to listen to my music. Got to.
tanner (GA)
Favorite Mlb Baseball team?
Muhammad Wilkerson
(2:08 PM)
I don't follow baseball, but I like to watch the Yankees when they're on.
Hooter (Temple University)
I know you were a highly regarded BBall player in HS. Did you want to play BBall for Temple also?
Muhammad Wilkerson
(2:09 PM)
Yeah, I wanted to play basketball. I did. But the coaching staff didn't make a big thing about it, but didn't want me to play. I would have liked to have played.
Steve (Spokane, WA)
You remind me of the great "Tez" from Seattle. Who do you ideal or play your game around?
Muhammad Wilkerson
(2:09 PM)
I do like Justin Tuck. He's a big defensive guy. He can play inside or outside.
Tony (Richmond, CA)
Better cheesteak, Pats or Genos?
Muhammad Wilkerson
(2:10 PM)
What about Tony Lukes?
DMG (Philly)
BigMo - thanks for your time at Temple University. As a proud Temple football supporter, it was a pleasure watching you play in the Cherry and White.My question - though you didn't have the chance to play basketball at Temple, how has your athletic background with basketball helped your career with football?
Muhammad Wilkerson
(2:11 PM)
Basketball pretty much helped with sliding, footwork. That helped me out on the football field.
Muhammad Wilkerson
(2:11 PM)
It helped me maintain a good weight. I wasn't sloppy.
tanner (GA)
if you could pick any team to be drafted by, who would you want to play for and why?
Muhammad Wilkerson
(2:11 PM)
There isn't one. I have open arms. Whoever's ready to take a shot on me, I'm ready.
Muhammad Wilkerson
(2:12 PM)
I appreciate all of the support.
Buzzmaster
(2:13 PM)
Thanks for chatting Muhammad!