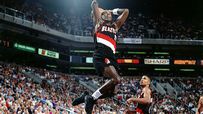 Drexler reunited in the NBA with former college teammate Hakeem Olajuwon from 1995-98.
Welcome to SportsNation! On Friday, we'll have an all-time NBA great, Clyde Drexler, stopping by to chat about the first round of the NBA playoffs.
Drexler, a member of the 1996 NBA's 50th Anniversary Team, was elected to the Pro Basketball Hall of Fame in 2004, following his 15-year career. He was a 10-time all-star and won the 1994-95 as a member of the Houston Rockets. His 22,195 points ranks 30th all-time in NBA/ABA history.
Send your questions now and join Drexler Friday at 2 p.m. ET!
More Special Guests: Previous chats | SportsNation
Buzzmaster
(2:06 PM)
Hang on basketball fans, Mr. Clyde Drexler will be here shortly to chat NBA playoffs.
Buzzmaster
(2:07 PM)
We have Clyde!
Alex Tomalski (Darien, Illinois)
Is Portland-Dallas the best series in the Playoffs so far? And is there a more athletic / versatile roster in the NBA than Portlands?
Clyde Drexler
(2:09 PM)
I really proud of the way Portland played last night. I'm happy to see Brandon Roy have a great game and Wes Matthews also had a great game. They always play better at home and that's because they are a young team.
steve (atlanta)
Are the Magic worse or are the Hawks better? Why isn't series a blow out again?
Clyde Drexler
(2:10 PM)
I think the Hawks are a lot better than what people give them credit for. The have some great athletes. The Magic need somebody other than Dwight Howard to show up.
houston texas [via mobile]
Do you think the rockets will do well next season?
Clyde Drexler
(2:11 PM)
I'm always hopeful as is everyone else. The have a good nucleus but the need a big shot blocker. Having a shot blocker makes everyone else on the floor a better defensive player and that's what they need.
Eduardo (TX)
Who gave you the nickname Clyde the Glide?
Clyde Drexler
(2:13 PM)
I think it was some of my high school basketball teammates. Mainly because your nickname had to rhyme with your name and because I took the long way to the basket. People still call me Glide to this day.
Tim (LA)
What was it like playing against MJ?
Clyde Drexler
(2:13 PM)
Oh MJ was phenomenal in every way. He had great footwork and that is what made him so special.
Nathan (Missouri)
Clyde, who is your favorite player to watch in the NBA today?
Clyde Drexler
(2:15 PM)
(Laughing) I love watching D-Wade. He is so highly skilled. He gets a lot of blocks for a guy his side. And he hustles. I also like LeBron, Deron Williams, Chris Paul, Dwight Howard and a bunch of other guys. I love the skill level. Highly skill guys make the game what it is. They are why people go to the games.
Eduardo (TX)
Who do you have winning it all this year?
Clyde Drexler
(2:16 PM)
That's a tough one. Never count the Celtics out, Miami has a great team, the Bulls are playing great defense and the Lakers and defending champs so you can never count them out.
Nathan (Missouri)
Clyde, what was your favorite moment in your career?
Clyde Drexler
(2:17 PM)
Just making the Trail Blazers. Putting on that jersey and realizing that I made my dream come true. Everything else was all downhill.
Tia (Miami, FL)
Do you think the thunder will become the nba's next dynasty
Clyde Drexler
(2:18 PM)
I think they have a very good young team. I like what their coach Scottie Brooks has done with this team. KD is a MVP candidate every season. All they have to do is stay healthy and they will be a dangerous team.
Brad (Gadsden,Alabama)
Clyde, What has been the best playoff series so far?
Clyde Drexler
(2:19 PM)
Mav vs. Blazers. They are so evenly matched and the Blazers are better than what people think they are. Coach Nate McMillan is such a great coach. And if you didn't know, I'm rooting for Paul Allen and the Blazers.
Oakley A. (Largo,FL)
Can you still dunk?
Clyde Drexler
(2:21 PM)
Absolutely!!! It just hurts when I land.
Enrique (Chi)
Who would you vote for in the MVP race?
Clyde Drexler
(2:21 PM)
Right now, Dwight Howard. He's a one man wrecking crew.
JeremyB666 (Traverse City, MI)
What NBA player reminds you of yourself?
Clyde Drexler
(2:23 PM)
Oh man, I hate to compare guys but I'll have to go with a mix of Dwayne Wade and LeBron James. They both have phenomenal skills and finesse.
Jeremy (Chicago, IL)
Any interest in coaching in the NBA or another level?
Clyde Drexler
(2:24 PM)
Absolutely. A lot of interest. When my son goes to college and I turn 50, I'll be ready to coach or either be a GM. Either would be nice. I'm ready as we speak!
Matthew (Los Angeles,CA)
What was it like playing on the Dream Team?
Clyde Drexler
(2:25 PM)
That was one of the best teams ever assembled and it was a great feeling to be a part of it.
Clyde Drexler
(2:26 PM)
This year the playoffs have been phenomenal. Every game in each series was been compelling. This is the most exciting playoffs I've seen in a while. Thanks for all the questions and enjoy the rest of the playoffs.