Chat with EA Sports' Peter Moore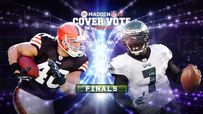 Welcome to SportsNation! On Tuesday, president of EA Sports, Peter Moore, will be here to chat about the Madden 12 Cover Vote that has generated over 12 million votes!
Philadelphia Eagles quarterback Michael Vick faces off against Cleveland Browns running back Peyton Hillis in the finals of the vote. The results will be aired live Wednesday on SportsNation on ESPN2 at 4 p.m. ET.
Moore came to EA Sports in July 2007, after four years at Microsoft. He has also previously worked at Sega and Reebok.
Send your questions now and join Moore Tuesday at 1 p.m. ET!
For exclusive Madden Cover Vote content, follow SportsNation on Facebook!
Buzzmaster
(12:59 PM)
Peter is here!
Peter (Cleveland)
Will the fans get to choose the cover pose for whoever wins? Or does the cover player help make the choice?
Peter Moore
(1:01 PM)
What we typically do, whoever is the player that wins, we have him in the photo shoot. If you're familiar with the cover, there are some things that need to go on it, the logos and the picture, etc. We look at whatever looks good. So, in that case, we can't get community involvement, unless you're a world class designer!
Jack (Rochester NY)
how do you feel about the lockout? Do you think sales will go down?
Peter Moore
(1:02 PM)
Football fans, and all of us here at EA are football fans, we are anxious for the season to start. We have announced that if there is no season that we expect Madden sales to go down. But that's not to say that other sales of other games will go up.
Peter Moore
(1:02 PM)
That is the one place that fans could get their NFL fix, is by playing Madden.
Adam R (Albany)
Mr. Moore, will this be how the Madden Cover will be decided from now on, or is this just a special one year thing?
Peter Moore
(1:03 PM)
It's certainly a great experiment and we're delighted that the community got involved. I'll leave it to our very capable marketing team in Florida, I don't see why we couldn't do this again next year.
Kevin (NYC)
How does EA feel about being left with Vick, who is one of the more polarizing figures in sports, and a talented, but not widely known role player in Cleveland for the final vote?
Peter Moore
(1:05 PM)
Kevin, great question and I've been asked a thousand times. But we couldn't be more delighted. We have Vick, the comeback player of the year. He gave Brady a run for the money at MVP. And for Hillis, we couldn't be more delighted for Cleveland and they couldn't be more happy to have one of their own fighting for the cover. We've been fascinated to see the fan reaction. We'll be very comfortable with whatever decision they make. You'll be hearing about it tomorrow.
Nick (MN)
Hey Peter do you believe in the Madden Curse?
Peter Moore
(1:06 PM)
Well, fortunately, I don't have to, because I'm not a professional football player. It's interesting to look back at the athletes who have been on the cover and what's happened to them. I don't think we believe in it, but you can see that there have been some difficult seasons following being on the cover.
Jeremy (Chicago, IL )
Besides the concussions, what is something that will be new or different in Madden 12?
Peter Moore
(1:07 PM)
The team is starting, as they typically do, phase their announcements about Madden. I can tell you that it's by far the best looking Madden we've ever done. We're doing a lot of work on the physics of the game. I will leave it to my team because they don't like me pre-empting their announcements. You'll hear more about it this week on Thursday when more information is released on the game.
zak (parma ohio)
who do you want to have on the cover
Peter Moore
(1:08 PM)
It really doesn't matter, Zak. I'm just one voice and I voted. I'll keep my vote to myself. It's more important that who is on the cover is who the community chose.
Ben (Bowling Green)
considering the Browns lack of success, it amazes me the chance Hillis has to be on the cover, I think it's great for the team, I know this is a fan vote, but do you think it will hurt game sales?
Peter Moore
(1:11 PM)
Not at all. I think the reason Peyton is in the final is that fans love the underdog. Our research has told us that whoever is on the cover does not hurt sales.
Scott (Aiken, SC)
If things continue the way they are now, how will Madden handle the free agency situation?
Peter Moore
(1:12 PM)
We're continuing to watch that. And because of the power of online, as soon as player movement happens, we'll be able to update the rosters almost in real time.
colby auxt (duncannon pa)
Peter What is your favorite madden team to play with?
Peter Moore
(1:13 PM)
I'm a Patriots fan true and true. I'm very excited about how many draft picks they have. They have 3 in the first 33 and knowing Coach Hoodie, they will do well. We need some help, especially with the pass rush. I always play with the Pats.
Chris (NY)
What is your favorite madden feature?
Peter Moore
(1:14 PM)
I love Game Flow from last year. It allowed me to get a game done much more quickly. It allowed me to get a game done before my wife called me to get upstairs.
Awayne (INDY)
How about coaches next year for the cover?
Peter Moore
(1:15 PM)
That's a great question. We typically find that fans love to see the players and the action. I think right now we'll be happy having players. Fans like to see the action. We're player driven in that aspect.
colby auxt (duncannon pa)
What will it take to get michelle beadle on the cover of madden 12?
Peter Moore
(1:16 PM)
I'll tell you what, the year we did Larry Fitzgerald and Troy Polamalu, how about Michelle and Erin Andrews? Do you think that would sell?
Dion (Cleveland Ohio )
How do you feel about critics who feel like their are only minor upgrades every year to the franchise?
Peter Moore
(1:17 PM)
Prime Time, good to hear from you. People who say that typically are people who don't play the game year in, year out.
Peter Moore
(1:18 PM)
I would like to thank everybody for their support of EA Sports. You should all tune into ESPN2 tomorrow for SportsNation at 4 p.m. ET to see the big announcement. It will be an exciting day.