Chat: Michael Vick, Peyton Hillis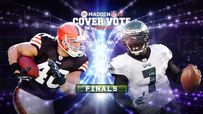 Welcome to Sportsnation! On Wednesday, we'll have the Madden NFL 12 Cover Vote finalists -- Michael Vick and Peyton Hillis -- stopping by to chat. The project has attracted more than 10 million votes and the winner will be unveiled live on SportsNation Wednesday at 4 p.m. ET on ESPN2.
Vick is coming off a career-best season, throwing for 3,018 yards and 21 touchdowns and had the fourth-best quarterback rating in the NFL at 100.2. If Vick wins the SportsNation vote he will be the first two-time cover athlete in the history of Madden.
Hillis also had a career-best 2010 with the Browns, rushing for 1,177 yards and 11 touchdowns. He quickly became a fan favorite after his first start against the vaunted Ravens defense in which he posted 144 yards and a 6.5 yards per carry average.
Send your questions now and join the chat Wednesday at 1 p.m. ET!
For exclusive Madden Cover Vote content, follow SportsNation on Facebook!
Buzzmaster
(12:53 PM)
Michael Vick and Peyton Hillis will be here at the top of the hour to take your questions!
Buzzmaster
(1:02 PM)
I'm pretty sure I hear them walking down the hall.
Buzzmaster
(1:03 PM)
Yup. They're here!
Mike G. (Washington DC)
For Michael Vick,With the lockout going on, I've read about you putting together some work outs for you and some Eagles teammates. Have a good number shown up? Are things being accomplished at the workouts?
Mike Vick
(1:05 PM)
The workouts have been good. We had a limited number of guys to show up. We're waiting for the actual films to be done when the facilities open back up.
Danny Eberhart (Deltona Fl)
Peyton, through all of the contest, have you become somewhat of a hometown hero in Cleveland and Arkansas?
Peyton Hillis
(1:06 PM)
I guess so. I put a lot of thought into this, the longer I've gone in the bracket. I think a lot of people think I'm not deserving of it or whatever, but it's a situation where it's the American dream. You can do something if you put your heart into it.
Matt (Chicago)
What does it mean to you that the fans chose you guys over all the other superstars in the league?
Peyton Hillis
(1:07 PM)
I think it shows both of us how popular we are, even if we thought we weren't. Me, being a nobody. And Vicks' situation, being down and up.
James (DC)
Do you both find it ironic that you are the finalists after hosting a chat prior to the beginning of the Cover Vote Tournament?
Mike Vick
(1:08 PM)
I think it's great. Peyton and I had a great time the first carwash. We had a chance to get a feel for what the whole carwash entailed. We knew our brackets would be tough. We didn't know if we would win in the first round. We're very happy that we're back and really appreciated this whole experience.
Jordan (NC)
hey peyton, who was your idol growing up?
Peyton Hillis
(1:08 PM)
My football idol growing up, I was named after Walter Payton, but my idols at RB were Barry Sanders and Emmitt Smith.
Jay(Oakland,Ca) [via mobile]
Mike,do you ever feel like playing defense sometimes during the course of a game?
Mike Vick
(1:09 PM)
Sometimes I do wish I could jump on the defensive side of the ball and hit somebody. They do a lot of talking on defense.
Matthew (ohio)
peyton,which pose would you like to have for the cover?
Peyton Hillis
(1:10 PM)
I want me throwing the ball.
Mike Vick
(1:10 PM)
I'm looking at a mock of Peyton right now of him running and it looks sweet.
Peyton Hillis
(1:11 PM)
They would need you running with the black mirror tint visor on your helmet.
Jeremy (Chicago, IL)
Will you play Madden more if you get on the cover?
Mike Vick
(1:11 PM)
I think it would be about the same. That wouldn't make a difference.
Peyton Hillis
(1:11 PM)
I play it a lot.
Esteban (Phoenix, Arizona)
Vick, What will this mean to you winning the cover for a second time and have the support from the fans?
Mike Vick
(1:12 PM)
It would be very gratifying on the cover again, even though I've been on there before. It makes me feel a great deal of appreciation for the fans. They stuck it out with me. To have the fans vote would be big for the both of us. You can't ask for anything more, to please our fans. To get their support when you're in need.
Mickey Roberts Cleveland Ohio [via mobile]
I've seen a T shirt that says even Chuck Norris Fears Peyton Hillis, is this true?
Peyton Hillis
(1:14 PM)
I've heard a lot of those jokes. I think I heard one the other day like, Peyton Hillis doesn't do anything for a Klondike Bar or Peyton Hillis doesn't do push ups, he pushes the world down. It's cool that people think like that. I try to use things like that to my advantage to reach people.
Cody (Albany, New York)
Who's your favorite receiver Vick and what do you guys think about the lifted lockout?
Mike Vick
(1:15 PM)
My favorite receiver to throw to is Jackson and I like to throw to Maclin as well. When the lockout is lifted, I'll be ready to play.
Peyton Hillis
(1:15 PM)
The sooner the better for the lockout.
Keith (Arlington, VA)
Mike, do you ever miss Hokie Grill? Chik Fil-A and Pizza Hut at the same time?! Delicious!
Mike Vick
(1:15 PM)
I was just talking about the Hokie Grill the other day to a friend. I definitely miss it.
BenGee (NYC)
Before you got to the NFL, did you create your own player in Madden?
Peyton Hillis
(1:16 PM)
I don't think I did it in Madden. I did it in the NCAA Football game, not in Madden.
Danny Eberhart (Deltona Fl)
Hey Peyton, when your about to truck someone, what goes through your mind?
Peyton Hillis
(1:17 PM)
Trucking someone.
Matt (Chicago)
How disappointed will you guys be if you aren't on the cover?
Mike Vick
(1:18 PM)
I won't be disappointed at all. I will be happy for Peyton. Just being here and making it this far says a lot. That's big for me. Just thankful for the opportunity. Having a shot.
madi (Florida)
did either of you think that you would be nominated for the cover? are you surprised you made it this far?
Peyton Hillis
(1:19 PM)
I'm very surprised. But c'mon now for Vick. He's one of the biggest sports icons of the last 30 years.
Mike Vick
(1:19 PM)
Thanks Peyton.
Peyton Hillis
(1:19 PM)
I am just here to serve God's will. Whatever happens it's because of him.
Matthew (Los Angeles)
Michael: What do you think of your alma mater Virginia Tech's football program?
Mike Vick
(1:20 PM)
I think they'll have a great team this year. I like the QB and what he's displayed in the spring. And we still have coach Beamer as our coach. I think this will be a good season.
matt (pittsbugh pa)
Mike tell lesean we miss him how do you like having sucha great back like that?
Mike Vick
(1:21 PM)
I enjoy handing him the ball and watching him run. Very shifty. Powerful. Has quickness. Has vision. Great guy to be around at the same time.
Brandon (Iowa)
Do you guys have pre-game rituals? Like LeBron and his chalk throwing moment, do either of you guys have that special action before the game starts???
Peyton Hillis
(1:21 PM)
I read Psalms 18 before every game. Other than that not much.
Mike Vick
(1:21 PM)
Mine switch up from week to week.
Justin Petit (Boise Idaho)
Hillis, do you think your running style will bring back the old school way of running?
Peyton Hillis
(1:22 PM)
No. When I play the game, I feel that I need to put it all into it. I don't care if I play 2 or 5 years. I just want to put it all into it. I don't think players will pick that up, they want longevity.
Jonathan (North Carolina)
Mike, What do u prefer the most when scrambling from a defender truck or juke?
Mike Vick
(1:23 PM)
I don't have the size to truck anybody, so I think it's smart for me to try and run around a guy.
Dylan (Green Bay, WI)
To Peyton HillisWhat did you do all throughout your younger years in high school football and middle school to keep your mind set on going to the NFL as a career. And did you ever really want to go into a different line of work other than football?
Peyton Hillis
(1:24 PM)
I think everybody when they're a kid think they're going to play pro football. Ever since I've been in this business, I never wanted to do anything else. A lot of what's kept me in it has been my family. The Lord has kept me in it.
cole (utah)
What are you guys doing durning the lockout
Mike Vick
(1:25 PM)
I've been following everything closely. I've been working out. Interacting with my teammates. Trying to get better as a player.
Jay (Philly)
Mike what's more exciting, running or throwing for a touchdown?
Mike Vick
(1:26 PM)
Throwing for a TD. That's more exciting. It's so hard to do. Running is hard too, but throwing for a passing TD is very hard.
Mike ((cleveland))
Peyton, do you expect opponents to come at you harder this year?
Peyton Hillis
(1:26 PM)
Yes, we do.
Mike Vick
(1:26 PM)
Peyton's going to get it each and every week. He's a RB.
Peyton Hillis
(1:27 PM)
The thing about adversity is to meet it. If they want to shut you down, they're going to shut you down with 11 guys.
Marvin (Georgia)
Mike......how do you feel about the up coming season do you think that you will put up better numbers than last year?
Mike Vick
(1:27 PM)
I think we have potential to be even better. Everybody has the same attitude and approach, to get even better. We have a lot of hard work and we have to be ready to do it. Have the fortitude to go out and get it.
Matt (Memphis)
Hey Peyton, how do you feel your teammates will react if you win the cover vote?
Peyton Hillis
(1:28 PM)
I think there will be a lot of constructive criticism and they'll be happy. For people to believe in this so called curse, I can't wait to prove people wrong. From what I believe and where I am in my spiritual life, it would be good to prove them wrong in that sense.
chris (portsmouth,va)
michael, what do you think made you a better quaterback with the eagles rather than your years in atlanta
Mike Vick
(1:29 PM)
I think what's made me a better QB is me putting forth the effort to be a better QB and having good players and good coaches around me.
Peyton Hillis
(1:30 PM)
Thanks for the support and God bless.
Mike Vick
(1:30 PM)
Thanks for the support.