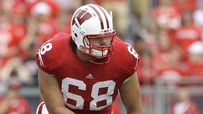 Mel Kiper has Carimi going 23rd overall to the Eagles.
Welcome to SportsNation! On Wednesday, NFL draft prospect, and former Wisconsin Badgers offensive tacklet, Gabe Carimi stops by to chat as the draft is just one day away.
The four-year starter won the 2010 Outland Trophy as the nation's top interior lineman. Scouts Inc. ranks him as the 22nd overall prospect and his profile says that he is "mentally and physically tough. Plays with an edge. Doesn't just sustain block; he works to finish the defender off."
Carimi is working with New York Life Protection Index to form a rating that measures how well an NFL offensive line protects its quarterback.
Send your questions now and join Carimi Wednesday at noon ET!
More Special Guests: Previous chats | SportsNation
Buzzmaster
(11:56 AM)
NFL draft prospect Gabe Carimi will be here at the top of the hour to take your questions!
Buzzmaster
(11:59 AM)
Gabe is here!
Dave (New York)
Gabe, what do you think will be the biggest adjustment for you from Wisconsin to the NFL?
Gabe Carimi
(12:00 PM)
I think Wisconsin has done a great job of teaching me the football IQ ins and outs. We run a pro style offense, so that will be a quick adjustment for me. The big adjustment will be the speed and size of the league.
Tiffany (Twin Falls, ID)
Will you be attending the draft?
Gabe Carimi
(12:01 PM)
I will not be attending the draft. I was invited, but I respectfully declined. I wanted to spend the time with family and friends here in Wisconsin that helped form the person that I am today.
Joe (Milwaukee, WI)
Based on the New York Life Protection Index, would you rather be drafted by a team with a low index in hopes of improving that score, or go to a team that has a high index with a better chance of winning, but might not have as much of an impact right away?
Gabe Carimi
(12:02 PM)
I'd hope to be able to create improvement wherever I went. If the team was already good in the index, I'd want to improve it more. All I would want to do is help the team immediately on the Protection Index.
John (Anchorage, Alaska)
Mel Kiper has you going to Philly, but, coming out of Wisconsin, are you hoping to get drafted to a warmer weather city?
Gabe Carimi
(12:02 PM)
It doesn't matter to me, honestly. I love playing in the cold I've played in the cold my whole life. But I wouldn't mind playing in the warm weather. It doesn't matter to me.
Steve (Chicago)
Gabe, is your knee 100% healthy from your surgery last year?
Gabe Carimi
(12:03 PM)
The surgery from last year was just a shaving of the knee cap. It wasn't a construction surgery. It has nothing to do with the strength of my knee or anything wrong with it.
Stacey (Tampa)
Pretty cool that there's a stat now that brings attention to the offensive line! Tell us about the New York Life Protection Index and what it means to you?
Gabe Carimi
(12:04 PM)
This stat is something that I'm stoked about. Being able to measure your performance week in and week out is a huge step to monitoring what you're doing and being able to improve.
Paige (Milwaukee)
What one NFL player do you think you closely resemble in style of play? Is there a player you'll like to emulate your game after in the NFL?
Gabe Carimi
(12:05 PM)
The person that I've tried to emulate is my former tackle that was before me, Joe Thomas. I try to emulate him, but I think my game is more like Jake Long. He is an all-pro, left tackle that can pass block as well as run block.
Matthew (Columbia, NJ)
Gabe, what team has shown the most interest in you so far leading up to the draft?
Gabe Carimi
(12:06 PM)
All of the teams I've met have shown interest in me and it seems a lot of people like my personality. I don't know one team's interest from another.
matt (pittsburgh pa)
Gabe what type of offense are you most comfortable in?
Gabe Carimi
(12:07 PM)
Honestly, going through this process, I have seen the different teams and how they've run their programs differently. But in all honesty, there are a lot of similarities. It's just the terminology and other things. I would feel comfortable in any of them. It's the same kind of type of offense that we ran in Wisconsin.
Steve (New York, NY)
Will you be coming to New York for the draft or, if not, what are your draft night plans?
Gabe Carimi
(12:07 PM)
We'll have a party set up at my parents house. I've invited all of my friends and family to come and enjoy the draft and graduation.
Jeremy (Chicago, IL)
What is the first thing you are going to purchase with your first paycheck?
Gabe Carimi
(12:08 PM)
I will put most of it in the bank. I think the first thing I'll purchase is a car with A/C.
Todd (Chicago)
Gabe, what was your team growing up? Green Bay?
Gabe Carimi
(12:09 PM)
My favorite team growing up was the Packers. Now I'm ready to play for whatever team drafts me, even if it's for your Bears.
angel [via mobile]
If drafted by the eagles do you think you could bring that Jon runyan nastiness this offensive line solely lacks?
Gabe Carimi
(12:09 PM)
I definitely that's the mentality that I bring. I would want to fit into a program that has lineman that are aggressive. Meat heads that want to try and win the line up front.
Jon (Oceanside, CA)
Any nerves the day before you find out where you'll be living for the next 5+ years?
Gabe Carimi
(12:10 PM)
I think that is a lot of the nerves is knowing where I'm living. I know I'll do well with the program and be a solid pro. Oddly enough, I think the nerves will kick up in the next 24 hours. They're there a little bit but not where I thought they would be.
Heath (Dallas)
What's the coolest thing that happened during the pre-draft meetings/experiences that the rest of us don't get to see?
Gabe Carimi
(12:11 PM)
I think the coolest thing is actually seeing how other people view the game of football and teach the game. Everyone is different. Everyone's playbook is different. How they get their message across and how different they number things. But all across the board, it's also similar.
William (Miami)
Is it more difficult to protect a QB that scrambles or one that sits in the pocket?
Gabe Carimi
(12:12 PM)
That's an excellent question. I think there are pros and cons to both styles. The guy that scrambles out of the pocket is able to get you out of a lot of situations, be it a full on blitz. But also, they could get happy feet and get out of the pocket when they should just throw the ball. A guy that stays in the pocket won't get you out of situations, but he'll stay there and make a pass.
Drew (Nebraska)
Gabe - Good luck. What can you tell us Husker fans as we prepare to begin watching the Huskers compete in the Big 10? I know there is a mutual respect between the programs so it should be exciting.
Gabe Carimi
(12:14 PM)
You guys can expect that we're really happy to have you come over from Nebraska. It will bring strength to the conference and have the championship game. I think you'll do well and have a shot at the title every year, like the other top teams in the conference like Ohio State and Wisconsin.
Adam (New York)
I see your connection with the New York Life Protection Index. I read about that statistic last year, and have been intrigued ever since. I think offensive line performance is so important to a team's overall success and is often overlooked.
Gabe Carimi
(12:15 PM)
I think it's overlooked as well. There are no stats to check out. If you go to the website, you can see a team's progress and weekly performance. I'm excited to have this new stat involved in football.
Gabe Carimi
(12:15 PM)
Keep tuned for the draft. I hope I come to your team. Thanks for all the questions.