Chat with Cedric Ceballos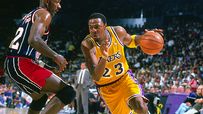 Ceballos is one of the top 50 Lakers of all-time.
Welcome to SportsNation! On Thursday, former NBA forward Cedric Ceballos joins the chat to talk about the NBA playoffs.
Ceballos played for five different teams throughout his 11 NBA seasons, most notably for the Los Angeles Lakers where he led them in scoring in both the 1994 and 1995 seasons. In 1992, Ceballos won the NBA Slam Dunk contest with a blindfolded dunk.
In 1994, Cedric worked on an album titled "B-Ball's Best Kept Secret" which featured NBA players performing songs with hip hop artists. He is still involved with music today.
Follow Cedric Ceballos on Tiwtter: @cedceballos.
Send your questions now and join Ceballos Thursday at 1:45 p.m. ET!
More Special Guests: Previous chats | SportsNation
Buzzmaster
(1:35 PM)
Cedric Ceballos will be here at 1:45 p.m. ET to take your questions!
Buzzmaster
(1:44 PM)
Ced is here!
Terry (Madison)
How did you do the blindfolded dunk? Did you practice how many steps it took you from a certain spot on the floor or could you really see?
Cedric Ceballo
(1:45 PM)
I practiced about two months. I wasn't playing at the time, so I had a lot of time on my hands to do goofy stuff. And, no, I couldn't see at all.
scott (chicago)
Do you feel that if you played and were healthy in the 1993 finals vs The Bulls, that you guys could have atleast got the series to 7 or even won the series?
Cedric Ceballos
(1:46 PM)
If I would have played, we would have swept the Bulls. We had great games against Chicago. At the time, I think I averaged 20-25 points. It was real tough playing against the greatest player of all time.
JG (Seattle, WA)
What up Ced? What was your favorite arena to play in as a visitor?
Cedric Ceballos
(1:47 PM)
Madison Square Garden and the old Boston Garden. Just because of the history. The people that played there and the well-kept Boston floor. It's not often you can take a charge and get a couple of splinters.
Dan (CA)
Cedric, agree or disagree: you need 2 guys that can get you 30 to win it all? Lakers don't have that 2nd guy right now.
Cedric Ceballos
(1:48 PM)
No, if you have 3-5 guys that can get you 20 a night. I don't think you need that big guy to get you 30. But it helps. Even in the Tim Duncan era, he could get you 20-40. Robinson could get you 20, Ginobili could get you 20. If you balance it out, you don't need that second guy.
Jeremy (Chicago, IL)
What was the one thing you had to do before every game?
Cedric Ceballos
(1:49 PM)
I had a garbage stomach. So, for me, it was chili dogs, sloppy joe's. I would just eat terrible stuff. Burritos. We're in a meeting and I'm eating this stuff. It was probably why I threw up before every game.
Marc (Charlotte)
Gas or Charcoal?
Cedric Ceballos
(1:50 PM)
If I'm in a hurry. Gas. If I have a whole Sunday to watch baseball, football, I will go charcoal. Grilling is what I do. It's very personal. Someone tried to flip a burger on my grill one time and I got into it with him. Get away from my grill.
st.louis,mo [via mobile]
Do you think the celtics will come back and win the series
Cedric Ceballos
(1:51 PM)
I think they'll come back, but I don't thikn they'll win. The Big Three are just playing at a great level right now. I say 6 or 7, but if it goes 7, I think it will be Boston. Ray Allen will hit a back breaking shot. You can see LeBron or Wade taking over, but with Allen, you don't see it coming.
CC23 (The Forum, Inglewood)
What's up Ced? I think the Lakes need you out there. What must the team do to win the series? Is it a chemistry thing?
Cedric Ceballos
(1:52 PM)
Thank you for the complement. They do need a type of player like me right now. One without the basketball that doesn't need the attention. That's what Brown and the bench used to do for them. They need 10-12 from a couple of guys on the bench. They were hoping to get it from Blake or Barnes. They need 6-10 points from Barnes. They're not getting that and that's the tough part.
Tyler (Atlanta)
Cedric, is there any chance the Hawks can beat the Bulls at this point in the playoffs?
Cedric Ceballos
(1:54 PM)
Definitely. They're playing well. They're playing with fire. They needed to steal one game and they did it. They didn't win the second game, but they were in it. They took some heat check shots, where you look to see if you're on fire. There was a lot of hoopla in Chicago because of the MVP presentation. I do think they have a chance of winning because of their experience and what they're up against. The experience against Orlando has helped them grow. Chicago hasn't been there or done that. Their MVP is an early 20s guy. Maybe Kurt Thomas can give them some advice and some guys on the bench can step up. I think Atlanta takes the series.
Rob (Ohio)
What is LeBron James missing in his game?
Cedric Ceballos
(1:55 PM)
A 60-footer? A sky hook? He plays unbelievable. I don't think he's really missing anything. What else do you want him to do? Maybe coming off the screen shooting jumpshots. He has a lot of tools and he'll get better as he gets older. It's tough to see what he needs. Maybe a big guy. Dwight Howard.
Matt (IN)
What is your favorite thing to grill? Ever tried kangaroo?
Cedric Ceballos
(1:56 PM)
No. I keep it simple. Fish. Chicken. Beef. I haven't dabbled into ostrich or kangaroo meat. I like beef brisket. I'm working on my chicken skills. I'm nice with fish. But I'm big on brisket. Beef kabobs.
James (Dallas)
Who was the best center that you faced in your career?
Cedric Ceballos
(1:57 PM)
Shaquille O'Neal. Abdul-Jabbar. Hakeem. Patrick. I only played a little bit against Kareem, but it has to be Shaq. Size, weight, strength. He has the total package.
Chris (Downey, CA)
Hey Ced, It seems like the Lakers have had Dallas number not just during this regular season but in seasons past. What has been the biggest factor where the tables have changed in this series?
Cedric Ceballos
(2:00 PM)
Just maturity and the combination of guys they've put together on the Mavericks. Dirk got to the point where he's fed up with the Lakers beating him up and being the big dogs in the west. The chemistry before I don't think was good for winning championships. The injury to Caron Butler woke this team up. He's a great player, but he's a ball sticker. He wants to be the big dog too. I think he thinks he's the man on this team. Dirk is. The people replacing his minutes are good for the system. Rick Carlisle's system. They take their responsibilities well. Shawn Marion's been an all-star. Chandler is a worker. He wants to be that. He's offended by softness. Kidd and Terry give it all to you and don't care about who's getting it and who's not.
Jeremy (Memphis)
Who, besides Jordan, was the toughest player(s) you had to guard?
Cedric Ceballos
(2:01 PM)
Scottie Pippen. I still say Scottie was tougher than Michael. Michael didn't toy with you for 94 feet. Everything he did was quick and effective. Scottie would run the point, have you running side to side all around the court. You knew where Jordan was going to kill you, you just couldn't stop it. Scottie would be all over the court. He was just as tough as Michael, just not as effective.
Mike (Ohio)
Did you have a "Welcome to the NBA, kid" moment?
Cedric Ceballos
(2:02 PM)
I created my own moment. I was the last pick of the draft, so I didn't think I was going to stay around long. Every time I played against my heros, I walked up to them and talked to them. If I got on the court, sometimes I didn't. My first few years, I didn't get a chance to play against Charles Barkley, but in the layup line, I made sure to say hi.
Cedric Ceballos
(2:02 PM)
Thanks for tuning in. Any more questions, follow me on Twitter: @cedceballos.