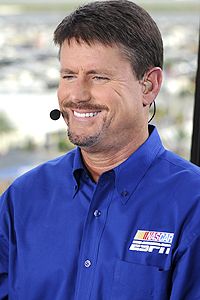 Welcome to SportsNation! On Monday, NASCAR Now analyst Andy Petree will stop by to chat about this year's season. He will appear on NASCAR Now at 5 p.m. ET on ESPN2.
Petree, a NASCAR veteran who has been a driver, car owner and two-time Cup-winning crew chief for the late Dale Earnhardt, made his television debut in 2007 as an analyst on ESPN and ABC's NASCAR coverage.
The former short-track driver turned owner has experienced his share of the ins and outs of the sport. Petree occasionally raced from 1988 to 2004, with career-best finishes of 16th in the NASCAR Busch Series (1998) and 10th in the NASCAR Craftsman Truck Series (2003).
Send your questions now and join Petree on Monday at 1:30 p.m. ET!
More NASCAR: NASCAR index | Previous chat guests
Buzzmaster
(1:30 PM)
Andy is here!
Andy Petree
(1:30 PM)
What a race Saturday night!
Justin M (Boone, NC)
Regan Smith was competitive all day even before he stayed out and gambled for the victory. Do you think more teams are going to start using the low line in 3&4 at Darlington like he did to avoid getting into the wall?
Andy Petree
(1:31 PM)
Yeah, it seems like there is some speed next to the wall, but it's so risky. If you can get your car to work along the bottom like that, you can protect your car. It's hard to run fast there. To be fair, he wouldn't have been a factor in the race until the end. But by running at the bottom he had a shot.
joshua (charlotte)
Should Kyle Busch be penalized points for shoving Kevin Harvicks car during and after the race saturday? btw im a Harvick fan, and i know that kevin will get payback..
Andy Petree
(1:33 PM)
Kyle has respect from the other drivers. He's a clean driver, other than what happened with Harvick. Usually he's pretty clean on the track.
Matthew (Columbia, NJ)
Andy, how many drivers have about had it with Montoya and the way he races?
Andy Petree
(1:34 PM)
He is who he is. He's been here long enough that other drivers know what to expect. He makes no apologies for his style and I don't see it changing any time soon.
Joanne (Ft. Myers)
Hi Andy, if you were NASCAR would you fine and dock #29 pts. for physical violence or just put him on probation?
Andy Petree
(1:34 PM)
I don't see either one coming. They've made it pretty clear when they said they were going to let the drivers have at it. I don't expect either.
TR-Folgers 25 (St. Louis)
Andy, if Earnhardt Sr. would have turned Harvick it would have been no big deal? Nascar wants these guys to have it? Why are we moving away from the what built the sport??
Andy Petree
(1:35 PM)
If Earnhardt had turned Harvick, I still think he would have been mad. He's not afraid to defend himself. He doesn't like to get pushed around and he'll show you that he's not going to take it.
Minhtam ((Bridgeport, CT))
Hey, Petree, I'm going to throw you a curveball of a question. Next race is the last race before the All-Star break, and there are plenty of notable names that haven't qualified for the All-Star race. Of those that haven't qualified, which driver do you think has the best shot of winning at Dover?
Andy Petree
(1:36 PM)
One that comes to mind is Earnhardt Jr. He's won at Dover so far. He's in a good situation. It wouldn't surprise me if he wins there.
J. Peebles (Maryland)
Bobby Labonte has a 1 year contract with JTG Daughtry. Do you think they will extend his contract? When do you think they would need to do it by?
Andy Petree
(1:37 PM)
I think they should sign him up. He's done a great job so far. He's proven he's not finished winning. He's been solid.
Ray (CT)
Will this win (should be his second) finally make some of the larger teams take notice of Smith? With all the possible openings this season he has to be looking darn good as a plan B.
Andy Petree
(1:38 PM)
Absolutely. That's the kind of thing if you get a win in your column, it makes people look at you differently. When larger teams look to make a change, they look for guys that can win, and he proved it.
jeff (camp pendleton)
your thoughts on Aj Allmendinger?
Andy Petree
(1:39 PM)
He's got a lot of talent and potential. It's getting to the point in his career that he has to realize his potential. He's running more and more consistent every week. He could be our next Regan Smith.
Jonny (Lynchburg, VA)
Would NASCAR be better off encouraging the "have at it" policy outside the car? After incidents like Edwards v Kesolowski, it would be more cost-effective, safer and more entertaining to see guys like Kyle and Harvick get in a fight after the race rather than wreck each other the following week.
Andy Petree
(1:40 PM)
I'm not an advocate of that. It should stay on the track. The little altercations on the track are just little flare ups. I think NASCAR meant letting drivers be who they are going to be. There is a line, we just haven't seen where it is yet.
Jake (Irving, TX)
Wasn't that kind of dumb of Harvick to leave his car in neutral on pit road?
Andy Petree
(1:40 PM)
Yup.
Lee (Syracuse)
Kyle Busch should be suspended for a race. It's one thing to get into an altercation on the track or in the garage, but to intentionally bump a car on pit road which could have resulted in injuries should never be tolerated. Why won't NASCAR take a hard stand on this?? Do you think they should?
Andy Petree
(1:42 PM)
We're going to talk about that on our NASCAR Now show tonight. You're going to see that Kyle broke his reverse gear before that. Then he got jammed up behind Harvick. If he passes Harvick on pit road, Harvick's going to stuff him. Then Harvick stopped and he's waiting for him to move. The only escape Kyle had was to push the car, because he was stuck and couldn't back up. I don't think that was what he meant to do. I think it was just a bonus to Kyle that the car hit the wall.
Minhtam (Bridgeport, CT)
Hey, Petree, where do you see Trevor Bayne driving next year, and for who?
Andy Petree
(1:43 PM)
He's got a great Cup ride right now. I think that's a good spot for him. One more year with the Wood Brothers would position him to move up. I see some great things happening for him.
Kyle Millay (Clover)
Do u think that jeff gordon will win another race this year
Andy Petree
(1:44 PM)
I think it's just any time now. You can't keep him out of Victory Lane. He'll win races. He's just too good. He's over due for multiple wins.
Keith (Groton CT)
Who will receive the harsher punishment, Harvick or Busch? I think it should be Busch but Harvick did through a punch.
Andy Petree
(1:45 PM)
I just don't see it. I don't see a penalty coming. I don't see NASCAR levying a fine or penalty. I think the incident on pit road had some circumstances. NASCAR was looking for the emotions of these guys.
Andy Petree
(1:45 PM)
What they want to do is let them handle it on the track. That gets more people in the seats.
ethan (new london)
Do you see Kasey Kahne winning races this year and making the chase or is this more just an off year til he gets with Hendricks?
Andy Petree
(1:46 PM)
No! It's not an off year. He's running great. I picked him to win Darlington all week. I think they are definitely a force to be reckoned with this year.
Lee (Maryland)
Why didn't more drivers who were in the middle of the pack take the risk that Smith did and try to win the race without any fresh tires? do you really think drivers are doing all they can to go for a win?
Andy Petree
(1:47 PM)
That's a good question. It's easier to be a Monday Morning Crew Chief. They ran many laps on thsoe tires. Would they have enough speed on those tires to do anything? It's a risk. Nobody saw that working out that way. I think Carl thought he'd blow right by to win that race and it didn't happen.
Vern (NJ)
Why would Red Bull want to keep Vickers when their #1, team leader driver is getting outrun by a 1 year teammate?
Andy Petree
(1:48 PM)
You have to understand that Brian went through a tough patch last year due to health reasons and is running well. It's not time to give up on Brian Vickers. He still has time to get back to himself.
Andy Petree
(1:48 PM)
Stay tuned for Dover. Round 2!