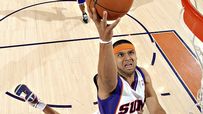 Dudley was the 22nd overall pick by Charlotte in the 2007 NBA draft.
Welcome to SportsNation! On Thursday, we'll have Phoenix Suns forward Jared Dudley stopping by to chat about the NBA playoffs. He will be at ESPN debating Skip Bayless on First Take (ESPN2, 10 a.m. ET) on Thursday and Friday.
In his three seasons with Phoenix, Dudley has become a key player off the bench for the Suns. He played in all 82 games this past season, averaging over 10 points per game and shooting 41.5% from the 3-point line. He was also a four-year starter at Boston College, scoring over 2,000 points.
Send your questions now and join Dudley Thursday at 1 p.m. ET!
More Special Guests: Previous chats | SportsNation
Buzzmaster
(1:01 PM)
Jared is here!
Will (DC)
Hey Jared. Has a Steve Nash pass ever caught you by surprise?
Jared Dudley
(1:01 PM)
A couple of times. Especially when I'm cutting to the basket and I don't think he can see me. There have been a couple of times when he's gone through people's legs. It's caught me by surprise and I have to take a second to think, wow, did he really see me?
Bryce (Florida)
Does Chicago take the series today? Who is your favorite out of the east and west?
Jared Dudley
(1:02 PM)
I have Chicago losing today but winning the series. Atlanta plays a lot better at home. I have Chicago losing to Miami and the Heat playing Dallas. Then I have Miami winning the Finals.
Matt (NY)
Hey Jared don't you think you would look great wearing orange and blue with new york on your chest?
Jared Dudley
(1:03 PM)
If there was ever a dream team for me to play onI like wearing the orange and purple we have going on in Phoenix, but I would never mind being a Knick.
AJ (Kansas City)
Do you feel more comfortable coming off the bench as the Sixth Man role, or would you rather start? Also, what moves do you see the Suns organization making this offseason once the new CBA is figured out?
Jared Dudley
(1:04 PM)
I would like to start, at this point in my career. I think you have to earn it. Being a bench player and coming and scoring, I think you earn it. Toward the end of the season, I got comfortable starting in my 4th year in the NBA. It took time.
Nathan (Missouri)
Hey Jared, what is your favorite place to play, except at home?
Jared Dudley
(1:05 PM)
You have MSG and what it symbolizes. The Celtics have great fans. Portland has great fans. Those places to play.
Phil (Boston)
Dudley, from a fellow BC class of 07 member, I remember debating with plenty of friends whether you or Craig should take the last shot in BC games. I've heard the same narrative when discussing Bron or D-Wade. What's your feeling about end of game possessions? Should the ball go to the hot hand, the guard who can get his own shot, or should the team actually run a proper set instead of an iso?
Jared Dudley
(1:06 PM)
I would do the hot hand. They're both very talented. Also, I would do a play where they both have a chance to shoot the ball. Maybe a pick and roll. You can't go wrong with either one. I would go with the hot hand.
Nathan (Kentucky)
Jared, what has been the most exciting moment in the NBA playoffs so far, in your opinion?
Jared Dudley
(1:07 PM)
I've been watching a lot of the NBA playoffs. I've been watching about 80% of the games. OKC in triple OT comes to mind. D-Rose when he went off for 40. Then, Game 2, I think when Miami beat Boston with Wade and LeBron putting on a show. I like to see performances and it's been a show so far.
Gavin Burr (Lacrosse WI)
Is Skip Bayless that much of an idiot in person as he is on TV?
Jared Dudley
(1:07 PM)
He's less of an idiot in person. He plays his role really well here at ESPN. He knows the game. His opinions are so strong. You have to have a vilain and controversy equals ratings. That's what he brings.
Matthew (Columbia, NJ)
Jared, have you thought about the possible upcoming lockout and saving money just incase their isn't a full season next year?
Jared Dudley
(1:08 PM)
I've been thinking about this for a couple of years now. All players should have known about this and saved money, just in case. If there is a lockout, you have the money, if not, you have the extra money. You've seen it with the other leagues, where our agreement is up. You have to take it serious. You don't want to go into savings or take out loans. You hope guys are wise in saving their money.
Carmela (NC)
Who wins the series between the grizzlies, and the thunder?
Jared Dudley
(1:09 PM)
I have the Thunder winning in Game 6. I think the fatigue and the Thunder figuring them out. In a close game, Durant makes some shots and they get a win.
Devin Iverson (Houston,Texas)
What do the suns have to do this offseason to get back to the level they were at last year?
Jared Dudley
(1:10 PM)
They need to bring another big man in, post scoring. Depending on free agency, if we lose people, we might need another guard. A full training camp and not having trades.
Brian (PHX)
So when y'all bringing home the trophy. We've been waiting 40+ yrs.
Jared Dudley
(1:11 PM)
Realistically, for that to happen, we need to bring in another key key player that's an all star. You need a few all stars on teams to win. We need a player to transition to it or bring in another player. You always need front court depth.
Wilson (Ohio)
If the Grizzlies played the Heat in the Finals, what chance would you give the Griz? With Gasol and Randolph they have the edge inside, and Tony Allen and Battier are good defenders to try and stop Wade and LeBron. Any chance of that upset?
Jared Dudley
(1:12 PM)
They would cause some problems because they can guard with Allen and Battier. But for the Heat to get to the Finals with two of the best players on the planet it would be hard for them to lose.
Chris Baker (England)
So I headed out to Phoenix earlier this year to catch you guys in some games. Naturally, I had to try lunch at Majerle's and had your chicken sandwich - amazing! Did you have any input on that?
Jared Dudley
(1:13 PM)
I told him that I wanted a chicken sandwich, because that was my favorite meal. I told him to take out the sprouts, but he said he wouldn't because people like the sprouts. So that part isn't me, but I like the sandwich.
Dan (Phoenix)
Did Rondo hurt or help his team playing after his injury? Your opinion:
Jared Dudley
(1:13 PM)
I'm not going to say that he hurt his team but he didn't help his team. He couldn't have the impact on the game that he usually has. In the long run, that hurt them.
Aaron (Lexington, KY)
How do you feel about Bynum's suspension? Is it too soft, too tough, or just right?
Jared Dudley
(1:14 PM)
I thought it was too tough. He should have been suspended for a couple of games. 700,000 for that hit, they were trying to set a tone. That was the biggst fine that someone has had to pay other than Ron Artest, I just thought it was a little too steep.
Greg (Boston)
tell us the truth, what goers through your head guarding Kobe?
Jared Dudley
(1:15 PM)
Where's my help defense at? Where's the help coming from? What kind of mood is he in? Is he in an attack mode? Don't give him an open jumper. He can score in different ways, so I'm hoping that I can force him a certain way and the defense comes.
cj (los angeles)
Jared, why are we crowning the heat champions all ready, its only the second round, and lets be honest they beat up on a very banged up boston team...i think the bull or mavs can beat the heat what do you think
Jared Dudley
(1:16 PM)
You crown them, because all we know over the last couple of years, it's only been Boston and L.A. We don't have those teams any more. Miami dethroned Boston and L.A. lost to the Mavs. Just with those teams being out and Miami having the super stars, that's why.
jose (miami)
is it fair that wades greatness gets over shawdowed by lebron? will he ever get the credit he derserves?
Jared Dudley
(1:17 PM)
I think he does get fair credit. I thikn people realize that LeBron was going to Wade's team. They both get credit and Wade is valued as one of the best teams in the NBA. He's been the closer at the end of games more than LeBron at times.
Jr (Arizona)
Is this the end for Shaq?
Jared Dudley
(1:18 PM)
yeah, I do. I think it's winding down. The injuries and health wise I think he's at the end of his rope. I think this was the last year. But this is only the beginning of Shaq. He has a long career ahead of him as an entertainer and on TV. He's been entertaining us for years.
Chris Baker (England)
It's a no brainer that the Suns should bring Grant Hill back, but how many years do you think he can play? It's amazing what he's doing at his age. Can't believe he didn't make the All Defensive teams.
Jared Dudley
(1:19 PM)
It's tough to say. Especially with someone like him that keeps his body in shape and staying on top of his injuries. I could easily see him playing at least two more. And Steve, I could see him staying and being a Sun until he retires.
Jared Dudley
(1:20 PM)
Follow me @JaredDudley619 on Twitter. I'll be giving you instant access to the Suns and the NBA throughout many years to come.