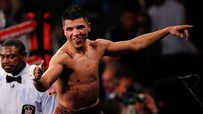 Since his loss in 2009, Ortiz is 5-0-1.
Welcome to SportsNation! On Friday, new WBC welterweight champion Victor Ortiz stops by to chat.
Back in April, Ortiz (29-2-2, 22 KOs) upset the previously undefeated Andre Berto to grab the WBC belt. By securing the unanimous 12-round decision, Ortiz moved up to No. 2 in ESPN.com's welterweight rankings, behind only Manny Pacquiao.
Following his win, Ortiz was honored by his home state of Kansas, when the governor named May 10 "Victor Ortiz Day."
Send your questions now and join Ortiz Friday at 3 p.m. ET!
More Special Guests: Previous chats | SportsNation
Buzzmaster
(2:53 PM)
Victor Ortiz will be here at the top of the hour to take your questions!
Buzzmaster
(2:56 PM)
Victor is here!
Silva (San Diego)
Victor, clearly you have a ompletely different mind set now than you did when you fought Maidana. What changed and when?
Victor Ortiz
(3:07 PM)
Nothing ever really changed, I just didn't have any problems. In that fight I had too many distractions. I never got to the fight emotionally. I was judged too harsh, I think. I listened to my coach. I stuck to the game plan and did our thing.
Chris (Overland Park, KS)
Victor, great fight against Berto. I missed you when you were in KC. Hope you get to fight in KC soon. What are the chances?
Victor Ortiz
(3:08 PM)
Dude, awesome! Rock Chalk! I would love to go fight in Kansas. I don't know when. They want to bring a fight to Kansas and the soccer stadium. I love Lance Armstrong. It would be an honor to fight in his field.
Matt H (Phx, AZ)
Hello Victor!What is your training day like? How often per week? Just curious. Thx and God Bless!
Victor Ortiz
(3:10 PM)
I'm training every day. Seven days per week. I never really take days off when I'm in training camp. I have three times a day training sessions. It gets very tough, but it pays off in the end. In between fights, I stay with it, but not sparring. I keep up with the cardio to keep me slim to where I look like a fighter still.
Brandon (houston tx) [via mobile]
Hey victor my family and Iare big fans of yours!any idea whens your next fight and oppenent?
Victor Ortiz
(3:11 PM)
The date is definitely Sept. 16, I just don't know against who. I will definitley be ready.
mike las vegas nevada [via mobile]
Who do you think would win between mayweather and pacquiao?
Victor Ortiz
(3:11 PM)
That would be a great fight to actually see. I'm curious as you are. I really can't even comment on that. They're both friends. May the best man win.
Luis (California) [via mobile]
What was your training routine to make 147?
Victor Ortiz
(3:12 PM)
It was the same. Tough as always. Not too much changed. Just train hard.
Enzo Thornhurst, PA [via mobile]
do you feel like you're more of a threat now at Welterweight? and if so, do you plan on coming up to Middleweight in the future and have a possible showdown with Sergio Martinez?
Victor Ortiz
(3:13 PM)
I don't really know at this point in time. I don't care what people think about me. I may be a threat, I may not, I don't know. I still myself in some peoples' eyes as a piece of gum on the bottom of their shoes. I just became the champion of the world and will be for a long time.
Las Vegas, NV [via mobile]
Will there be a rematch with Berto? If there is how different will the stategy be?
Victor Ortiz
(3:13 PM)
I don't really know. If there is a rematch, I will definitely be ready. A strategy, I don't know. I'm not fighting him right now, so we're not watching him. I'll let my coaches figure it out.
Jacob (Minneapolis)
Viscious! We were up high fiving during your fight against Berto! We were so happy for you. What kind of timeframe before you are back in the ring?
Victor Ortiz
(3:14 PM)
I keep myself very fit and in shape. The moment I know who the opponent is, I will be crisp into training camp. Right now, I'm just hanging out. But at the moment, I've conquered the world. So I have to stay grounded and work harder, because people want my belt now.
nade (san antonio)
how do u think a match between u and cotto would go at welterweight or a catch weight match?
Victor Ortiz
(3:15 PM)
I think the proper question there would be how would he handle a person like me.
christian espinoza (arizona)
So how does it feel proving everybody wrong?When they said you didn't have any heart?
Victor Ortiz
(3:16 PM)
Well, not bad for having heart or courage, huh? I wasn't trying to prove anything to anyone. I just wanted to perform to my standards. I was kind of disappointed because I didn't perform to my fullest potential, but that was enough to beat Berto.
Mike (Philly)
As a boxer yourself, how did you feel about Shane Mosely's performance against Manny Pacquiao, especially touching gloves with him after every round?
Victor Ortiz
(3:17 PM)
honestly, I can't even comment. I didn't see the fight. I was busy with some assemblies speaking with some high school kids. I was busy in Kansas. I haven't watched it still. Sugar Shane is my favorite fighter of all time. I am friends with both of them. From what I hear it was a one-sided fight. I am happy for Manny. Well done.
Vicente (New Mexico)
i think you are the most logical opponent for Pacquiao. What are the chances of that fight happening?
Victor Ortiz
(3:18 PM)
That would be awesome. I strongly agree with you. But Bob Arum doesn't like me.
Victor Ortiz
(3:18 PM)
So, I don't really know.
J (ATL)
Victor can you give us a little insight on your typical day when you are in training camp?
Victor Ortiz
(3:18 PM)
One word: hectic. Pain. Almost regretting waking up.
Silva (San Diego)
Any plans to attend the upcoming JCC fight at the Staples Center?
Victor Ortiz
(3:19 PM)
Nope. Not really.
Bozz, Houston, Tx [via mobile]
You think Mayweather has the guts to step into the ring with you?
Victor Ortiz
(3:19 PM)
I hope so. I am pretty sure he would because he's a 10-time world champion, or something like that.
Ant (NY)
Hi Vic. Can you tell us how you got your nickname "Vicious"?
Victor Ortiz
(3:20 PM)
I was 16 and a junior Olympic medalist. I qualified for the Olympic trials. I won the bracket. They said that's Vicious with the smile. I said, no. But it had a ring to it, so I went with Vicious Vic. But it's an oxymoron because out of the ring, I'm not vicious at all.
jesus(somis) [via mobile]
Do you want to fight maidana again?
Victor Ortiz
(3:22 PM)
He's a waste of time. He had his chance, on more than one occasion. But when your mind is set, it's set. When you have a fighter as hard hitting as myself, I doubt he would want to step into the ring again.
Alec (Nashville)
Are you left handed in everything you do? Or do you just fight southpaw?
Victor Ortiz
(3:22 PM)
I'm actually righthanded. But for some reason since I was a kid, I love to fight lefthanded. I can fight the other way too, I just don't like to.
Frank (San Jose)
If you could fight any other fighter past or present, who would it be?
Victor Ortiz
(3:23 PM)
Mike Tyson....just kidding. He'd kick my butt.
Frank (San Jose)
When Berto was laying on the ropes, was he saying anything to you? Looked like he was talking to you when he tried to clinch.
Victor Ortiz
(3:23 PM)
He was probably trying to say, take it easy, man!
Udeka (Los Angeles)
Hey Victor, congratulations on your new title! What do you like to do in your spare time when you're not training?
Victor Ortiz
(3:24 PM)
I love to road bike, mountain bike, surf, skateboard, run a lot, triathlons with my manager, swim. I enjoy the outdoors. I like going back to Kansas, Lawrence and Garden City once in a while.
Darin (Silver Spring, MD)
VIC! You have sparred with Manny before, is he the hardest puncher you have even stepped into the ring with?
Victor Ortiz
(3:25 PM)
Nope, believe it or not. He was definitely not.
odogg (las cruces, NM)
Any idea where your next fight will take place? LA? Staples?
Victor Ortiz
(3:25 PM)
There is no whereabouts just yet. Once I know, I will make sure to let the world know. Twitter or Facebook.
Frank (San Jose)
I like the 5 o'clock shadow look too. You should keep it. Makes you look meaner in the faceoff.
Victor Ortiz
(3:26 PM)
Thank you. I appreciate that. It took a whole month to grow. I think I agree with you. I shaved my head a few days ago. I definitley want to do the scruffy scruff again.
Victor Ortiz
(3:27 PM)
Thank you guys for always having my back. The support means a lot, even the people who don't believe in my still and don't want to see my succeed. Thank you very much. Like Pinky said to the Brain, what are we going to do today? Same thing we do every day, take over the world.