Chat with Bernard Hopkins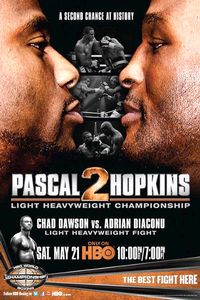 Welcome to SportsNation! On Wednesday, former light heavyweight champion Bernard Hopkins stops by to chat about his upcoming rematch with Jean Pascal.
Hopkins (51-5-2) and Pascal (26-1-1) will meet in a rematch for Pascal's Ring/WBC light heavyweight title. The two first met back in December with the fight ending in a 12-round draw. The fight can be seen live on HBO at 10 p.m. ET/7 p.m. PT from the Bell Centre in Montreal, Quebec. If the 46-year-old Hopkins wins, he'll become the oldest boxer to win a world title.
Follow BHop on Twitter: @TheRealBHop
Send your questions now and join Hopkins Wednesday at 2 p.m. ET!
More Special Guests: Previous chats | SportsNation
Buzzmaster
(2:06 PM)
Bernard Hopkins will be here in a few minutes to take your questions.
Buzzmaster
(2:20 PM)
Hey everyone, Bernard's running a little late. He should be here around 2:30 or so. Keep those questions coming in!
Buzzmaster
(2:27 PM)
He's here!
Kevin (CT)
B-Hop, will you use the same strategy of grinding down Pascal and winning later rounds?
Bernard Hopkins
(2:28 PM)
Yes, but I will also start the grinding early. This is the 13th round come this Saturday. That's how I'm starting the fight.
Andrew (Lake Sacandaga)
Hey Bhop. Do you think Pascal will do anything to NOT be a 4 round fighter this time? Or do you think it's just imprinted in his psychology?
Bernard Hopkins
(2:29 PM)
I think it's imprinted in his psychology. In his mind, he looks too tired. He looks to stop, to rest. He looks to win rounds at the end of the round. It's more of his psyche and his conditioning.
Mike (Hartford, CT)
Do you think you have to finish Pascal to win this fight with it being in Canada again?
Bernard Hopkins
(2:29 PM)
Yes. That's correct.
Darnell Brown (Cleveland, Ohio)
Once you recapture the light-heavyweight crown, what's next? Do you retire or do you still have goals you wish to accomplish?
Bernard Hopkins
(2:30 PM)
Chad Dawson, who will also be on the undercard.
Bernard Hopkins
(2:30 PM)
I will clean up the light heavyweight division.
Justin (Kentucky)
What is a typical day in the life of BHop when in training for a fight?
Bernard Hopkins
(2:30 PM)
Work, rest. Eat. Pretty boring, but you get through it.
Nathan (Kentucky)
Bernard, how do you feel about Pascal saying that he didn't like you as a fighter?
Bernard Hopkins
(2:31 PM)
Neutral. It's neutral.
Steven (Evansville, IN)
Are you planning to stand and bang with Pascal more than usual? Do you think you've gotten into his head?
Bernard Hopkins
(2:32 PM)
I believe I stood and banged the first time. I think that he retreated and wanted to be more of a boxer. The styles will accomodate each other. He will want to prove something in his hometown and I'm going to press him. It's going to be something good when you have that mentality. I'm looking for a shootout. This will be a shootout.
El (Ontario)
Do you really think Montreal deserves this fight to be happening in their city? How many times do you think you will hurt Pascal in the fight?
Bernard Hopkins
(2:33 PM)
First I think Montreal is a great and up and coming town. It had some great fights in the 60s. Montreal deserves to have this kind of fight, just like New York, Las Vegas. This is a fantastic town to fight in. You have French, American, a lot of people.
Silva (San Diego)
B Hop,in your first fight with Pascal one of the "knock downs" was clearly a shot behind the head and should not have counted against you. How concerned are you that fighting in his backyard could sway the ref, judges etc.. this time around?
Bernard Hopkins
(2:34 PM)
If that's the case then I can't worry about it now. I just hope that the ref makes a good call on what happens on both ends. I can't worry about that right now. I'm not going in there with any cautious reminders that could be a distraction.
Silva (San Diego)
How different are your training camps at 46 then they were early in your career? Do you do less road work or more sparring? I'm curious to know what has changed.
Bernard Hopkins
(2:34 PM)
I take more Advils.
Byron (NYC)
Good luck Bernard, you were robbed in the first fight!!! What do you think about Mayweather ducking Pacquiao so much or do you think he is? By all of a sudden raising what he wants in earnings to a ridiculous $100 million, seems obvious he does not want to fight him.
Bernard Hopkins
(2:35 PM)
I think we'll see it happen before the years out, or definitely by early next year. Within 12 months.
Matthew (Columbia, NJ)
Bernard, do you think you can play goalie for the Flyers? They need someone to stop the puck.
Bernard Hopkins
(2:35 PM)
I would love to play with the Flyers. I got the two front teeth missing, so I can look the part. I'm ready, cosmetically, I could fit right in.
Alec (Nashville)
B-Hop, are you going to avoid tasting the canvas this time around? I'm sure you were as shocked as I was that he put you on the ground.
Bernard Hopkins
(2:36 PM)
Yeah, I adjusted. I learned how to watch tapes over the years. I'll make those adjustments. I made them all in camp. Don't look for me to be there. If I am, I'll get up and win.
Sam Barrett (London, UK)
Has there been any boxing match where you have personally felt like the underdog?
Bernard Hopkins
(2:37 PM)
A lot of them. One of them is this fight too.
Justin (Minot,ND)
Do you think Pascal will make more mistakes this time around? He seems like he has made it more personable and might fight with his emotions and not his head.
Bernard Hopkins
(2:37 PM)
Absolutely. Yes.
Ales (Utah)
B-Hop everybody knows youre one of the greates of al time no doubt about that but outta Hagler, Hearns, Leonard or Robinson who do you think you coulda beat in a fight (all of them in their prime of course) Good Luck saturday!
Bernard Hopkins
(2:38 PM)
I believe that I would have held my own with all of those guys. As far as winning and losing, whoever I fought would have done damage to both of our careers. I could have won or lost any of those fights. It would have been a 50-50 chance.
Mac Miller (Pittsburgh)
Do you feel like you have to destroy him for bringing up steriods and trying to ruin your legacy?
Bernard Hopkins
(2:39 PM)
I think that it will make the execution more punishing. Not to get emotional about it like he's going to get, but it would be a cold execution. And calculated.
Bernard Hopkins
(2:39 PM)
He really extra motivated me for this fight.
Kyle (Bridgeport, CT)
In the build-up to this fight, it seems as though you and Pascal seriously hate each other. Is this indeed a rivalry?
Bernard Hopkins
(2:40 PM)
It's definitely a rivalry. You can talk about I'm not a great fighter. You can talk about how you think I've fought nobody. But when you start accusing me of something that I've said is bad for your body, then it is personal. My coach has always stressed to me that fighting is personal. But to add fuel to the fire, this is two notches up.
James (Windsor )
What fighters did you look up to when you were younger
Bernard Hopkins
(2:41 PM)
I looked up to Marvin Hagler, Ali.
Bernard Hopkins
(2:41 PM)
You can throw Leonard in there too.
victor (north jersey)
u coming out old school with the executioner mask for this fight during your entrance?
Bernard Hopkins
(2:41 PM)
Absolutely. I have the mask. I have the Flyers Bobby Clarke 46 number.
Bernard Hopkins
(2:43 PM)
Watch. May 21 on HBO PPV. Canada.