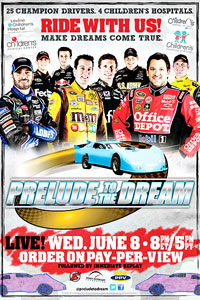 Welcome to SportsNation! On Wednesday, we'll have NASCAR driver Bobby Labonte stopping by to chat about the upcoming seventh annual Prelude to the Dream children's charity race.
On June 8, HBO PPV will host coverage of the event starting at 8 p.m. ET/5 p.m. PT on the dirt track at Eldora Speedway in Rossburg, Ohio.
Labonte joins other drivers like Carl Edwards, Ryan Newman, Tony Stewart, Jimmie Johnson, Kyle Busch and others. The drivers will be split into four teams, representing four different children's hospitals, with each driver helping earn money for his team.
Send your questions now and join Labonte Wednesday at 2:30 p.m. ET!
More Special Guests: Previous chats | SportsNation
Buzzmaster
(2:22 PM)
NASCAR driver Bobby Labonte will be here in a few minutes to answer your questions!
Buzzmaster
(2:30 PM)
Okay, we have Bobby. And this chat has a green flag...
eric syracuse ny [via mobile]
bobby did you grow up racing on dirt and if so how often do you get a chance to run every year.
Bobby Labonte
(2:33 PM)
I didn't grow up racing on dirt. Now I do Tony Stewart's charity race and about one more per year.
Mitchell Breuer (Lake City,MN)
With the new "boys have at" policy have you look at getting revenge at anyone (be specific)?
Bobby Labonte
(2:33 PM)
Not yet (laughs). We'll see how it goes. But I don't think that's the right way to do it. Just race hard.
Donovan Johnson (Pittsburgh, PA)
Out of the drivers who are not in the Prelude To The Dream, who else would you like to race on your team?
Bobby Labonte
(2:35 PM)
Martin Truex, Jr.
Katie D. (New Hampshire)
What's your pet peeve?
Bobby Labonte
(2:37 PM)
Slow people in the left lane.
Katie D. (New Hampshire)
Where would you most like to run a race? (A place that isn't currently on the Sprint Cup schedule.)
Bobby Labonte
(2:37 PM)
Rockingham. It used to have great races.
Matthew (Columbia, NJ)
Bobby, have you ever had an on track altercation with another driver? I don't remember the last time you got really mad at someone.
Bobby Labonte
(2:38 PM)
The Saturday night before last (Darlington) I was mad. Marcus Ambrose crashed me on the last lap.
Stomberg21 (CT)
Would you ever consider racing in the truck series full time, and going for the championship, to become the first driver to win a title in all three on the national series?
Bobby Labonte
(2:39 PM)
Yeah maybe one of these days. Who knows. Not in the immediate future.
James (Rochester, NY)
How do you feel about the season so far?
Bobby Labonte
(2:40 PM)
Not bad, not great. We're improving and I hope that we will get little bits here and there.
Daryl (Iowa)
Bobby, big fan here. In recent memory you have driven a Pontiac, a Chevrolet, a Dodge and a Toyota. Do you have a favorite? (I am partial to the wide tracks myself)
Bobby Labonte
(2:41 PM)
They've all been good!
Katie D. (New Hampshire)
What future events will the Bobby Labonte Foundation hold?
Bobby Labonte
(2:41 PM)
Golf tournament June 7th in North Carolina. BobbyLabonteFoundation.org
Andrew (Kettering Ohio)
Fellow thyroid disease sufferer here, how do you cope with your weakness and exhaustion in the race car?
Bobby Labonte
(2:42 PM)
Exercise a lot. Eat right. And sleep right.
Joanne (Ft. Myers)
If Kyle Busch wins the Sprint Cup and The Busch Brothers tie The Labonte Brothers wins record are you and Terry planning on congratulating them?
Bobby Labonte
(2:43 PM)
Sure. It would surprise me if Kyle didn't win a championship and equal what we did.
charlie2fan (Mt. Clemens, MI) [via mobile]
What do you think of any Sprint Cup driver dominating Nationwide?
Bobby Labonte
(2:44 PM)
There's nothing against them doing it. And if that's what they choose to do, that's what they choose to do. When I was racing back in the day, the Cup guys that were racing against me made me a better driver.
Kevin (Alaska)
Can you tell us a bit about how it felt to go from having to start and park to getting back racing full time with a competitive team?
Bobby Labonte
(2:45 PM)
It feels good now, it didn't feel good then. It was a tough time last year and I'm glad that's over with.
David (Los Angeles)
You have always been respected by fans, media, and other drivers both on and off the track. This obviously goes well beyond race wins. How do you think you earn respect as a driver?
Bobby Labonte
(2:46 PM)
I think that it started off with my upbringing and it just followed suit with doing the right things growing up and knowing how to do the right things. Having respect for other people to start with is a big part of it.
Sean Metts (New Castle, PA)
Being a huge fan of you for years, I was wondering, how close do you feel to becoming a Sprint Cup race winner? The fans have been waiting and we really want you to win a race before your career is done. We all still love you!
Bobby Labonte
(2:48 PM)
Appreciate it. We are getting closer. It could be something that we can see in the near future. Over the past two weekends, we've seen that guys without the fastest car can win. So we'll just have to keep working on our strategy.
Rich- Bronx, NY [via mobile]
Fav track? Least favorite?
Bobby Labonte
(2:49 PM)
Michigan is my favorite. And Fontana is my least favorite.
Tony (Indy )
Who is the best dirt racer right now in the Cup series ?
Bobby Labonte
(2:49 PM)
Tony Stewart. That's easy.
Landon Nowak (Virginia Beach)
Hey Bobby, what do you like about dirt racing and does being a champion on the asphalt tracks help you at all in the dirt? i ment to ask you in dover but forgot... best of luck, champ!
Bobby Labonte
(3:03 PM)
Thanks! What I like about dirt racing, even though I didn't grow up racing dirt, I like the competitiveness of the drivers and the ever-changing track conditions. It appeals to what I like to see and do. Being an asphalt champion doesn't help much on the dirt.
Bobby Labonte
(3:05 PM)
Thanks for participating everyone! I look forward to running the Prelude to the Dream charity race in June and I hope you can tune in. Pull for our team (Team St. Louis)...