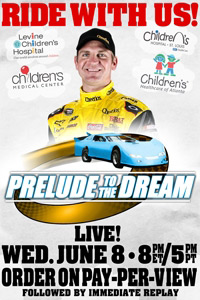 Welcome to SportsNation! On Wednesday, we'll have NASCAR driver Clint Bowyer stopping by to chat about the upcoming seventh annual Prelude to the Dream children's charity race.
On June 8, HBO PPV will host coverage of the event starting at 8 p.m. ET/5 p.m. PT on the dirt track at Eldora Speedway in Rossburg, Ohio.
Bowyer joins other drivers like Carl Edwards, Ryan Newman, Tony Stewart, Jimmie Johnson, Kyle Busch and others. The drivers will be split into four teams, representing four different children's hospitals, with each driver helping earn money for his team.
Send your questions now and join Bowyer Wednesday at 2:30 p.m. ET!
More Special Guests: Previous chats | SportsNation
Buzzmaster
(2:25 PM)
Clint Bowyer will be by at 2:30 p.m. ET to take your questions!
Buzzmaster
(2:31 PM)
Clint is here!
Scott (Kansas)
Clint,Are you going to be running the gold car again in the Prelude? Also, will you be at Lakeside on June 3rd?
Clint Bowyer
(2:32 PM)
Ah man! I wish. I'm a big fan of the gold car. Actually we have a sponsored car this year.
Jenny Watton (Nebraska)
Are you looking forward to racing at a dirt track again.
Clint Bowyer
(2:32 PM)
I can't wait. It's a lot of fun to be in Tony's race. They do such a great job of putting that race on and making it a reality and making it successful for the kids. When you get to put it toward a great cause, it's a great feeling.
James (Rochester, NY)
How do you feel about the season so far?
Clint Bowyer
(2:33 PM)
I feel like it's been good. It started off really really slow, which is uncharacteristic for me. We got wrecked in Daytona and early on, but I'm very proud of all of the guys on the 33 car. I'm sorry I let you down at the all-star race. I think it's going to be a good summer.
PJ (Cary, NC)
Hey Clint, as an avid fantasy racing fan, which racetracks do you consider the best for your team, setup and driving style?
Clint Bowyer
(2:34 PM)
The short tracks have always been my strong point. But I'm really excited about the package that we have for the mile and a half. I'm excited to get out to Kansas.
Kurtis (Houston, TX)
Do you support the Jayhawks or Wildcats? Rock Chalk!
Clint Bowyer
(2:34 PM)
Rock Chalk baby! It's definitely KU!
Nicole C. (Chicago)
You seem like a fun and funny guy! I assume you've seen Talladega Nights, what's your favorite scene from that movie?
Clint Bowyer
(2:35 PM)
Yeah, I've seen it several time. There are so many good parts in that movie. I like when he gets back in his old car and he's banging about the other cars.
Saul (San Diego)
Clint, who do prefer to make the FINAL changes during the pit stop? You or your crew chief? how do you like that process to work?
Clint Bowyer
(2:36 PM)
Man, I get paid to keep it in the fence on the track and he gets paid to make those calls. I try to agree with him and help him the best I can. I leave those tough calls to him.
robert duckworth (gainesville ga)
Why do you think the RCR cars as a whole struggled last week at the allstar race? And do you think things will be better for the 600?
Clint Bowyer
(2:37 PM)
Yes, I definitely think we learned from our mistakes. We just went down the wrong path. The notes from our history at that place, we tightened up too much, all four of us.
Scott (Burlington, NC)
Clint: Being a past champion, do you feel that full-time Cup drivers are hurting the integerity of the Nationwide Series by winning, week in and week out. Watching Stenhouse win Sunday was (I feel) the best thing in the series this year in that series.
Clint Bowyer
(2:38 PM)
I think it was great for Stenhouse to win. It was a good race all day long. It was great for the fanbase. You can't say that it wasn't a stand alone event, because all of the Cup drivers were there. That's what the Nationwide Series is all about. It was for me. If you can win in that series with the Cup drivers, you can move up quickly.
Tony (Concord, NC )
Clint hey man! You've had some bad luck this year and you're still in the thick of the hunt for the chase. How close are you guys to winning a race to help secure that spot?
Clint Bowyer
(2:39 PM)
I'd say we've been doing good. We're knocking on the door. If you continue to do that you're doing good. We've finished second twice. We were leading at Dover, but made the wrong decision with the four tires and got beat. But it's coming. I feel like we're doing what it takes and will be a factor in the chase.
Speed Racer (New York, NY)
Thanks for chatting Mr. Bowyer. Racing to support these children must feel great. How do you expect to finish in this year's race?
Clint Bowyer
(2:40 PM)
I expect to win, no different than I ever do. You always expect to win. That's why you show up. I'm very proud to be a part of it. I'm proud to be a part of the great cause. It's a fun night and everyone has fun with it.
dw (Ark)
Clint, there are a few Cup drivers who are owners of NW and Trucks. Is that something you would ever consider doing?
Clint Bowyer
(2:41 PM)
I own two dirt late models and that's all I want. I have 6 employees. That's enough. I couldn't imagine a couple hundred employees.
Saul (San Diego)
Clint, for the marathon 600, what do you drink and eat during the race?
Clint Bowyer
(2:42 PM)
No different than I ever do. The 600 is more than just a few hundred laps. If you're struggling out there and you're driving your butt off, you're a lap down and it can be miserable if you're on that side of it. But if you're running good and you're up front, it doesn't feel any different.
Nathan (Missouri)
Clint, what is your favorite track to race at?
Clint Bowyer
(2:42 PM)
Kansas is probably my favorite place to race, because I get to race in front of my hometown crowd. It means a lot to me to race there.
Saul (San Diego)
Clint, do sponsor commitment take a lot of your time between races? Do you have quality time between races? From the outside, it seems drivers have no life.
Clint Bowyer
(2:44 PM)
It's always something and it's always something different. It's never a week of the same old stuff. Like this week, the all-star race, the truck race, Sunday night we had a charity race, Monday night was the hall of fame. Tuesday night was off and tonight I have a sponsor thing. It's always something, but it's always different. That's what's fun.
dw (Ark)
The last few weeks 2 tires and even no tires at the end of the races seem to have paid off for a few people. Has the tire improved that much, is it just luck, or something else?
Clint Bowyer
(2:45 PM)
That's been the recipe that's won the last couple of races, but it's not always the case. That's what this sport is all about. The two tire call might be four tires at the next race. It's all about the circumstances.
Clint Bowyer
(2:46 PM)
Thanks for tuning in. Hopefully we'll do good this weekend in the 600.