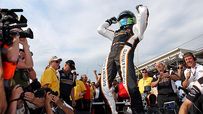 Alex Tagliani starts on the pole at the Indy 500, which airs Sunday at noon ET on ABC.
Welcome to SportsNation! On Tuesday, we will have the front row of the 2011 Indianapolis 500 stopping by to chat in advance of Sunday's 100th running of the race.
Alex Tagliani won his first Indy 500 pole, after starting last year's race fifth and winning the 2009 race's rookie of the year award by finishing 11th. He drives the No. 77 car for Sam Schmidt Motorsports and his Twitter handle is @Tagliani.
Scott Dixon (@ScottDixon9) and Oriol Servia (@OriolServia) start second and third, respectively. It is Dixon's third career front row start at Indianapolis, having won the race in 2008. With his best start at Indy in three tries, Servia puts a Newman/Haas Racing car in the front row for the fifth time in team history.
Send your questions now and join the chat Tuesday at 12:45 p.m. ET!
More Special Guests: Previous chats | SportsNation
Buzzmaster
(12:34 PM)
Hey everyone, the top 3 qualifiers for the Indy 500 on Sunday -- Alex Tagliani, Scott Dixon and Oriol Servia -- will be here at 12:45 p.m. ET to take your questions!
Buzzmaster
(12:50 PM)
Hang on folks. The drivers just finished taping a segment to air on First Take. They're on their way over to our chat right now. They should be here in a few minutes.
Buzzmaster
(12:58 PM)
I hear them coming!
Mike (Shenandoah Valley, Virginia)
I have a Vette and thought 135 MPH was very very fast. Do you remember your first experience at 200? Love Indy
Alex Tagliani
(1:00 PM)
135 in a Corvette probably feels faster than over 200 in an IndyCar. You're not supposed to go 135 anyway. I wouldn't want to crash in a road car, that's for sure.
Jeremy (Indiana)
Scott I'm wondering why TCG teams went so light on fuel for the fast 9 runs. Is this typical? I believe you said you ran out of fuel in turn 4 costing you perhaps the pole. Alex/Oriol do your teams do the same in terms of fueling qual runs?
Scott Dixon
(1:01 PM)
It was a miscommunication. One person on the team didn't tell the engineers that the car was pumped out of fuel after the first attempt, hence we were missing some fuel.
Chad (Indianapolis)
How much do you think the slower pace at the start an the double file restarts will effect the outcome on Sunday?
Oriol Servia
(1:02 PM)
As far as I know the double file has not been totally agreed upon. Whatever it is will be exciting.
Scott Dixon
(1:02 PM)
If there is double file, it will change it entirely.
Alex
(1:02 PM)
We don't want the double file. Changing the race with an importance on restarts is unfair. Especially on a long distance race.
Carl (Denver)
Scott, what do you think will separate you from the other drivers in the field this weekend so you can win the race?
Scott
(1:03 PM)
I don't know. That's the tough thing. That's the questions. That's the $3 million question. It's tough. Is it the toughest field in history? It has to be. It has to be everyone doing everything right.
Oriol
(1:03 PM)
Yeah, it's the tightest field.
Henry (DC)
Alex, what was your reaction when you realized you'd won the pole for Sunday's race?
Alex
(1:05 PM)
Very difficult to describe. The feeling when you cross the line, you hear everyone screaming on the radio. It's a great reward for everyone. It's a race within a race. When you are capable of taking your car off of pit road to the garage, that's an accomplishment. The team has to work very hard to give a car like that to the driver. It's a great accomplishment for sponsors, driver, team, everyone.
Greg (Miami)
Oriol, you're only third in points right now, how do you think you've performed so far this season?
Oriol
(1:06 PM)
Third-best...We're very happy and proud so far. We knew we'd be good later in the game, but we didn't know we'd be this good right now.
Ryan (Indianapolis)
Alex, do you think this will help Sam Schmidt racing move to a two car operation in 2012? All the drivers on your team this month have obviously done a great job working together. Congrats and good luck!
Alex
(1:07 PM)
I think it's been the goal, even for this year. We feel the pain when we're in a road course or a street course. It's hard to roll the car off the trailer and be out there as the only car. It's always a goal to increase the team, for a technical reasons and financial reasons as well. When you have two cars supporting fixed expenses, it's a huge advantage.
Turk (Mich)
What do you guys expect to learn from the 1 hour session Friday on Carb Day?
Oriol
(1:08 PM)
Quite a bit. It's a systems check, usually, but with all of the rain, I think everyone is going to run as much as they can.
Alex
(1:08 PM)
On our plan, we have two pretty important things to try on the car. Other than that, make our pick on what level of downforce we'll have.
Scott
(1:09 PM)
Yeah, I think guys will run more than usual.
tony (cincinnati)
with the nascar crowds noticably down, what can open wheel do to get back to the glory days?
Scott
(1:10 PM)
I think IndyCar can benefit. The goal is to get the series back to where it should be. It's no doubt the split in the mid-90s definitely hurt. We're not out to poach their fans, we just want more fans.
Scott (Indy)
If you guys were grilling out on the holiday weekend instead of driving fast, would you be using charcoal or gas grills?
Oriol
(1:10 PM)
I would be watching the Indy 500 as a fan.
Scott
(1:11 PM)
I would be throwing another shrimp on the barbie.
Alex
(1:11 PM)
I would be going with a gas grill. It's easy, quick, clean. And Oriol doesn't quick.
Justin (Cincinnati)
I'm curious to know what it feels like on the last warm up lap, leading up the start of the race...how incredible is that natural high? Please explain!
Scott
(1:12 PM)
I think for all of us, this week is the toughest week all you're doing is talking about the race. All you want to do is be on that lap getting ready to race and finding out what that conclusion of the race is. There are some nerves, but it's a relief to be in a quiet place.
Ryan (Indianapolis)
Oriol, I have upmost respect for Newman Haas racing. Could you speak on how special it would be to win the first Indy for Newman Haas?
Oriol
(1:13 PM)
They've been so close. They've dominated so many times and haven't won. It would be awesome. I think they were just waiting for the 100th anniversary. I would be most proud.
Scott
(1:13 PM)
They're the team that has led the most laps, right?
Oriol
(1:13 PM)
Yes, they've led over 700 laps but not the one that counts.
Andy (Michigan)
Do you have a normal lunch before the 12 noon start this year? Too nervous/busy/focused for lunch?
Scott
(1:14 PM)
Pancakes. One time I just had pancakes and it's been that way every since.
Alex
(1:14 PM)
I do pancakes too.
Scott
(1:14 PM)
Yeah, but it's with 23 ingredients, right?
Alex
(1:14 PM)
Yeah. You use my recipe!
Alex
(1:14 PM)
You use oatmeal.
Scott
(1:15 PM)
No, I don't use oatmeal. It's not your recipe.
Oriol
(1:15 PM)
I eat whatever they do for me. Whatever the Murphs do for me.
Alex
(1:16 PM)
May it be the fastest Indy 500!
Scott
(1:16 PM)
Make sure you come to the race, it will be a good one.
Oriol
(1:16 PM)
Come see us. We'll put a good show out there!