Chat with Dominique Wilkins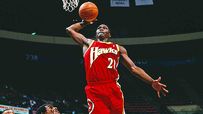 'Nique's 24.8 ppg average ranks 14th all-time in NBA history.
Welcome to SportsNation! On Friday, Pro Basketball Hall of Fame Class of 2006 member Dominique Wilkins stops by to chat about the NBA playoffs.
Wilkins enjoyed a 15-year NBA career, scoring 26,668 points, good for 11th all-time, and led the league in scoring in 1985-86 with 30.3 points per game.
"The Human Highlight Film" won the slam dunk competition in 1985 and again in 1990. He was a nine-time all-star and is just one of four players to have his number retired by the Atlanta Hawks.
Send your questions now and join Wilkins Friday at 2 p.m. ET!
More Special Guests: Previous chats | SportsNation
Buzzmaster
(2:00 PM)
Hall of Famer Dominique Wilkins will be here in a few minutes to take your questions!
Buzzmaster
(2:04 PM)
Dominique is here!
Cheesehead Sports Nut (Chicago, IL)
Who would win in a dunk competition between 1985 Dominique Wilkins and 2011 Blake Griffin?
Dominique Wilkins
(2:05 PM)
Is that a trick question? I guess we'll never know. That was a different era when I did it. Dr. J and Jordan. He's the best in this era, no question. He will stack up with some of the best.
Dax (Utah)
Dominique I wish you were still in the league...I loved watching you play. Who do you think will win the title this year?
Dominique Wilkins
(2:06 PM)
Oh man! If you go with experience, Dallas has a lot of experience. Guys who have been there before. But I think Miami might have the edge in athleticism. That will create a problem for Dallas.
Matt (Kentucky) [via mobile]
Mr Wilkins, who was the toughest player you ever had to guard during your NBA career?
Dominique Wilkins
(2:07 PM)
I never really feared anyone. But the guy that made me the nervest the most. The small forward position in my era was unbelieveable. There were too many great players at that position that you had to contend with every night and every one was 6-8, 6-9, 6-10, 6-11.
Nick (NJ)
Do you agree with Scottie Pippen that Lebron could be better than MJ?
Dominique Wilkins
(2:08 PM)
Not necessarily. You can't put that tag on someone until he's done what MJ's done. How many guys do you know in any sport that can win three titles, retire and win three more? That answers the question. Does he have the ability to get there one day? Yes, but he's not there yet.
louis (Atlanta ga)
what do you think the hawks need to become a championship caliber team?
Dominique Wilkins
(2:08 PM)
Any good team, when you're trying to get to the next level, you need to add quality pieces to your team. The young guys need some more seasoning. We've done that the last four years, get better.
Matthew (Los Angeles,CA)
Who gave you the name "The Human Highlight Film?"
Dominique Wilkins
(2:09 PM)
I got that name when I was in the 11th grade. A guy named Howard Garfinkel gave me that name.
Joe (ATL)
How Hard is it to walk away from the game you love? We are seeing this with Shaq and maybe even Derk Jeter.When is the right time to decide to leave?
Dominique Wilkins
(2:10 PM)
It's extremely hard in any sport. This is what you've done your entire life. To give it up in the blink of an eye, that's difficult.
Nick (NJ)
Do you think Dirk Deserves the Hype hes getting
Dominique Wilkins
(2:10 PM)
He deserves the hype that he gets. He's a heckuva a player, make no mistake about that.
Byron (Cleveland)
Nique what player reminds you most of yourself in today's league? Also, what was it really like to be in The Garden in your great showdown with Bird?
Dominique Wilkins
(2:11 PM)
I really think there's a combination of a couple of players. The way that Wade attacks the basket and the way James finishes. Not just one guy, but a mixture.
Dominique Wilkins
(2:11 PM)
And you look at a guy like Carmelo, who's a good post up player. I made a living in the paint.
K.J. Knight (Jacksonville, Florida)
Huge fan of you 'Nique. You played in an era widely regarded as one of the best in NBA history. Is what we're seeing this year, with guys like Durant, Rose, and Blake Griffin emerging, and guys like LeBron, Wade, and Dirk flourishing, ushering in a new era of greatness?
Dominique Wilkins
(2:12 PM)
Oh yeah. As these guys get older, there are definitely great players in this era. Every era has great players.
Darryl Bortoli (Livermore, CA)
Definitely my FAVORITE player of all time, congrats on the HOF, you deserve it! If you were GM and could start a team with anyone from today, who would it be?
Dominique Wilkins
(2:12 PM)
You can't teach size, so you always like to have size, along with a great floor general.
Nathan (Missouri)
Hey 'Nique, what was your favorite moment in your career?
Dominique Wilkins
(2:13 PM)
My favorite moment of my career was when I tore my Achilles at 31 and came back the next year and had the best season of my career.
Nathan (Kentucky)
Dominique, who impresses you the most in the NBA today?
Dominique Wilkins
(2:13 PM)
I think just the energy level as far as guys running up and down the floor. THe thing that excites me are the guys that have speed, size and skill.
Nathan (Missouri)
Hey Dominique, what have you liked most about this year's playoffs?
Dominique Wilkins
(2:15 PM)
I think the playoffs have been very competitive this year. I think a lot of the guys playing have stepped their games up. You look at Oklahoma and what they did. A few more moves by that team and they could have been in a 6 or 7 game series. Look across the board and I think the teams played well, outside of L.A. I don't know what happened to them.
Drew (Ohio)
IS Lebron not having to carry the HEat just like in MIami
Dominique Wilkins
(2:15 PM)
It definitely helps him improve by having a player like Wade alongside him. I would have loved to have another player like that. It takes the pressure off.
Cheesehead Sports Nut (Chicago, IL)
What do you think of how hard fouls have turned into flagrant fouls in the last few years in the NBA?
Dominique Wilkins
(2:16 PM)
It's just a sign of the times, my man. Those fouls, you just send the guy to the free throw line and that's it in my career.
Dominique Wilkins
(2:17 PM)
I always enjoy talking to the fans and hear your responses, talking to you about what your passionate about. Thank you for having me.