Chat with Ricky Carmichael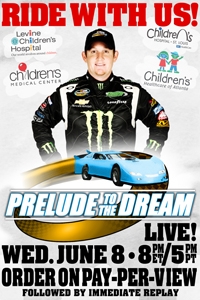 Welcome to SportsNation! On Monday, we'll have Craftsman Truck Series driver Ricky Carmichael stopping by to chat about the upcoming seventh annual Prelude to the Dream children's charity race.
On June 8, HBO PPV will host coverage of the event starting at 8 p.m. ET/5 p.m. PT on the dirt track at Eldora Speedway in Rossburg, Ohio.
Carmichael joins other drivers like Carl Edwards, Ryan Newman, Tony Stewart, Jimmie Johnson, Kyle Busch and others. The drivers will be split into four teams, representing four different children's hospitals, with each driver helping earn money for his team.
Send your questions now and join Carmichael Monday at noon ET!
More Special Guests: Previous chats | SportsNation
Buzzmaster
(11:58 AM)
Hey everybody. GOAT, aka Ricky Carmichael will be here in a few minutes to take your questions!
Dave Merkley (Rancho Cucamonga, CA)
What is your personal assessment on your progress toward becoming a world class driver? PS. Long live the GOAT. Thanks for all the years of thrills on a bike.
Ricky Carmichael
(12:00 PM)
Thank you for the GOAT comment. I'm not a big fan of grading myself, but I give myself a C+ to a B as far as my progress to making the switch. I've got a lot to do, but it's a tough level to learn at. I'm going to keep progressing as I move along.
David (Los Angeles)
People obviously respect your talents and accomplishments, but how do you earn the respect of other drivers in this type of racing?
Ricky Carmichael
(12:01 PM)
I think by showing them how I race and not being stupid and careless on the track. Racing them clean but hard. Being respectful outside of the race track in the garage area. It's been a warm welcome.
Karen (Stanhope, nj)
Did you do much testing for the prelude? If so where? Do you drive your legends car at your dirt track very often? Did you drive them to get ready for this race?
Ricky Carmichael
(12:02 PM)
We got to test one time for the Prelude. We got to test at a little track in West Virginia. Really looking forward to the event Wednesday. Going to be a lot of fun.
Melinda Crowe (Greenville, OH)
What do you do to prepare for the dirt track of Eldora and how to you like the Prelude compared to the truck racing?
Ricky Carmichael
(12:03 PM)
I feel a lot more comfortable on the dirt than the pavement. To prepare myself, I just mentally get my head in the game. Go there and have some fun. Do a little bit of testing and pay close attention to what's happening.
Connor (Illinois)
Whats it like driving a late model compared to a dirt bike? Is there any similarities and what kind of differences
Ricky Carmichael
(12:03 PM)
Well, you have two more wheels to worry about. A lot more horsepower. But it's a lot of fun. You're sliding sideways, so much power and there's a seatbelt strapping you in.
David (Los Angeles)
You are running in the Prelude. Tony Stewart does so much for charity. Which charities are you personally most passionate about?
Ricky Carmichael
(12:04 PM)
I do the Daytona Supercross. I designed that track. That's my passion like Eldora is to Tony Stewart. And I do some work in my hometown of Tallahassee for those families that are unfortunately without homes.
Evan (Granville, NY)
Hey Ricky. I was wondering if you have ever considered coming back and doing another race in motocross, and if so what track would you want to race at?
Ricky Carmichael
(12:05 PM)
I sure haven't. I believe that I had a fortunate career. I'm content where I'm at and am content on four wheels. But I will always be somewhat involved with motocross, just not with racing.
Matthew (Columbia, NJ)
Ricky, what is your favorite race track to go to?
Ricky Carmichael
(12:06 PM)
Texas, Atlanta, those two, hands down.
jesse (iowa)
Good afternoon ricky! does your two wheel racing background help you at all in prelude? Thanks
Ricky Carmichael
(12:06 PM)
Hands down. I think growing up on dirt and racing motorcycles, definitely I have more confidence racing cars on dirt. For sure.
jesse (iowa)
Which nationwide races will you be at this season if any?
Ricky Carmichael
(12:07 PM)
Yes. I'm doing four Nationwide races. Road America, Daytona, Richmond and Phoenix.
the GOAT (the Nation of Sports)
which is tougher physically and mentally, motocross or car racing?
Ricky Carmichael
(12:07 PM)
Mentally, car racing, is hands down much harder. I don't know if it's the lack of experience I have or it's just that way.
David (Los Angeles)
Seems like you have been making steady progress on the track since coming to Nascar. Who are the drivers that you have learned the most from on the track and in the garage?
Ricky Carmichael
(12:08 PM)
Yeah, I have learned quite a bit. There a lot of guys that I learn from every weekend. The welcome has been warm for sure. I appreciate it. There is not anyone that I can't go to.
tony mastrangelo (streetsboro ohio )
when you gonna start you sprint cup start for stewarthaas racing & will you drive the # 4 car ?
Ricky Carmichael
(12:09 PM)
Well, I need a couple of more years of experience before I go to that level. Stewart-Haas is a great organization and it's something to set your sights on.
Kaitee (CT)
Which current X Games athlete would have the best chance of succeeding in Sprint Cup (in your opinion)? Good luck at Eldora!
Ricky Carmichael
(12:10 PM)
Thank you for the good luck. As far as another X Games athlete, I don't know, because I have never seen any of them do it. Right now, I would like to say me.
jesse (iowa)
How close do you feel you guys are to a victory in the trucks?
Ricky Carmichael
(12:11 PM)
I think that we're really close. We've missed the mark a little bit this year. We've got some speed in the truck. We have our best shot this week at Texas.
Oakley (largo,FL)
what would be you best racing acomplishment
Ricky Carmichael
(12:11 PM)
I think any time that you do anything for the first time or win something big for the first time is one of the best accomplishments. Not one particular thing.
Ricky Carmichael
(12:12 PM)
Thank you for the chat today! Always thank you for the continued support. We'll get you guys into Victory Lane here soon.