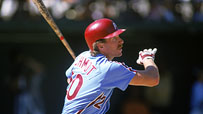 Schmidt won 3 MVPs and one World Series title.
Welcome to SportsNation! On Tuesday, hall of famer Mike Schmidt stops by to chat about the baseball season.
Schmidt, a member of the 1995 Hall of Fame class, was selected into the Hall with 96.5 percent of the vote on his first ballot, which was, at the time, the fourth-highest percentage. His 548 career home runs puts him 15th on the all-time list and, after 18 years with the Phillies, he holds most of the team's offensive records.
Schmidt will be working with AT&T in Omaha, Neb. as the company enters its 10th year as the sponsor of the NCAA College World Series. On June 18, Schmidt will host a Facebook chat with fans at 10 a.m. ET. Fans can participate by hitting "like" on AT&T's Facebook page.
Send your questions now and join Schmidt Tuesday at 1:30 p.m. ET!
More Special Guests: Previous chats | SportsNation
Buzzmaster
(1:18 PM)
Hey everyone, hall of famer Mike Schmidt will be here at 1:30 p.m. ET to take your questions!
Buzzmaster
(1:29 PM)
Mike is here!
Joey (SC)
Are you ready for the College World Series? Who do you have winning it? I've got my Gamecocks repeating!
Mike Schmidt
(1:30 PM)
I'm not too sure who the teams are going to be yet. It would be nice if they could go and defend their title.
Al Perhai (Minneapolis, MN)
Are those powder blue Jersey the best looking of all time? Cause I definetly think so... We love ya Mike!!!
Mike Schmidt
(1:31 PM)
I don't know about best of all time. Looking back, today's jerseys, the Phillies are the coolest that they've ever had. Those old ones, they were pretty trendy when they came out. You still a lot of them.
Mark (San Jose)
Mike, who was the toughest pitcher you faced and who was your favorite teammate? PS, I enjoyed using you in the Nintendo classic RBI Baseball.
Mike Schmidt
(1:32 PM)
I had probably over 50 at bats against Nolan Ryan. Probably 10-12 against Gibson and 25-30 against Tom Seaver. Those are the three toughest. So, I guess Ryan would have given me the most heartache over the years.
Clay Defayette (New York)
How do you view the raise in strikeouts? Will the amount stay this high, and is it acceptable?
Mike Schmidt
(1:33 PM)
No. In my opinion, the strikeout has become an accepted element of the offensive game in baseball. I don't think it's good for the game. I think the acceptance of it has created a lack of accountability by today's hitter.
Kevin (Cleveland)
Mike, how excited were you to help your school make it all the way to the College World Series? How excited are you to go back there this year?
Mike Schmidt
(1:34 PM)
That was the highligh of my young life. In my junior year of college, playing at Ohio U, going to Omaha. Every school in the country, their goal is to get to Omaha. Players all talk about it. Quite a highlight in my career. I have been back for a variety of reasons. I look forward to going this year, partnering with AT&T.
Jon (NYC)
Mike, your take on the Buster Posey incident?
Mike Schmidt
(1:35 PM)
I hadn't seen a really, really slow motion replays. I've seen a few normal replays. It looks like the player could have slid feet first, but he chose to try to go through the catcher. You can't fault the guy. It wasn't a dirty play. I think it was a direct result of the mentality of the players today. They're geared more for the physical contact at home plate, rather than a creative slide.
Matt (Columbia, NJ)
Hey Mike, what did you like most about playing in Philadelphia?
Mike Schmidt
(1:36 PM)
I like the passion that the fans have for the city and their teams. They're a little overboard at times, but looking back, it was the best thing for me to play there.
Butch (Philly)
My favorite Phillies player EVER! So...if you blew a kiss at Nolan Ryan after hitting a HR he would do WHAT to you...
Mike Schmidt
(1:38 PM)
I really wasn't tuned into blowing a kiss at anybody. I don't know. That's totally out of the realm of my thinking to show up a pitcher, unless I was provoked by something. It looks like Bryce was doing all of the provoking. I don't know what precipitated that, if anything. It's probably not over.
Craig (Syracuse)
How do you think the Phillies will do this year?....seems like the pitching is carrying their load.....the offense seems to be lagging......
Mike Schmidt
(1:39 PM)
Yeah, it sure does. Barring the loss of Roy Halladay, although even if they lost him, believe it or not, I think the other guys could pick up the slack. They're that strong. I think they have a knack for knowing what it takes over the long haul to be a postseason team. They don't have a lot of stars offensively. By that, I mean, they have some guys with good numbers, like Polanco and Howard. But after that, everyone else is underachieving offensively, pretty much. They're good enough to have a 4-game lead. That's what matters.
Tommy (Abington, PA)
Looking back, what was the best (if any) and worst thing about playing on Astroturf? Do you think it shortened your career at all?
Mike Schmidt
(1:40 PM)
No. Astroturf was fun to play on. I had no physical problems at all playing on it. I think it helped me become a good defensive player.
TC (St Louis, MO)
Mike, Having played for one team all your career, how much of a factor is that during contract negotiations? Do you think his desire to stay in St. Louis will affect Albert Pujols' demands?
Mike Schmidt
(1:41 PM)
Yeah, I really didn't really have any contract negotiations with the Phillies. As my contract approached the free agent year, they, three times, reworked it to make me the highest paid player in the leauge. So I didn't have any incentive to leave.
Clay Defayette (New York)
Do you frown upon the modern day third basemen who is big, hits for power and isn't as good defensively as someone like you back in your time?
Mike Schmidt
(1:43 PM)
I don't know. I think the defensive side of the 3B in today's game is very strong. I Think there are 8-10 really strong players at defense at 3B. They used to treat it like right field or left field, and just put anyone at third. You can't win like that now.
Joshua (Annapolis, MD)
As the greatest 3b ever, why do you think it is that so few of your fellow third sackers fail to make the Hall of Fame compared to other positions.
Mike Schmidt
(1:44 PM)
That's kind of a weird thing. There are fewer third basemen in the hall than any other position. If you look at Ripken, Rodriguez, Molitor, guys like that, they were predominantly second basemen and SS that ended their careers at third. I really don't know why it's the least represented position. I'm proud to be one of them.
Mike (Ohio)
Did you have a "Welcome to the big leagues, kid" moment?
Mike Schmidt
(1:45 PM)
Yes, I did. I had two hits in a row against Gibson and he drilled me in the arm with a fastball. everyone in the dugout said, "welcome to the big leagues."
Gene Mullett (Columbus, OH)
Hey fellow Bobcat! Do you remember what you were thinking the day Pete Rose joined the Phillies?
Mike Schmidt
(1:46 PM)
Yeah. I was a happy guy. The Pete Rose free agent caravan was traveling around the country, seeing all of the wealthy owners. They all offered him a lot of money, but he came to Philly to play with some of us guys.
Mike Schmidt
(1:46 PM)
Thanks for your interest! It's been fun. See you in Omaha!