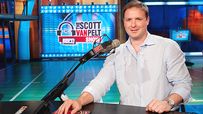 Welcome to SportsNation! On Wednesday, ESPN Radio's Ryen Russillo will be stopping by to chat.
Russillo is co-host of The Scott Van Pelt Show on ESPN Radio, which runs 1-4 p.m. ET. Listen live

He also hosts the NBA Today podcast on ESPN.com. He has covered the NBA draft since 2003 and prior to joining ESPN, he was a TV studio analyst for Boston Celtics games.
Send your questions now and join Russillo on Wednesday at 4:30 p.m. ET!
More Ryen Russillo: ESPNRadio.com | Chats | Search | SportsNation index
ESPNRadio.com
(4:26 PM)
Live from the new radio studios, it's Ryen's first chat in a while. Ryen is talking to some of the members of the show staff, but keep submitting your questions and he will sit down with us shortly.
ESPNRadio.com
(4:27 PM)
Ryen is seated. Fire away.
Michael (East Bay, CA)
A.I. traded for Monta Ellis. Who gets the better deal?
Ryen Russillo
(4:30 PM)
Philly. Better contract, younger player, scoring ability more valuable than versatile defender.
Tim (CT)
Who picks the music for the radio show? You guys always have hot beats playing when you come back from commercial and such. Also, need more old men spitting Raekwon!
Ryen Russillo
(4:30 PM)
Both Van Pelt and I pick it (except for the ones that suck).
Michael (East Bay, CA)
Do you like Mark Jackson as the new Dubs head coach?
Ryen Russillo
(4:32 PM)
Not really. I would have liked it had he gotten some coaching experience, but he's the one looking at anyone doubting him saying, "I still got a head coaching job and I didn't have to take an assitant's job," so his plan worked. I base this on what other teams have said to me about interviewing him.
Jeff (Madison, WI)
Have you read the ESPN book that just came out? What is your take on it? Give us a story.
Ryen Russillo
(4:33 PM)
I picked it up. I'm interested in the history of the place that I work, but the whole "partying is a varsity sport at ESPN" is inaccurate. Maybe 20 years ago. Either that or no one likes me.
Keith Jensen (Provo)
Please settle this debate for me. Some radio hack in UT was saying Tyler Hansbrough was a bigger college star than Jimmer Fredette. Am I crazy for thinking this broseph was on crack?
Ryen Russillo
(4:34 PM)
Yes, you are crazy. Hansbrough was one of the best college players we've seen and he won a title and did it in the ACC.
sri (boston)
who wins game5 in dallas?
Ryen Russillo
(4:35 PM)
I'll be picking Miami. I still think they are the better team, but I just don't have any real answer for you that makes sense about what happened with LeBron last night, and so far, I haven't heard a good answer from anyone else, either.
mike schulte (chicago )
Youre my favorite ESPN voice, bro keep doin your thing. That being said, just curious why do you think, despite Lebrons off night last night, the play wasn't drawn up for him to get the initial inbound pass--being the dual threat that he is. DWade is no slouch but that situation seems to be made for Lebron?
Ryen Russillo
(4:36 PM)
Thanks, Mike. Are you kidding, though? There is no way Spo can call that play for James in that spot. It was actually going to be a good look, too.
Jeff (Madison, WI)
More likely to succeed in a TV career: Brett Favre or Shaq??
Ryen Russillo
(4:38 PM)
That's a good question. Shaq will have to be a little more personable. He can't talk in that low Shaq voice the whole time. Favre, I don't think he'll care enough to want to be really good at it. Doesn't matter. I'll be working with both of them next fall.
Ryan (LA)
What do you think the Bulls need in order to win the title next season? Does a SG put them over the top?
Ryen Russillo
(4:39 PM)
Monta Ellis would be perfect. They need another real scorer that can create for himself. And no, Golden State would not take Boozer for him.
Josh (Ann Arbor)
You've mentioned several times on your podcast (most recently today) about how dumb bunting is. You even said today you'd link to the numbers. Lets see em.
Ryen Russillo
(4:40 PM)
Just Google Baseball Prospectus' "Bunting is Dumb" article. It's from a while ago, but it basically says the only time you should bunt is with no one out and runners on first and second.
James (Salt Lake City)
Is Jimmer Fredette worthy of a first round pick? Do you think he will be able to play both sides of the floor at the next level, when he hardly ever played defense in college?
Ryen Russillo
(4:41 PM)
Definitely worthy of a first-round pick, but he's never shown any interest in playing defense. But that's not why he's going to get drafted. His range is the teens right now.
Eric (Cleveland, OH)
When you were working on the NBA Draft stuff a few weeks ago, did you get a good look at Enes Kanter? You think he's a good fit for the Cavs at #4?
Ryen Russillo
(4:42 PM)
If he's at #4, I wouldn't waste a second thinking about drafting anybody else. I've watched video of him play and I like him. At the combine, he was running through drills and he looked good, but they're just drills, so I wouldn't base it on just the drills. This draft is bad and he's a big who is a little more refined compared to the other projects his size.
BSB (Philly)
This Ellis for Iguodala thing is the first time I have disagreed with you. You're super solid in your analysis, but I disagreethis time. How can a great defender and slightly better than average offensive player be worse than a great scorer who can't play D? I don't want Iverson part two, I mean Ellis.
Ryen Russillo
(4:43 PM)
I understand this argument and I might have made the same one last year, but Iverson's at a whole different level because he held a whole franchise hostage. Ellis hasn't been groomed as that kind of guy in the NBA, so I still think you can get it through to him that he needs to be more efficient, and he was this past season.
Tim (New York)
Who's the one CFB team that everybody is sleeping on? I saw WVU was getting a lot of hype, but that was clearly before this week. Anyone jump out at you as a team that is strong and no one is talking about them?
Ryen Russillo
(4:43 PM)
I'm tempted to pick Arkansas to win the West, but they'll probably be a top 10 preseason team, so it's not like it's under the radar. Maybe Arizona State?
Len (Seattle)
How do you feel about Bryce Harper blowing kisses after hitting a homerun? Are you gonna test the saftey of the helmet everytime you see him?
Ryen Russillo
(4:46 PM)
I'd probably throw at him twice, but they did throw at him the night before and that's kind of why he did it and I'm done waiting for a perfect athlete. It's not going to happen, so he might be a punk at 18. He also might be an All-Star at 20.
Big E (Houston, TX)
The Bulls already have a sg that they're trying to make a pg.
Ryen Russillo
(4:46 PM)
Yah, that went poorly. MVP. Maybe they can trade for Aaron Brooks.
tony (l.a.)
thoughts on the clippers this off season and next year????
Ryen Russillo
(4:47 PM)
They should be a playoff team next year. They have size, they have scoring. It's just going to be how quickly Jordan and Bledsoe develop. I guess you can throw Aminu into that group, too, but seven of their top eight guys are already defined and under contract. History tells us young teams don't do much, but they should be thinking of themselves as a playoff team.
Frank (NY)
Love the podcast man keep it up! Die hard knick fan, what is one move they can make, a realistic one that could help them the most this offseason? i know you said to jump ship but im going to wait and see who they hire to replace walsh (Your thoughts on who that will be). Also IT to the pistons PLEASE PLEASE PLEASE make this happen(even tho you can not hire ppl haha)
Ryen Russillo
(4:49 PM)
I'm not sure what the Knicks can do. I'm a D'Antoni fan, but the D'Antoni curse is this: he makes your franchise more exciting, even if your roster isn't that great, so you feel like he's improving the product, but then you get to a point where you just need to be better defensively and he doesn't do that. Although, he is finally admitting recently that he would bring in a defensive coach, something he has resisted in the past. So they need a big, but they can't afford one and they have no trade assets. I don't think the team is going to look that much different next year, and that's why D'Antoni could be gone.
Chris (San Dimas, CA)
Based on the regular season and playoffs thus far...how would you rate the top 5 players of the year?
Ryen Russillo
(4:49 PM)
Your high school football team is awesome.
Ryen Russillo
(4:50 PM)
By the way, have you guys noticed the trend of NBA teams now hiring guys that are offensive and defensive coordinators? I probably won't post your answers but just wanted to put it out there.
Jeff (tenn)
UWhich quarterback in this years draft would you most like to have beers with? For my dime, its Jake Locker.
Ryen Russillo
(4:51 PM)
I had a couple pops with Jake Locker at two different events. He is as regular a guy you'll meet, and I mean that in the best possible way. I really enjoyed spending some time with Greg McElroy, but if I could just pick a guy, who wouldn't want to do Cam Newton bottle service at least once in their life?
Chris (San Dimas, CA)
Based on the regular season and playoffs thus far...how would you rate the top 5 players of the year?
Ryen Russillo
(4:52 PM)
Back to your question, in no order: Wade, LeBron, Dirk, Durant, Zach Randolph/Rose (tie for fifth).
Jack (Chicago)
Perfect athlete wears #7 for the Wizards already
Ryen Russillo
(4:52 PM)
So true. I want Blatche to petition the league to not have to wear a number. Perhaps a symbol?
Sean (Denver)
Who scores more in a 1-on-1 game: you on Chris Mullin? Or Cowherd on you?
Ryen Russillo
(4:53 PM)
Cowherd would probably score more because I won't take it very seriously (who am I kidding? I'd try to destroy him).
Chris (NY)
Ryen, please stop wishing for an Isiah return to the Knicks. I know it would be hilarious for everyone ever, but I'm barely literate and think soccer is boring. This is all I got.
Ryen Russillo
(4:54 PM)
Maybe.
rob (boulder, col)
will the Nuggets have an all star next season?
Ryen Russillo
(4:55 PM)
This is all you've got, huh? Will there be a Nugget All-Star next year? Just to make you feel good and because I love Boulder, maybe Nene.
Cooper (NC)
Was Jordan scrutinized for titles or compared to anyone like LeBron is now?
Ryen Russillo
(4:55 PM)
Absolutely. People kept wondering what was taking so long, ignoring the fact that the surrounding cast was pretty bad.
Gabe (Seattle)
Heading to Boston for a week this summer. Worth the trip/drive to check out Vermont and or Maine?
Ryen Russillo
(4:56 PM)
I don't know. It's a 3.5-hour ride to Burlington, so might not be worth it even though you definitely will like it up there. Portland, ME is pretty good. Little closer.
Dave (SLC)
How close to Ben Wallace does Biyombo get in the NBA?
Ryen Russillo
(4:57 PM)
I'll give in. You sent it 30 times. If you knew Biyombo would be Ben Wallace for five years, you'd take him maybe #5 or #6 in this year's draft. But none of us know that, so my guess would be no, that Biyombo is not going to be one of the best defensive players for a five-year stretch that we've seen. Wallace could play defense against five positions if he had to. He was unreal.
Chris (Mobile, AL)
May sound a bit homerish, but why am i to believe the Lakers couldnt get Steve Nash? He is HUGE on video production and i'm sure he wouldnt mind LA.
Ryen Russillo
(4:59 PM)
I'm surprised his interest in video production hasn't been brought up more often, but no. Their salary situation is so bad. They could not take on his contract.
Chris (NY)
How much money did p90 throw at you for that "this body is too solid for radio" (or whatever it was) banner. I want to judge you personally based on that number. (Note: anything over $11 and the judgement = savvy)
Ryen Russillo
(5:00 PM)
Is this question as weird as it sounds? Judge me personally? Try Craigslist.
Ryen Russillo
(5:00 PM)
Bye.
ESPNRadio.com
(5:01 PM)
That's all, folks. We will be back next week. Thanks for stopping by.