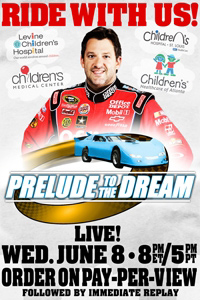 Welcome to SportsNation! On Tuesday, we'll have NASCAR driver Tony Stewart stopping by to chat about the upcoming seventh annual Prelude to the Dream children's charity race.
On June 8, HBO PPV will host coverage of the event starting at 8 p.m. ET/5 p.m. PT on the dirt track at Eldora Speedway in Rossburg, Ohio.
Stewart joins other drivers like Carl Edwards, Ricky Carmichael, Ryan Newman, Jimmie Johnson, Kyle Busch and others. The drivers will be split into four teams, representing four different children's hospitals, with each driver helping earn money for his team.
Send your questions now and join Stewart Tuesday at 5:30 p.m. ET!
More Special Guests: Previous chats | SportsNation
Buzzmaster
(5:29 PM)
Tony is here!
Jon Rickett (Greenwood Indiana)
Last year for the Prelude you took a collection from the other drivers to start from the back of the pack. Have you thought what you might do this year for a twist!?
Tony Stewart
(5:30 PM)
We didn't take a collection from the drivers. It was a bonus that the International Motorsports industry put up, that if a driver from a team went to the back, they would put up $50,000. Yes, we'll do that again.
Tray Fleming (Fort Irwin Ca)
Did you ever imagine that the Prelude to the Dream would become as big as it is now?
Tony Stewart
(5:31 PM)
Definitely not. But the reason it's got this big is the continued support of the drivers to come HBO has played a huge role in getting it this big.
Matt (Sterling Heights, MI)
Hey Tony, it's excellent to see the support that you give to the community. What is it like racing against everyone without any points on the line?
Tony Stewart
(5:32 PM)
It's fun. It's fun for all of use to come here on a night where we're not worried about anything than having fun. The bigger purpose is to raise money for charity, but we don't have the pressure and stress we have on the weekends.
Red (Rossburg, OH)
How's the track look? Weather good for tomorrow?
Tony Stewart
(5:32 PM)
You ought to know the weather better than me. You live here! But the track is looking good. We're ready to go.
Tim Ryan (York, PA)
Given the success of the Prelude year after year, would you like to see a cup race on dirt someday? Thanks.
Tony Stewart
(5:33 PM)
Everybody asks me that question every year and the answer is always yes.
Mike (Nijmegen, Netherlands)
What point do you think SHR needs to improve on to be able to run for the NASCAR championship?
Tony Stewart
(5:34 PM)
I think right now, we've struggled on the short track program more than any where. Ryan's been pretty good, but the 14 has struggled with the short track program. That's an area we'll have to get better at for sure.
Adrienne (Northern Illinois)
Do you set up your car different for a night race? if so, how?
Tony Stewart
(5:34 PM)
Not necessarily. You're still just tuning to track conditions. You have to plan ahead for how things will change. We've run at night on those tracks before, so we have notes for how to change things as the track changes.
jesse (iowa)
tony this being the 7th annual prelude, is it as popular as its ever been?
Tony Stewart
(5:36 PM)
I definitely think so. I don't understand Twitter very well, but if you look at all of the drivers that have had Twitter comments the last couple of weeks, you can see how they are excited to come back. It's exciting to see it grow every year.
James (Rochester, NY)
How do you feel about the season so far?
Tony Stewart
(5:36 PM)
I can't say that I'm thrilled about it. We still have a lot of work to do. But there are other guys in worse shape than we are.
Dave (Boston)
How much money has the Prelude raised for the childrens hospital over the years?
Tony Stewart
(5:37 PM)
We didn't get a title sponsor for the event, so it's not going to be as much as we like. Hopefully everybody that's on the chat today and everyone that will watch the telecast can get people to come to the race or watch on HBO and we can raise a lot. But it won't be as much as the last two years when we had a title sponsor.
Alex Sullivan (Saegertown, PA)
Do you think having experience with dirt racing has helped you with asphalt racing?
Tony Stewart
(5:38 PM)
Yeah. I think. Especially days like this past Sunday when the track was slippery. Knowing what's going on when the cars are slipping around definitely helps.
BettyLeary (Petersburg,Va)
How did Prelude ToThe Dream get started?
Tony Stewart
(5:39 PM)
When I bought Eldora seven years ago, I came up with the idea for all of us to come and have a good time. That's how it basically started, then we figured out a way to make it bigger and have it as an event for charity. It's grown since then.
Tyler Wells (Pennsylvania)
You have (or at least had) the reputation of taking out other drivers for the win. Will we see the same thing for a good cause?
Tony Stewart
(5:41 PM)
I don't think you'll see it come down to that. I think everbody looks at this event for what it is, it's to have fun. That intensity is there because we all want to win. But if it came down to a wreck to win, I can gaurantee you that it won't come down to that. It's not a Cup team where you can just beat them around. These drivers don't want to hurt these teams.
Bettyb (NC)
How do you decide which drivers to invite to the Prelude? Good luck tomorrow night; hope I see you get the win (I've already ordered it from Dish).
Tony Stewart
(5:42 PM)
What we've done since the very first year, when we had 17 drivers, the drivers from the year before get the first invite. After that, if there are spots available, we send out invites to guys who have expressed interest.
Larry (Loxahatche, Fla)
Tony, I know you own your own car. My question is the drivers who don't, do they drive house cars from Rocket or Masterbuilt or loaners from other drivers? Thank you, keep this thing going, great cause.
Tony Stewart
(5:43 PM)
I actually don't own my car. It's owned by Mark Richards. Every year, we've got better quality of cars for these guys to drive. The dirt late model guys have been really good. They realize they're not going to just go out and crash them up. Every year it's been easier to get better cars.
Carol (Canandaigua NY)
Tony-Besides the charities & the racing, what is your next favorite part of Prelude to the Dream?
Tony Stewart
(5:44 PM)
I'll be honest. I come in Sunday night after Kansas. So it's fun for me to be here yesterday and today and watch all of the people coming in. There were people here when I got in Sunday night. To see them all coming in and getting ready for the week, that's the part that's the most fun for me.
Carla (Rochester, NY)
What do you think about the points system?
Tony Stewart
(5:44 PM)
I still don't have an opinion. It's never mattered to me. They still give the most points away to the guy that wins the race. I think too many people worry about the points system. IT's just easier to understand. It's not that big of a deal.
John (Indianapolis )
What were your thoughts on the Indy 500? I am sure you are tired of being asked about coming back and driving in it but do you have any interest in owning an Indycar with a Chevy engine in 2012?
Tony Stewart
(5:45 PM)
My heart was broke for JR Hildebrand for being one corner away from the biggest race win of his life. It was a great race. There was a lot of strategy involved in the end. I thought it was a great race.
Benjamin spencer (Winston-Salem NC)
What track are most looking forward to race at in the near future
Tony Stewart
(5:46 PM)
I like going to Sonoma. It's always a favorite stop. I like the area in general. It's very technical, so I enjoy it.
Sue (Trenton, MI)
Tony, I heard an interview where you say Danica would be a great addition to the Prelude . . . what has she said about it?
Tony Stewart
(5:47 PM)
I think she has been so busy. IT's something we've discussed. The hard part is she's already trying to juggle a stock car and IRL schedule. We're trying not to overload her. She's expressed interest, but we're trying to be respectful of the demands on her schedule and the guys that we've already asked.
Craig (Pittsburgh)
Any ideas or opinions on how they could get away from the new drafting we see at daytona and talladega?
Tony Stewart
(5:48 PM)
There are pluses and minuses to it from a drivers side. But I don't know what to do to keep it from happening. If the bumpers didn't line up, we couldn't do it. That's contributed to the reason we're able to do it.
kevin (laurel de)
What is your thought about Johnson winning five years in a row being you were the last one to win before he took off. By the way your the best driver out there.
Tony Stewart
(5:49 PM)
I think during the year, they do a lot of experimenting, but come Chase time, they have everything where they want it to be. I imagine he'll be right there again.
Mike A. (Lunenburg, Mass)
How do you think Tony Kanaan will do in his second Prelude? And will be driving at Lotus dirt late-model?
Tony Stewart
(5:50 PM)
I think he learned a lot last year and had fun. When you have a good time and look forward to coming back, that's the main thing. I think he'll do even better this year.
Adam Swalm (Mechanicsburg, PA)
Tony, what is more exciting for you, driving in the Prelude tomorrow evening or driving Lewis Hamilton's car at Watkins Glen next week?
Tony Stewart
(5:50 PM)
Both are going to be exciting. It's kind of a busy two weeks. I'm very excited about both. This is a big event this week. Next week is more personal for me. I'm excited about that opportunity.
Tony Stewart
(5:51 PM)
We've raised over $3 million the first six years.
Tish (oakley, CA)
Remember watching you race and win two features at Calistoga several years back. It was great! Was that a highlight of your open wheel dirt career?
Tony Stewart
(5:52 PM)
I still have the DVD of that race. I still pull it out twice a year to watch. It was definitely one of the highlights of my open wheel career for sure. It was hard, but that's what made those wins so much fun.
Kimberly Williams (Battleboro, NC)
How do you decide what teams the drivers are on? I hope to be there next year bc the Prelude is held close to my birthday which is June 10.
Tony Stewart
(5:53 PM)
We try to do the best we can to handicap it as fair as possible. WE take the guys who have come before and look at their results. It's basically us sitting down and try to adjust things accordingly, so it's a fair race.
Tony Stewart
(5:54 PM)
I appreciate the questions today. I hope everybody will be supportive of the charities and will help us spread the word. Watch the race tomorrow and I hope we put on a good show for you.