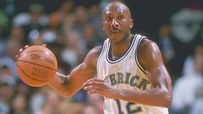 Harper was drafted out of Illinois 11th overall in the 1983 draft.
Welcome to SportsNation! On Wednesday, we'll talk NBA Finals with former Dallas Maverick Derek Harper.
Harper spent 12 of his 16-year NBA career in Dallas and finished with 6,577 career assists, good for 19th all-time in NBA history. He also played for the New York Knicks, Orlando Magic and Los Angeles Lakers, averaging 13.3 points per game in his career.
Send your questions now and join Harper Wednesday at 2 p.m. ET!
More Special Guests: Previous chats | SportsNation
Buzzmaster
(2:00 PM)
Derek Harper will be here in a couple of minutes to take your questions!
Buzzmaster
(2:08 PM)
Hang on folks, we're still waiting for Derek.
Buzzmaster
(2:16 PM)
Here's Derek!
Matt Wiss (Dallas)
Is game 5 a must win for Dallas? Depending on how fast Dirk recovers from his illness, do you think they could win 2 in Miami?
Derek Harper
(2:17 PM)
Not necessarily. The reason being that Dallas had the best road record in the NBA this year. However, Dallas probably thinks that it is. You don't want to put yourself in a position where Miami only has one game to close it out.
Mike (DFW)
What has suprised you about the Mavs this playoff run?
Derek Harper
(2:18 PM)
Yeah. I think for everybody that they've been fortunate enough to win some games where it didn't look like they had a chance. They did it against Oklahoma and in Game 2 against Miami. It's almost like the stars have been aligned for this team with how they've won some games.
Michael Marzett (Battle Ground, WA)
How gratifying is it for you to see this Mavericks team succeeding in this playoff run, and what have you been doing since you retired from the NBA?
Derek Harper
(2:19 PM)
Really exciting for me. This is where I was drafted. I spent a chunk of my career here. For a guy like Dirk, who's been unappreciated as a star in this league for a long time, has been extra gratifying for me.
Meyer (Plano)
It is unlikely that lebron will have an off night once again so what does the mavs defense need to do in order to win game 5? Which works better against the heat, zone or man to man?
Derek Harper
(2:20 PM)
Focus on Wade. He's been the guy that's killed them. LeBron is going to break out sooner or later. He's better than he's been. LeBron has been hesitant to be aggressive. You shouldn't be told to be aggressive at this point in the season.
Shane Stein (Dallas)
Derek,I still love watching the 1987-1988 Mavs highlight video, "Bouncing Back". I will never forget you hitting the game winner against Utah on opening night with 1 second to go!
Derek Harper
(2:21 PM)
I still remember that like it was yesterday, like any time you go against Stockton and Karl. You always remember your accomplishments.
Patrick (Pennsylvania)
What's your take on the lineup shuffles by the Mavs? I freak out seeing Kidd and Barea together, but as a guard, does that make it easier for each guy having another ball handler on the court at the same time? Taking the pressure off?
Derek Harper
(2:22 PM)
No doubt about it. It cuts down on your turnovers. For Rick, making the changes is just something he's going to change it up a littie bit. I like the changes.
Joe (Coppell)
Is Miami wearing down defensively. It just seems like with each game Dallas is getting more open looks (although they are missing)
Derek Harper
(2:22 PM)
They've been getting open looks all series. Miami's defense has been solid, but this is the toughest time of the year to make shots. No one's focused on being tired at this point. You need to find a way to keep going, regardless.
Hickory (North Dallas)
Which of your former teammates from the Mavs do you keep in regular contact with? Also, when is the last time you spoke with Roy Tarpley, and what is he up to now?
Derek Harper
(2:23 PM)
I talk to them all the time. We did a round table on Tuesday with NBA TV. We reminisced a little about the past. It was fun. We talk periodically.
Carsten Bremer (Tracy, California)
Do you think Dallas should try to play zone D in the first quarter for a little while to maybe get some separation from the Heat?
Derek Harper
(2:24 PM)
They have tried zone. The one thing you have to guard against with the zone is the offensive glass. The zone can change the complex of the game, but you have to pick and choose your spots.
Stewart C (Dallas)
What are your thoughts on players flopping to draw the ref into a foul call? Should there be punishment for doing that? Maybe a one game suspention? Is it cheating?
Derek Harper
(2:25 PM)
I don't think so. If you think about the game, it's always been done. I think there's a way to do it.
Jack (Graham, TX)
Longtime fan of you Derek! What happens when we dont get the support like we did last nite from mavs bench?
Derek Harper
(2:26 PM)
No doubt about it, the bench is a factor. Miami's bench has outplayed Dallas' bench. Give the Heat credit for meeting the challenge. They've stepped up against Dallas' bench, who was the best in the league.
Derrick (Euless, TX)
Do you think Jason Terry will have as good or a better game in Game 5?
Derek Harper
(2:27 PM)
He's going to have to be better in order for Dallas to win. I don't think Dirk can win without it. He's a shooter and he has to keep shooting the basketball. As long as he's confident, I think he'll make his shots sooner or later.
Kyle (Oklahoma)
Other than game 3, I believe that Shawn Marion has been the X factor for the mavs. Is that just me or do you agree?
Derek Harper
(2:28 PM)
No doubt. He's picked up the slack somewhat. He's a veteran guy and understands the moment. He plays with a lot of energy. That's why Jason Terry is so important. If he can get on track, I think Shawn has done a good job of picking up the slack.
Scott (Indy)
Any current players remind you of you?
Derek Harper
(2:28 PM)
Andre Miller is the guy that I see that plays with the savvy on both ends of the floor and tries not to make mistakes. It's just a different game altogether.
Derek Harper
(2:28 PM)
I appreciate your support. Go Mavs!